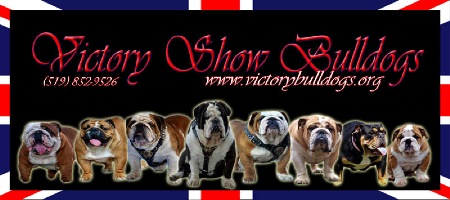 Members in good standing with the Canadian Kennel Club, all our puppie are registered.

****** LATEST NEWS AT VICTORY BULLDOGS ******

Danny Syvret of the NHL'S Philadelphia Flyers Picking up his New Victory Bulldog Puppy Dougie, now known and Moose!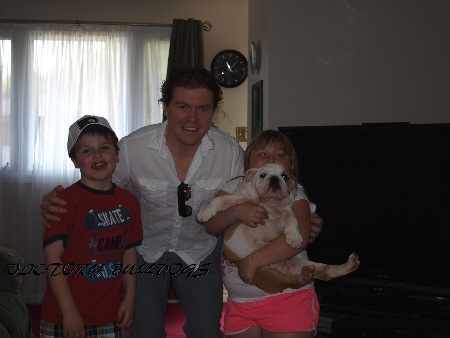 ONE LAST MALE FRENCH BULLDOG AVAILABLE
This will be our last French Bulldog for 2013

THIS LITTER IS ALL NOW SOLD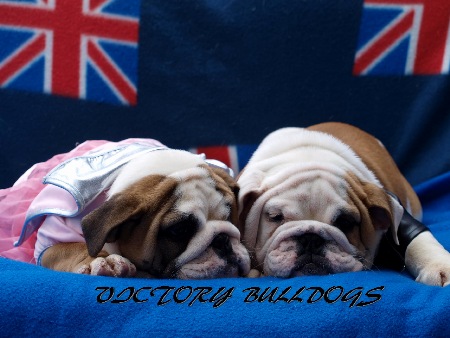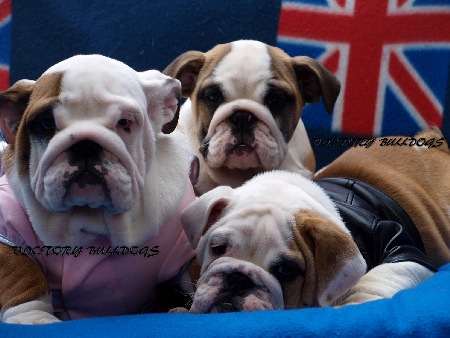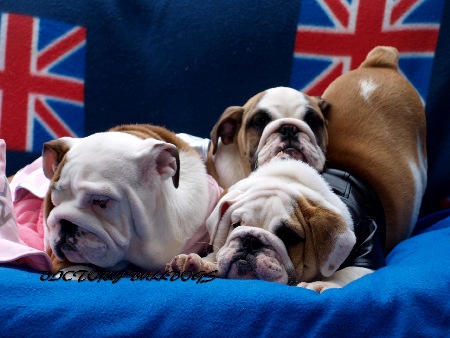 NEW VIDEOS DOWNLOADED OF OUR ADULTS

Our New Addition MAI who joins us all the way from Europe! Thank You Stefphen she is truly a wonderful addition to Victory Bulldogs.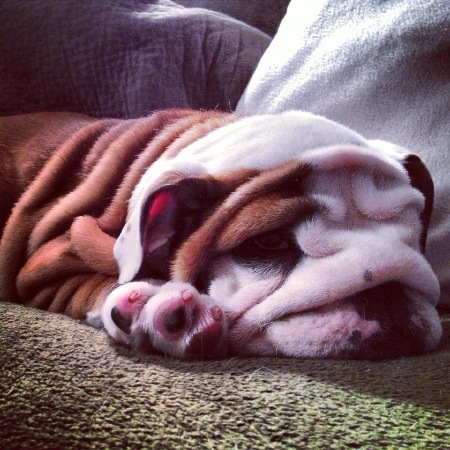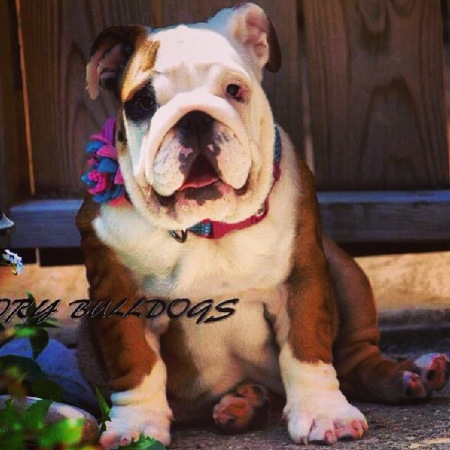 VICTORY BULLDOGS NEWEST MEMBER OF THE FAMILY!

Introducing Otis! He is just a Absoloutly Stunning Boy we are overjoyed with and a huge Thank You goes out to Bobby for this amazing kid! We have big plans for this boy and will be entering him in the summer 2013 CKC show ring! Watch out for this young man he is going do us very proud!!!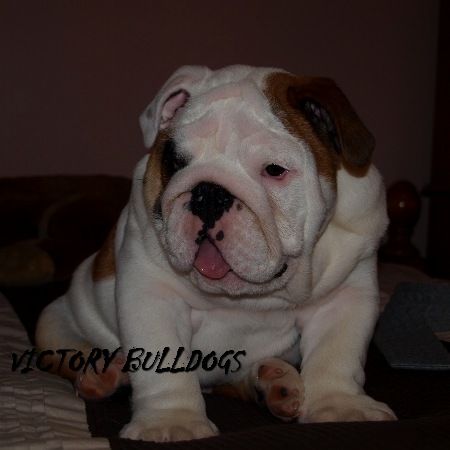 NEW LITTER OF ENGLISH BULLDOG PUPPIES ARE AVAILABLE

THIS LITTER IS ALL NOW SOLD

TRINA Say's Happy St Patricks Day!

INTRODUCING OUR NEW ADDITION

Victory's Triple Trina! Trina is a Truly Very Special Black Tri! She is not only the Only Neice to Joe Jonas's Bulldog Winston she is also a UC Davis Dna Tested Triple Carrier!! Trina will be bred in the future for Dark Chocolate Tris, Black Tris and Lilacs! We have our Amazing Longtime Freinds Shamrock Bulldogs to thank for our baby girl! A Big Thanks also goes out to our Amazing friends Blackgold Bulldogs for making this baby possible! We love you both and look forward to what she will do for us all in the near future!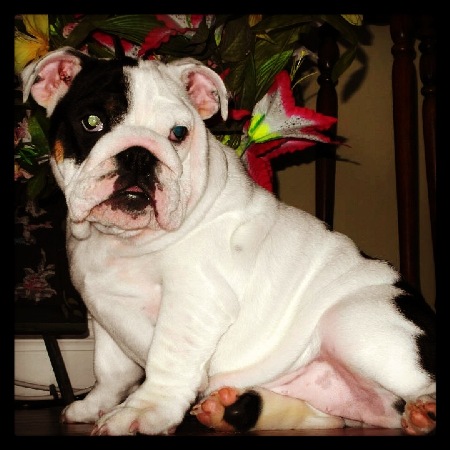 WE HAVE SOME LOVELY FRENCH BULLDOG PUPPIES AVAILABLE

Please Visit the page below for more information

http://www.victorybulldogs.org/455963.html

BLUEBELL'S LITTER PICTURED BELOW 1 MALE LEFT

These Babies are Blue and Possible Chocolate Carriers Double Factored Babies

This litter is all SOLD

What a wonderful start to 2013! We have been blessed with 2 phenomenal French Bulldog litters. One sired by Marmite the other by Bubika, pictures of Available puppies will be placed up soon.

Brandon Prust NHL Montreal Canadian Forward picking up his new French Bulldog puppy from us as a suprise for his lovely girlfriend marie-pier!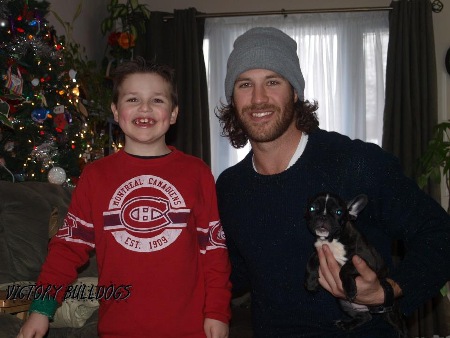 Victory Bulldogs 2013 Calendar are now Available

$12.99 Including Postage

**RODNEY DOES IT AGAIN 9 PHENOMENAL ENGLISH BULLDOGS PUPPIES**

This litter is all now SOLD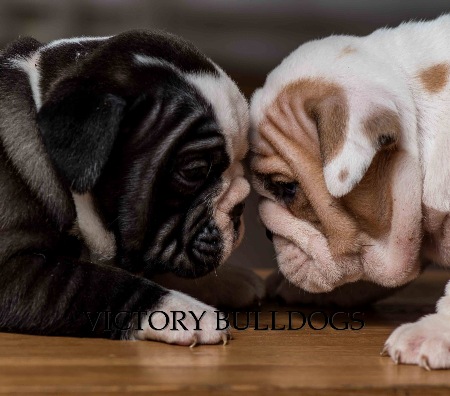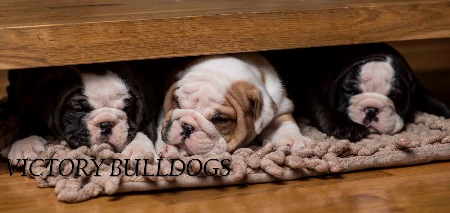 THIS LITTER IS NOW ALL SOLD

https://vimeo.com/victorybulldogs

Updated picture of Pheobe one of our past puppies living with Lindsay! Loved and Spoiled to peices they will be adding a New Brother to the family for Pheobe soon.

Trition will be a Future Stud! Watch for his puppies in 2013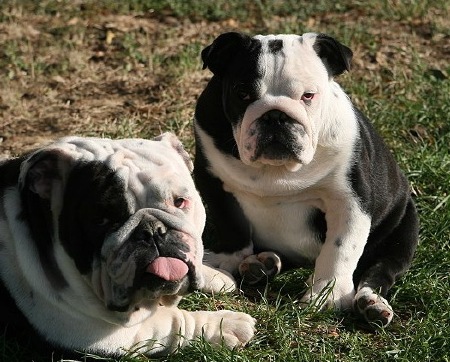 We Hope You are Enjoying Your Summer!

This is TANK a past puppy who is now owned and Loved by Damien in Windsor! Enjoying his summer cooling off in pool being spoiled and loved.

Update August 25 2012

All Current French Bulldog Puppies are now Sold... 2 Litters Due Mid September 2012 If interested please contact us our next litters of Frenchies will be ready to go Mid November 2012.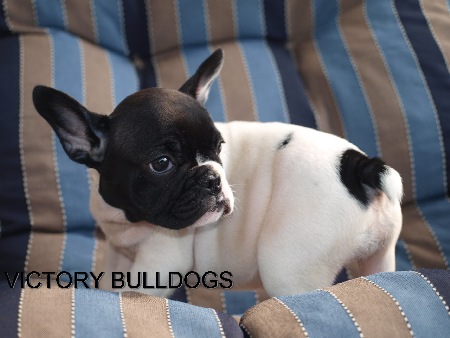 August 12th 2012

4 NERO SIRED BULLDOGS PUPPIES BORN... PICS COMING SOON....

BELOW IS RODNEY KIDS! 9 Weeks old... 10 Amazing Bronze Seal babies born all puppies are spoken for to pet homes. Next litter from Rodney possibly Fall 2012!

Bubika and Lily before Bubika's first Sailboat ride this weekend, He loved it!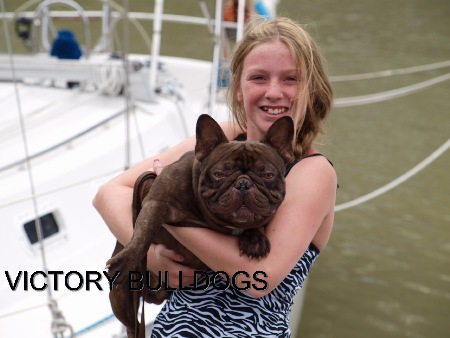 VICTORY'S STUNNING NEW SOLID BLUE FRENCH BULLDOG STUD!

VICTORY'S ICE ICE BLUE BABY "ICE"

Ice will be bred to Bluebell in 2013 for a Solid Blue Litter, More information about ICE under our French Kings Page. We are so thrilled to have such a stunning blue boy!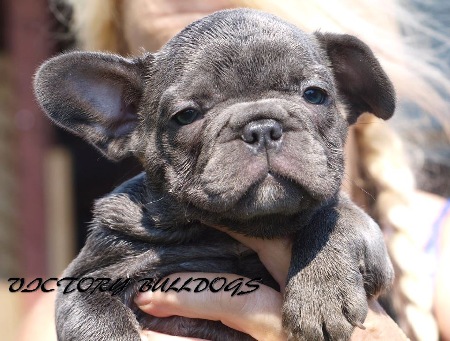 THIS LITTER IS ALL SOLD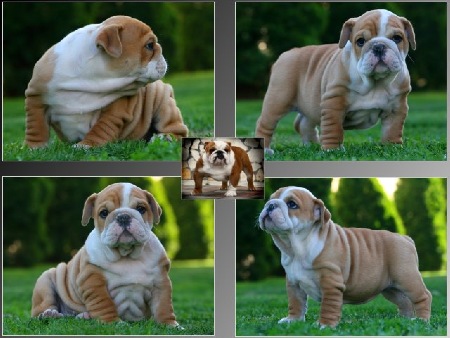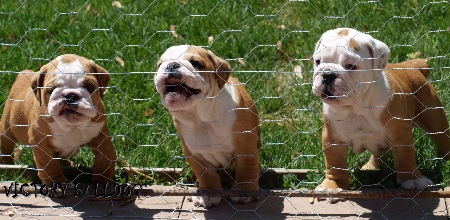 ONLY ONE LOVELY RODNEY FEMALE LEFT

More information under Available Puppies

MARMITE PUPPIES COMING THIS FALL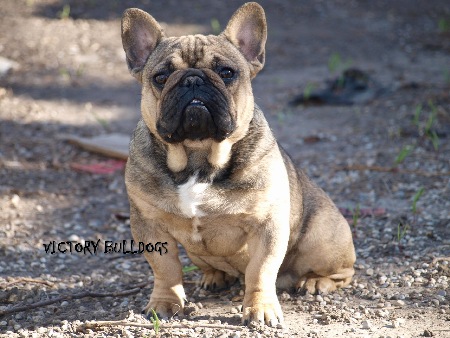 London March 2012! Watch for London's Puppies this Fall

BUBIKA CHOCOLATE FRENCH BULLDOG STUD WITH AMBER EYES

BUBIKA & CHOKITA CHOCOLATE FRENCHIES COMING FALL 2012

"Victory's Tiny I am not so Tiny Now" (Son of Rodney and Skye) is now the proud father his first litter of 4.. One of the puppies Born is a Solid Blue.. Tiny is Uncle to Luna Pictured Below.. Tiny is a Bronze and White Boy and carries Black Tri and Blue. 2 Pups Available posted under the Available Puppies page.

VICTORY'S LUNA MOONA OF SHAMROCK

Luna is now 8 weeks old and has arrived at Victory Bulldogs! We look forward to watching our little Grandbully grow up into a beautiful girl like her mumma Skye! Luna is a Blue Gene Carrier and we have hopes to breed her to our Blue Boy in the future.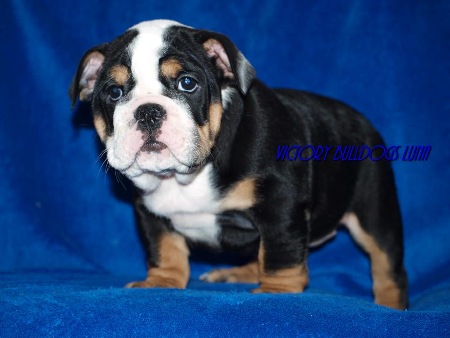 Luna at 14 weeks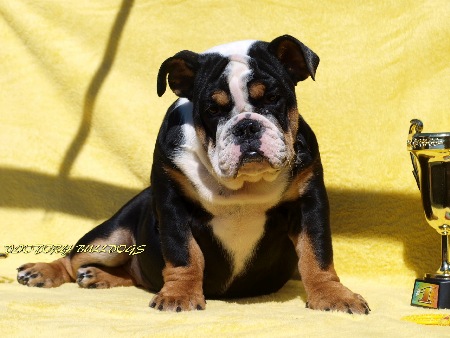 We are beyond excited to Announce our Newest Boy! He is a very rare Solid Blue English Bulldog with completely outcrossed new Blue lines. We are still thinking of a name for our special boy but we are excited to have such a great opportunity to own such an amazing boy! Thanks to our good Friend Jen at Mystyle Bullies

"Shooter" now known as "Ferdinand" Sold to Actor Greg Bryk his Lovely Wife Danielle and their adorable children. Ferdinand will also be apart of the Bryks new Television Show, we look forward to seeing him grow up with their lovely family.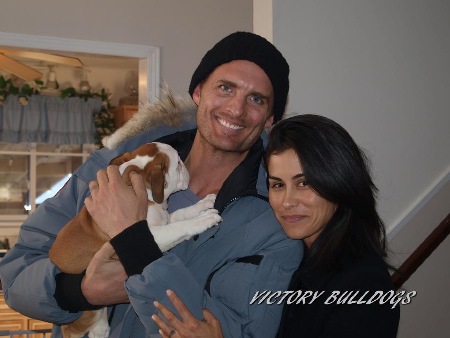 VICTORY'S BARRACUDA PUMA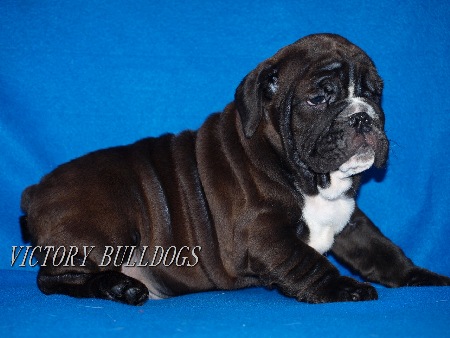 VICTORY'S LONDON'S CALLING 60 lbs 8 Months Old

London will be entering in her first show in March 2012 we have very high hopes for her in the ring. We also will plan a litter with London and Rock towards end of 2012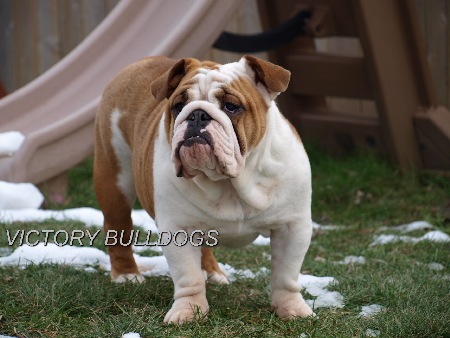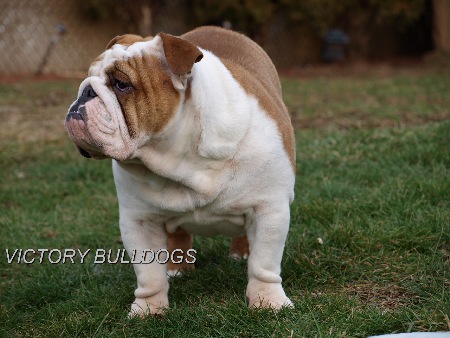 Introducing Victory's Newest Member And Our Own Grandbully

Victory's Luna Moona of Shamrock

Luna is a very special girl she is one of our special Grandbullys bred by our very close friends/business partners at Shamrock Bulldogs in B.C. Luna came from a litter of Solid Black Tri and Solid Blue Tri's (No Brindle) we will be DNA testing our little Luna for the Blue gene.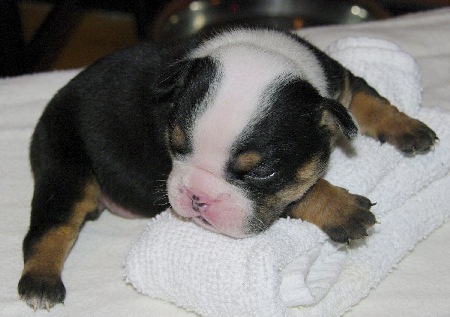 Updated picture of Luna's litter at 3 weeks

Great Job Shamrock! We are so proud of you. They all look Amazing!

THIS IS ROCK! OUR PHENOMENAL NEWEST BOY TURNING 2 IN 2012, THANK YOU TO OUR VERY CLOSE FRIENDS OF OUR FAMILY SZ AND PETER FOR TRUSTING US WITH ROCK AS YOU KNOW HE WILL BE VERY LOVED!... WE HAVE A PLANNED LITTER WITH ROCK NEXT YEAR 2012! IF INTERESTED IN A PUP OUT OF OUR ABSOLOUTLY GORGEOUS BOY ROCK PLEASE EMAIL US NOW TO GET ONTO OUR WAITING LIST! WE ALSO WILL ENTER ROCK INTO SOME CKC SHOWS NEXT YEAR AND SEE HOW WELL HE CAN DO FOR US IN THE CANADIAN SHOW RING! MORE PICTURES OF ROCK AND PROFILE COMING SOON..... WATCH OUT CANADA THIS BOY IS A FORCE TO BE RECKONED WITH!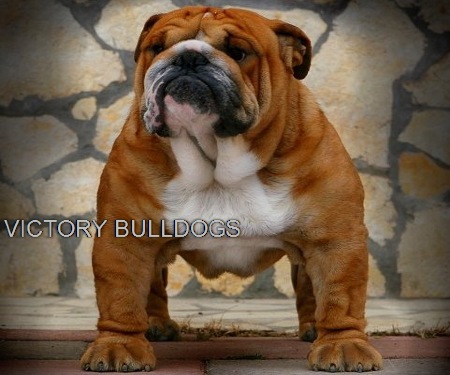 Our Gorgeous Boy Charlie!!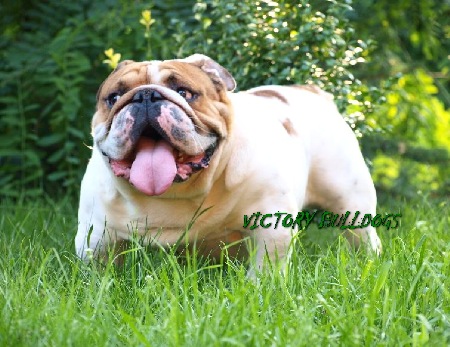 "VICTORYS SHINING STARR" Our newest keeper pup!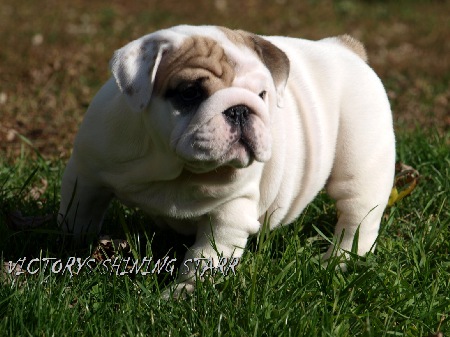 "VICTORY'S GOLDEN SPICE"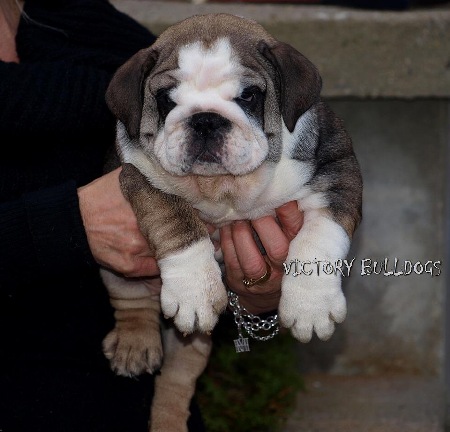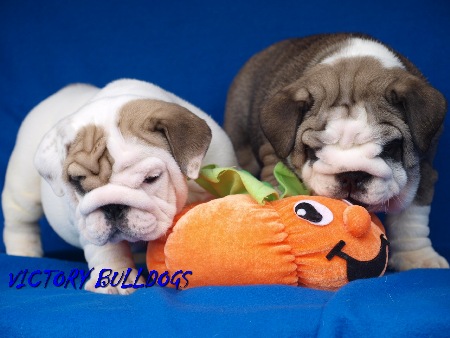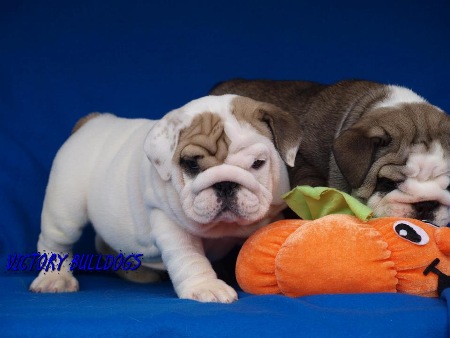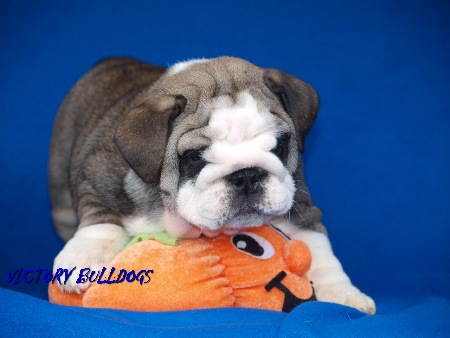 Introducing our newest addition "Victory's London's Calling" . London is very special to us she is from two of our past Bullies 'Victory's a place above Topanga" and "Victory's Tank". She was bred by Dina who did a wonderful job with raising this girl, she has personality plus and amazing conformation and is dripping with wrinkles. She has CH Cherokee Legand Floyd and CH Cherokee Legand Rock as well as European including many UK Lymans CH bloodlines. What a great package, show quality with top quality bloodlines. We plan to put her into the show ring in the next few months..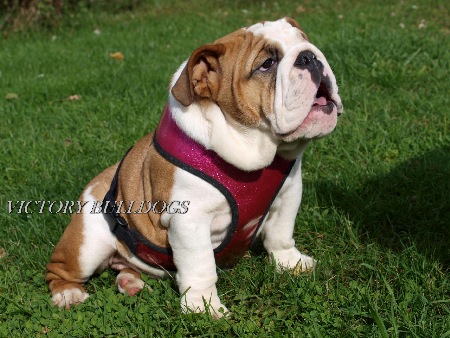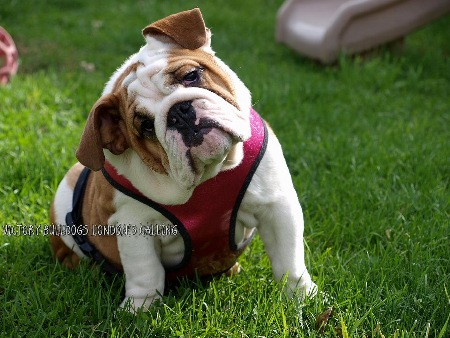 Victorys My Mate Marmite! Carrys "a" "Ay"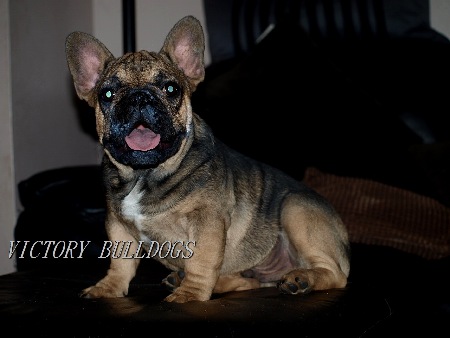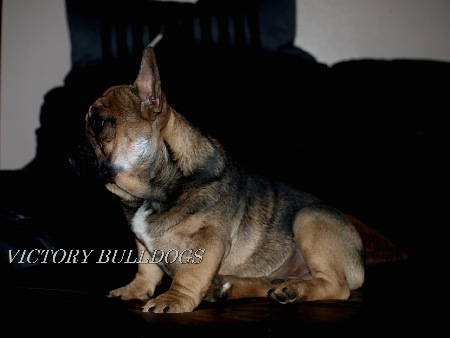 We have a few Red male puppies Available! Amazing bloodlines top quality! Please contact us for more information!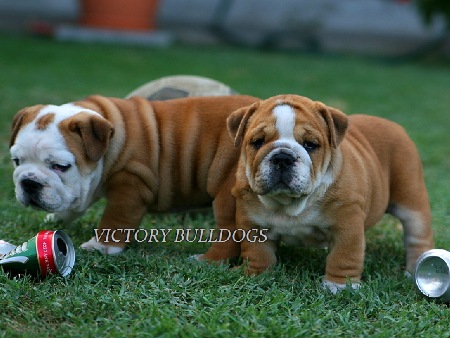 This Boy Clash is Sold however we have 2 of his siblings Available

OLLIE AT PAWLOOZA AUGUST 20TH 2011

Watch for Ollie puppies coming October 2011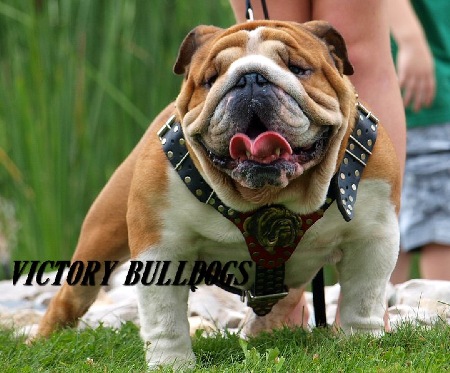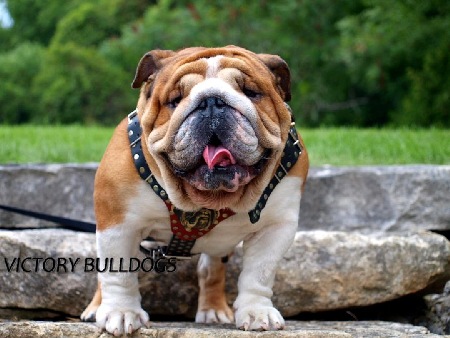 This Beautiful picture of Lyla was taken by the Hartmen's neighbor Annie. Thank you for sharing such a lovely picture of our beautiful girl!

BLUE LACY AUGUST 2011, Breeding planned with Sidney this October, Now taking names on our waiting list for her puppies which will be ready to go Feb 2012.

Our Beautiful Little Jadyn and Marmite the Frenchie! All our puppies are raised with small children as apart of the family.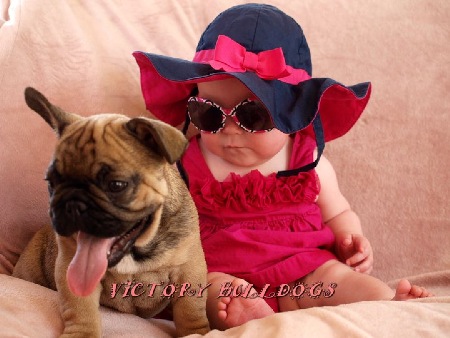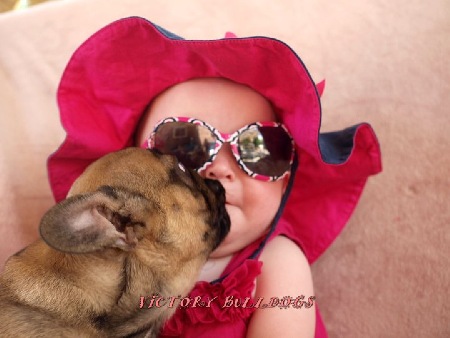 Our little Angel Jadyn at 6 months, She is soo adorable we just had to show her off :-)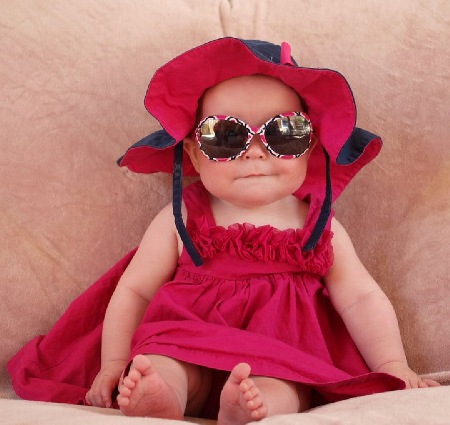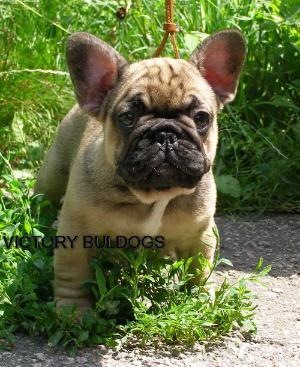 INTRODUCING OUR NEW BOY TO VICTORY BULLDOGS. THANK YOU SO MUCH OLYA FOR A TRULY WONDERFUL BOY! WE WILL SHOW HIM IN RING NEXT YEAR.

OUR BEAUTIFUL OLLIE 3 YEARS OLD JUNE 2011

LEO PICTURED BELOW AT HIS MOST RECENT SHOW IN JUNE, THIS PHENOMENAL CHAMPION BOY IS ALSO THE SIRE TO OUR TWO CHOCOLATE MALE PUPS WE ARE NOT ONES TO BRAG ABOUT BEING THE FIRST OF THIS AND THAT! BUT WE FEEL WE HAVE TO ANNOUNCE THESE AMAZING SPECIAL PUPPIES AND WE ARE THE FIRST TO HAVE CHAMPION PARENTS TO TWO CHOCOLATE MALE ENGLISH BULLDOG PUPPIES THE FIRST IN CANADA AND USA (WITH CHAMPION PARENTS) AND ALSO UN-RELATED TO ANY OTHER RARE COLOR LINES IN THE WORLD.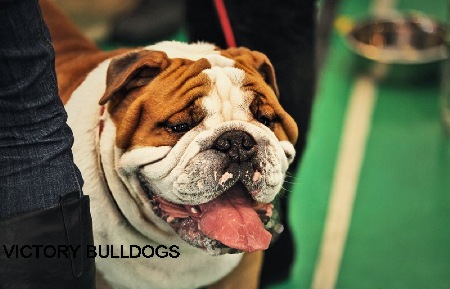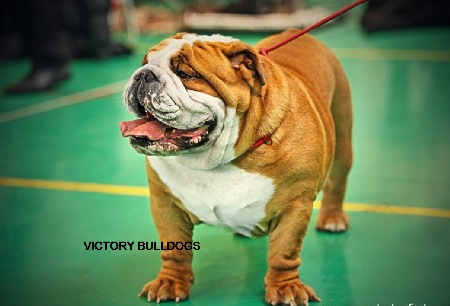 Great picture of VAO taken by Gillian and Chris in B.C, proud owners of two Victory Bulldogs Vao and Buster!

All these gorgeous Bronze and Seal babies are sold .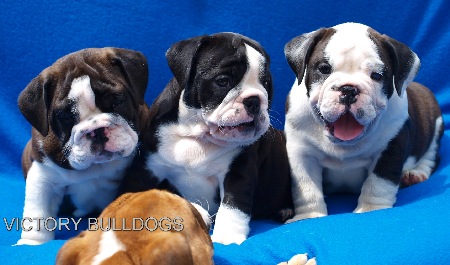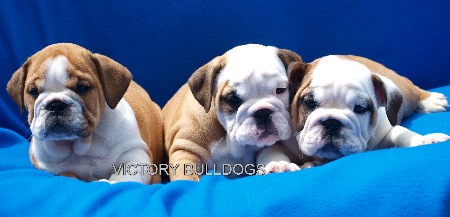 VICTORY BULLDOGS PRODUCED SOME OF THE MOST FINEST BRONZE BULLDOGS IN THE WORLD AND VERY PROUD TO BE THE FIRST TO BRING THEM TO CANADA! THANKS TO BLACKGOLD BULLDOGS FOR RODNEY! HE IS ALMOST 5 YEARS OLD AND CONTINUES TO PRODUCE THE FINEST BRONZE BULLDOGS YOU CAN FIND WITH COMPLETE OUTCROSSED LINES FROM OTHER RARE BULLDOG COLOURS! WE WILL HAVE MORE RODNEY BRONZE AND SEAL PUPPIES IN 2012!!

VICTORY BULLDOGS ONE AND ONLY FAMOUS RODNEY TROTTER! THE KING OF BRONZE BULLDOGS!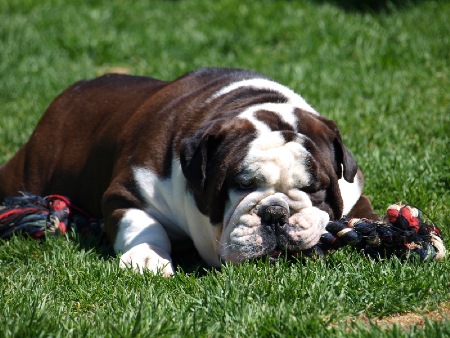 VICTORY BULLDOGS CEE CEE OUR CHOW CHOW (BULLDOG BABYSITTER) AND ISABELLA OUR LITTLE FAWN PIED FRENCHIE.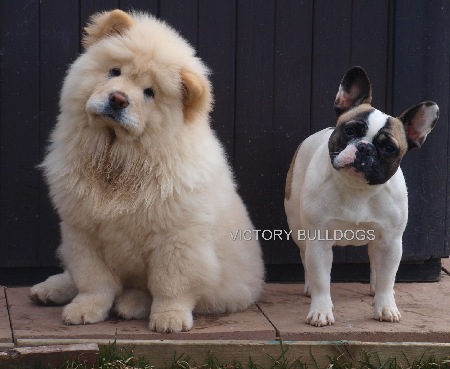 NEW PICTURES OF OUR CHAMPION OLLIE! PURE BULLDOG PERFECTION!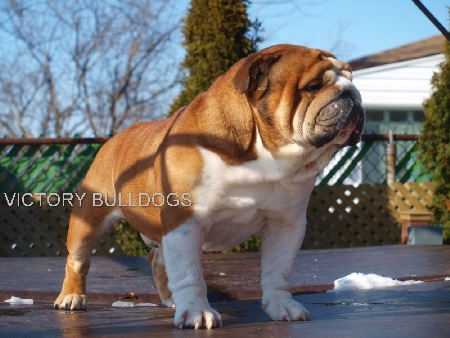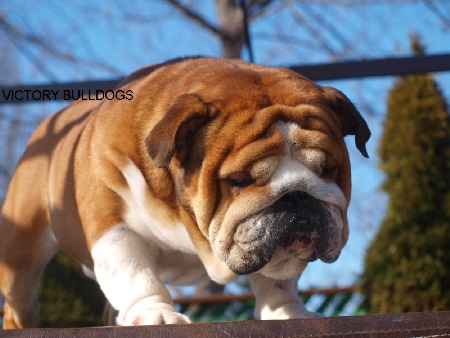 BUBIKA OUR CHOCOLATE FRENCH BULLDOG MARCH 2011. WE ARE PLEASED TO ANNOUNCE WE HAVE A SOLID CHOCOLATE FEMALE JOINING US SOON SHE IS A YEAR OLD AND WE HAVE A PLANNED LITTER WITH HER AND BUBIKA THIS SUMMER. WE ALSO HAVE A SPECIAL SUPPRISE PUPPY COMING SOON! WATCH FOR UPDATES SOON.

OUR GOLDEN GIRL GLORIA AT 8 MONTHS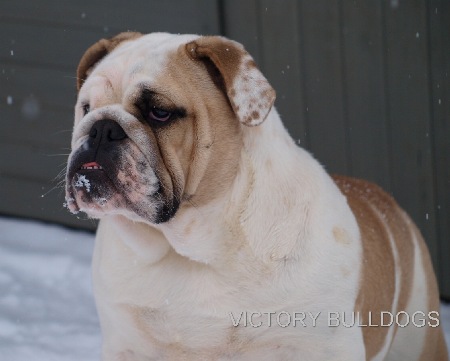 INTRODUCING TONKA OUR NEW STUNNING BLACK TRI GIRL

Pictures and Bio of Tonka under the Queens page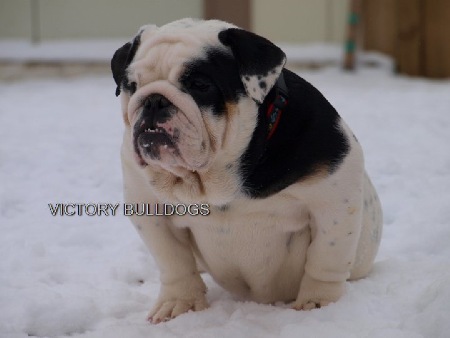 VICTORY'S BLUE LACY OUR NEWEST FRENCH BULLDOG ADDITION

More pictures and Bio of Blue Lacy under French Queens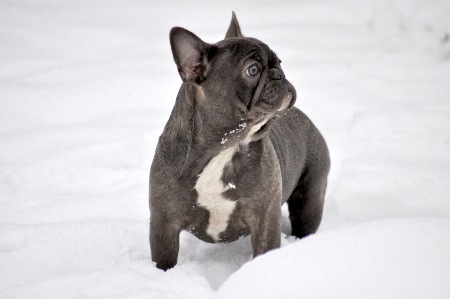 INTRODUCING OUR NEW BOY LEO

LEO is a Hurricane son and from a daughter of Roy. This boy is has HUGE bone structure short legs and is a massive 92 lbs. We will be having a litter with Leo born in January. They will be AMAZING thick bone puppies. More info on Leo will be coming under our kings page.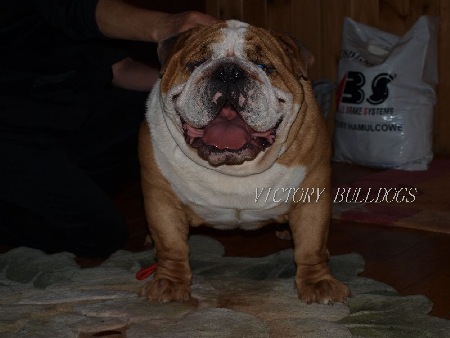 Below is Maddie one of our amazing Bronze seal girls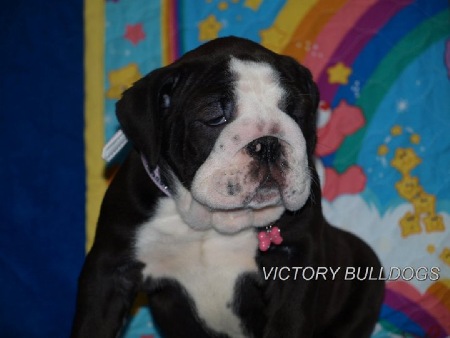 HARRY 7 MONTHS OCTOBER 2010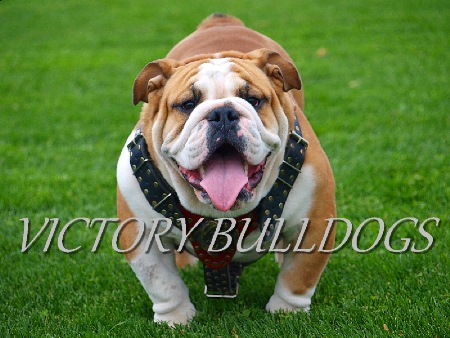 Below is our new pure Choco French Bulldog Bubika and our black boy Jack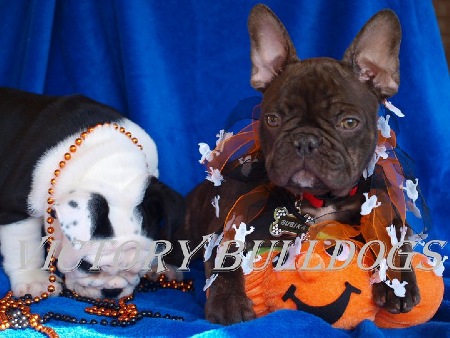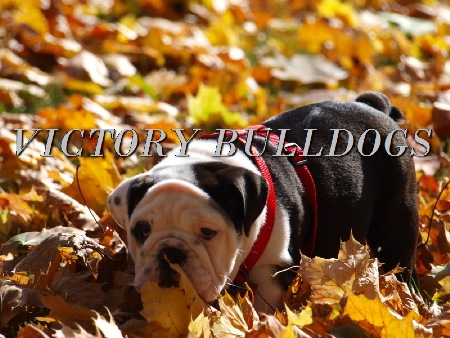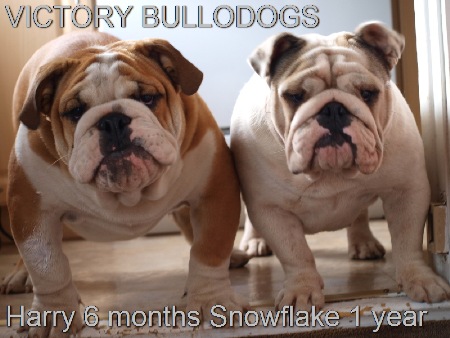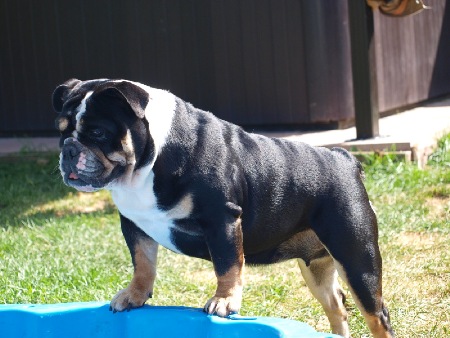 Our girls with their frenchie pup and our baby Gloria.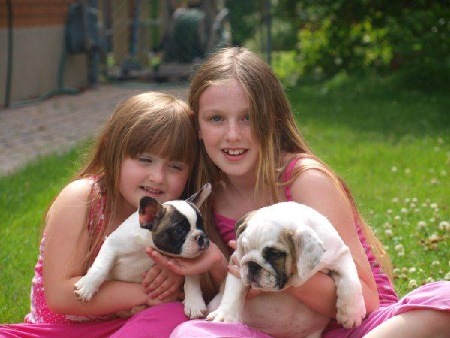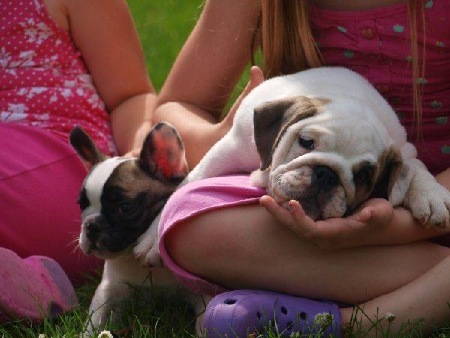 SUMMER HAS FINALLY ARRIVED! WHY MANY OF YOU ARE EXCITED AS MUCH AS US ABOUT THE LOVELY SUMMER AHEAD PLEASE PLEASE BE CAREFUL WITH YOUR BULLDOG DURING THE SUMMER MONTHS AS BULLDOGS AND HEAT DO NOT MIX

********* PLEASE READ OUR PAGE ABOUT BULLDOGS AND HEAT *********

A few pictures below of our bullies enjoying summer 2010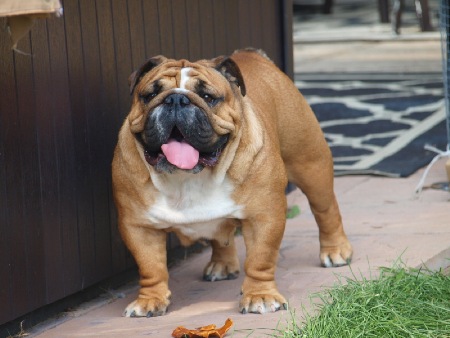 .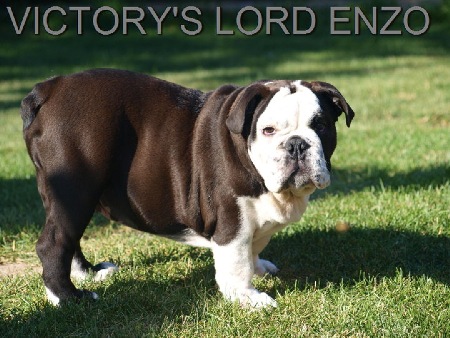 RODNEY LOVES HIS SKATEBOARD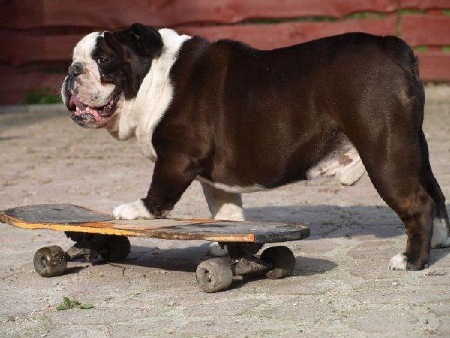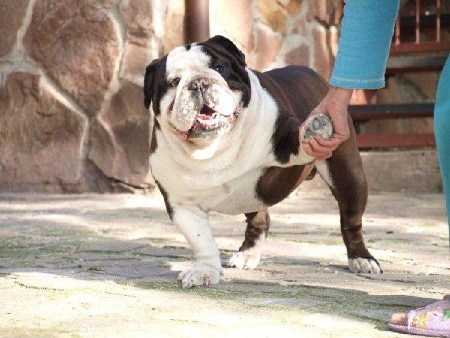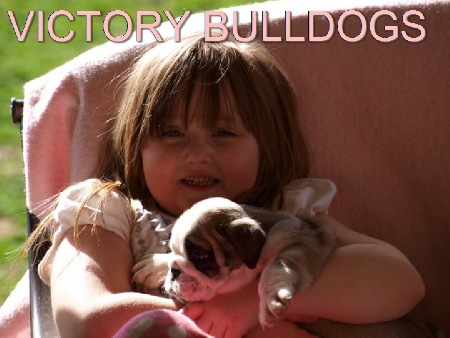 We are please to announce the newest member of the family and future champion Prince Harry. We thank our wonderful family in Europe for trusting him with us and cannot wait to see how he grows. For more pictures and bio on Harry please check out the Kings page.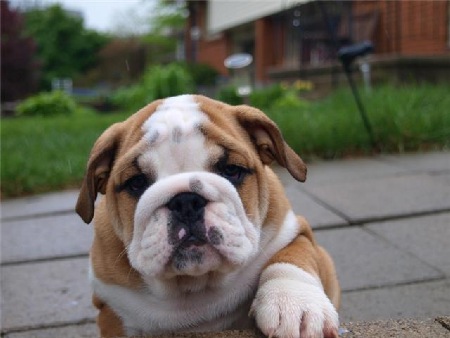 ***VICTOR'S DEEJAY ***

We are very excited to show Deejay and obtain his ch title this year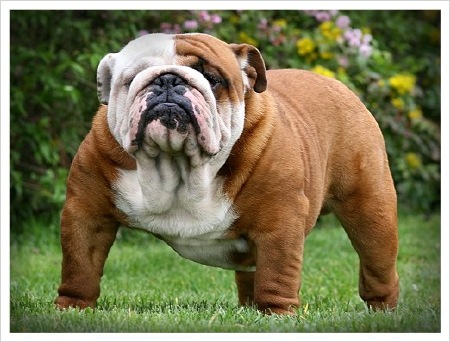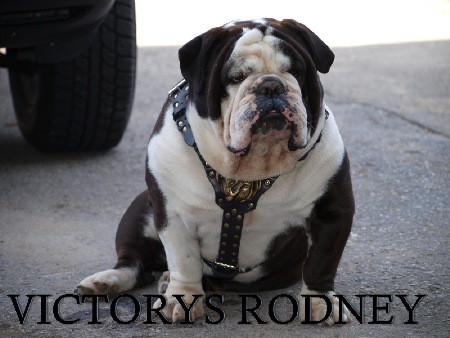 Below is Trez one of our past Bronze pups

*******Below is our AMAZING EUROPEAN MULTI CHAMPION of 4 countries NERO CH Pl, CH HU, CH SK, CH NL He was Best Bulldog in 2007,2008 and 2009 and 15 X CACIB ( Certificate of Aptitude for International Champion of Beauty,dog show title). We will be showing NERO in Canada and US 2010 and hopefully we will obtain a Inter-championship for him this year (Inter-Champion is Ch of 5 or more countries). NERO is truly something special to us and we thank our loved ones for trusting him with us ********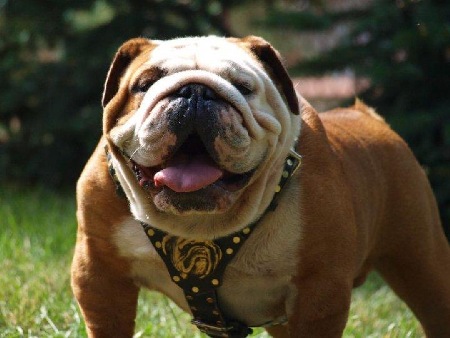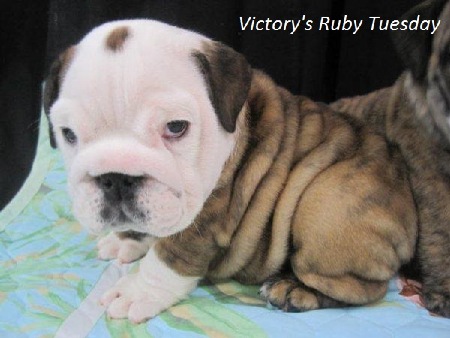 Victorys Mystyle Marley was chosen to represent January for a European Bulldog calinder 2010 along side her best buddy Des.

Victory's Falling Snowflakes and her sister Victory's White Wynter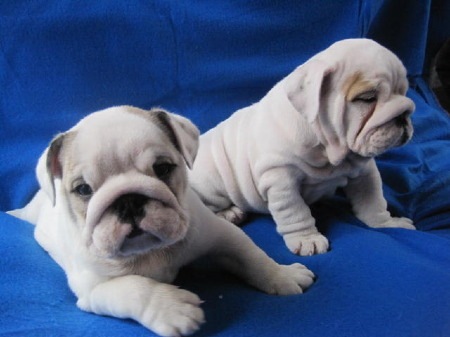 VICTORY"S MYSTLE MARLEY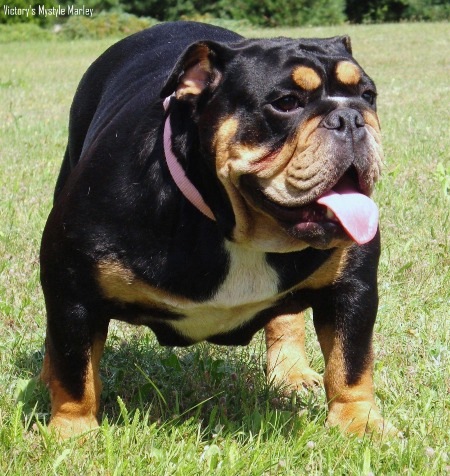 Picture Below is some of the boys together
Left to right Charlie,Hurricaine,Nero and Roy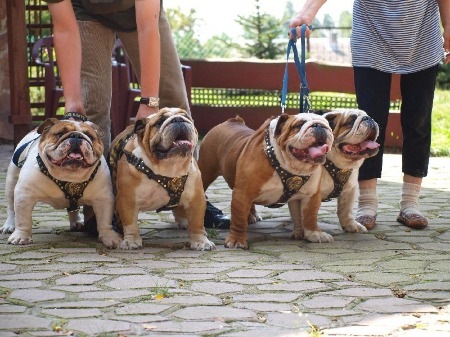 Ollie Wins 1st place in group and Best Of Winners at Monarch Kennel Club


Our New Stud European CH Valintino

VALINTINO TAKES BEST OF BREED AND BEST IN SHOW JUNE 13TH 09