Quality European, Champion English Bulldogs


Members in good standing with the Canadian, American and FCI Kennel Club, all our puppies are registered.

****** LATEST NEWS AT VICTORY BULLDOGS *****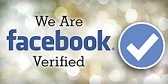 Click the Link to Follow us on Facebook and see new Videos and pictures posted daily!

UPDATED October 22nd

2 Male English Bulldog Puppies Available Availabull Bulldogs



FRENCH BULLDOG PUPPIES AVAILABLE AND READY TO GO NOW Availabull French The Website is up to date and all Available puppies can be reserved with deposits online unless they're marked as Sold.

Visit our Facebook page linked above or Instagram @Victorybulldogs1 for new Videos..

We have 1 Gorgeous French Bulldog Female Ready to go now

Availabull French

This litter is all now SOLD

10 Week old French Bulldog puppy pictures are now updated. These puppies will be ready to join their new families end of August to the beginning of September.


8 MONTH OLD TYRION $5000.00 SOLD to Nancy in Ottawa

Our Amazing TV Star French Bulldog is Available to a pet home only, Please visit out Facebook page for more info linked above.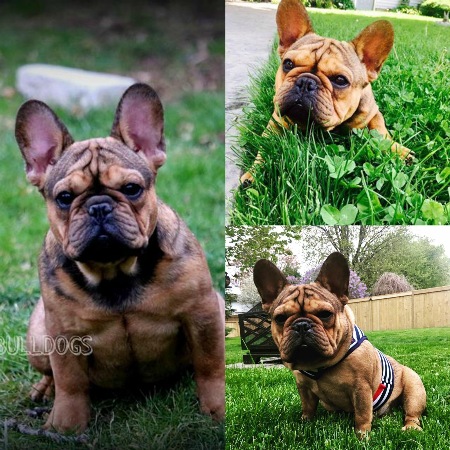 THESE BULLDOG PUPPIES ARE ALL SOLD

Available English Bulldog Page is updated and Current puppies are all Available unless they are marked Sold. We are now taking reservations on these Amazing Bulldog puppies, ready to go now. for more information and pictures visit Availabull Bulldogs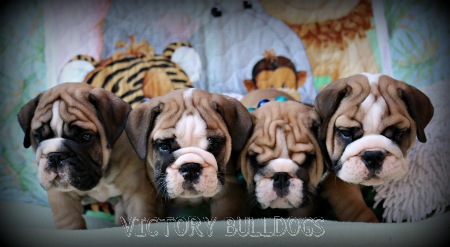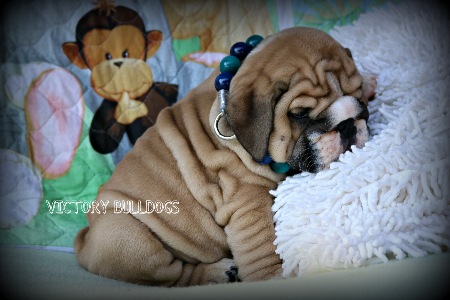 PREMIUM TOP QUALITY RARE LITTER BORN MAY 2017

THIS LITTER IS ALL SOLD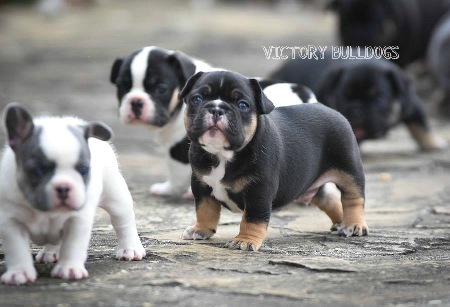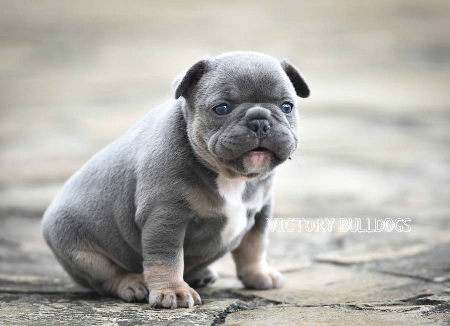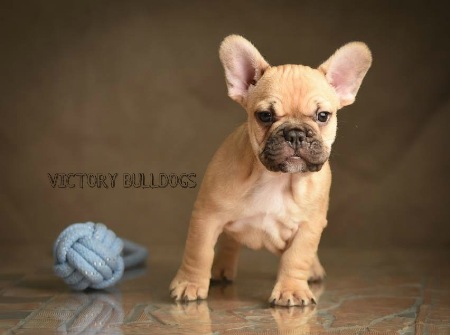 Ollie Sired Puppies are all now SOLD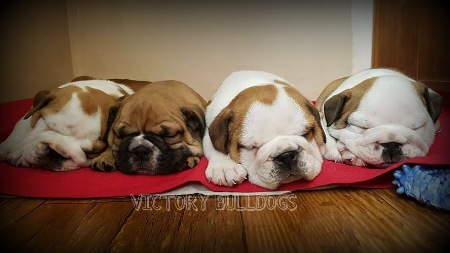 Our Bronze Seal Puppies are all now Sold

OUR MOST RECENTLY SOLD BLUE FRENCH BULLDOG PUPPIES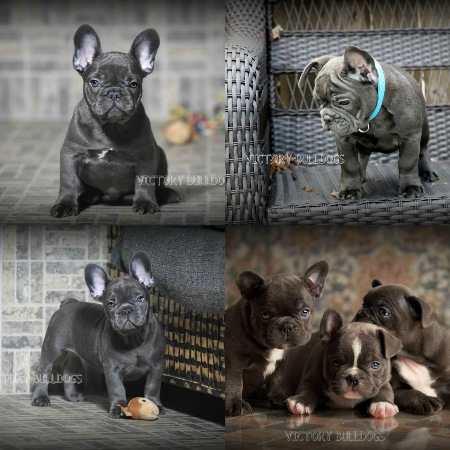 These Babies are All Sold

Availabull French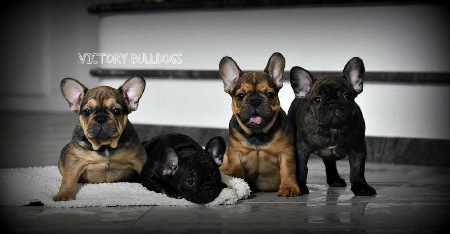 THESE BLUE FRENCH BULLDOG PUPPIES ARE SOLD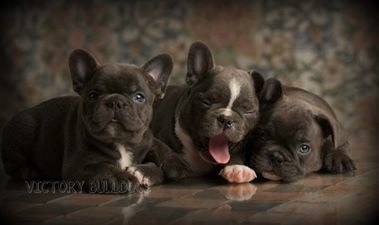 THIS LITTER IS ALL NOW SOLD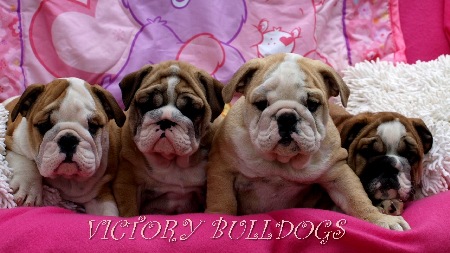 ALL CUSH SIRED PUPPIES ARE NOW SOLD



THE BLUE FRENCH BULLDOG PUPPIES ARE NOW ALL SOLD

10 Week old Blue French Bulldog Pictures have all been updated. These little guys will be ready to join their new homes after next weekend. We will start to make appointments for families with deposits to come pick their little one shortly. Availabull French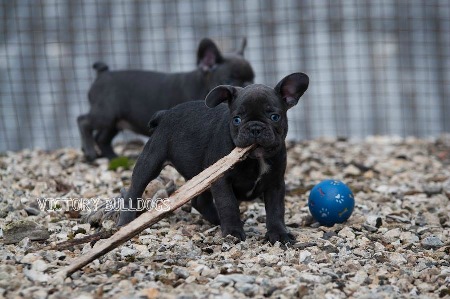 Updated Availabull Bulldogs

TOP QUALITY BULLDOG PUPS! THIS LITTER ALL NOW SOLD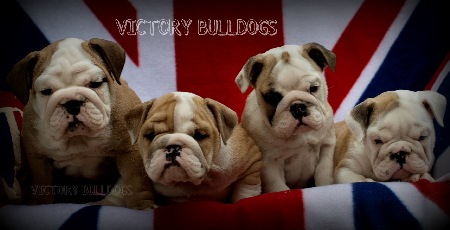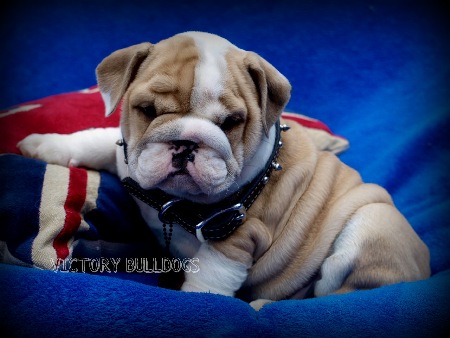 THESE 8 AMAZING CUSH PUPPIES ARE ALL NOW SOLD

These babies have all now found their wonderful new homes. Thank You So much to all the wonderful new homes, we look forward to keeping in touch with everyone.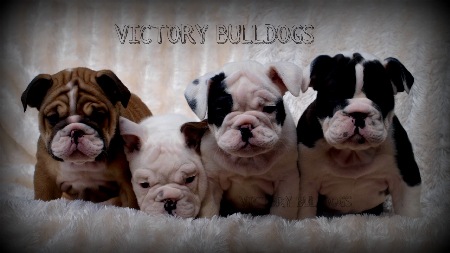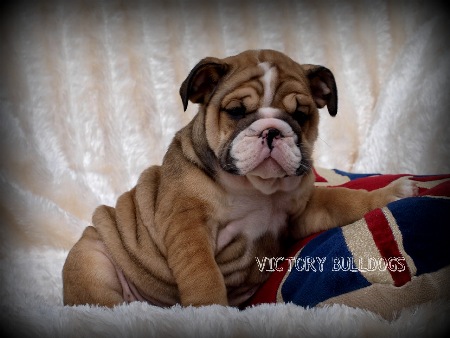 6 BLUE FRENCH BULLDOG PUPPIES

THESE BABIES ARE ALL SOLD

Availabull French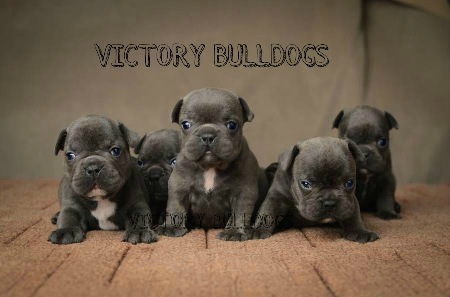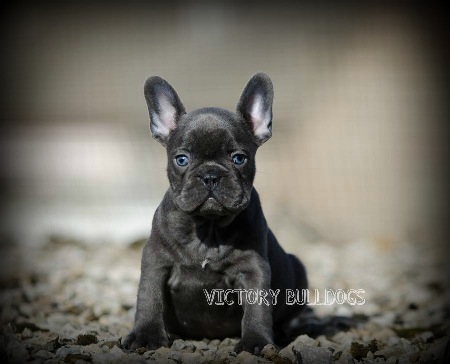 ~*~ These Ollie Sired Babies are all now Sold ~*~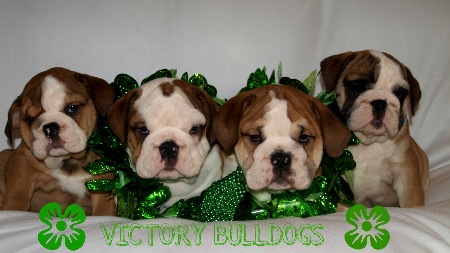 *~*~*~ These Babies Sold Extremely Fast *~*~*~

Thank you to the wonderful families for Choosing Victory Bulldogs. We look forward to lots of updates and seeing our babies grow.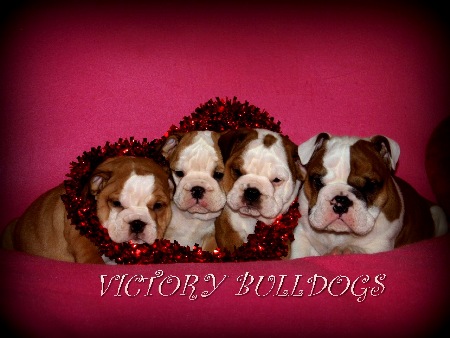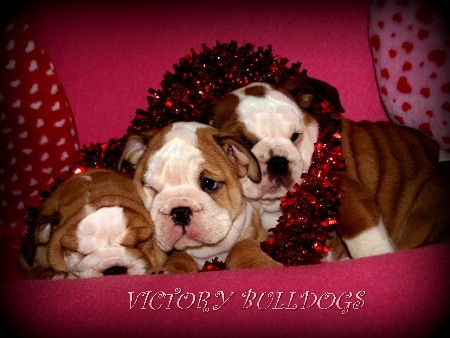 THIS LITTER IS ALL NOW SOLD

Availabull Bulldogs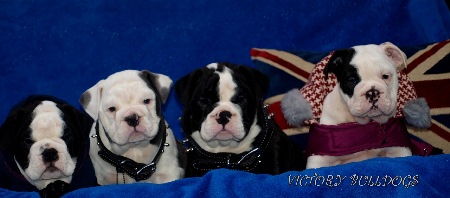 THESE BABIES ARE ALL NOW SOLD

Thank You to the families who have given them a great loving home and wonderful life.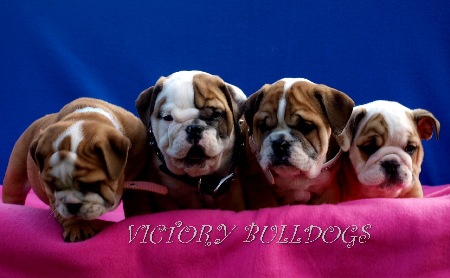 We did a TV Show with TVO Kids with our Newest Bulldog litter Today! Please visit our Facebook Page for a Video of our Day on set with our gorgeous little Stars and the great Cast and Crew..



NEW CUSH SIRED MALES BORN SEP 9TH 2015

THESE BOYS ARE ALL NOW SOLD


We have a Phenomenal Litter of All Males Sired by our Yugoslavian Import Cush. We have 3 Red and White Boys and a Solid White Male. These Boys are Gorgeous, Massive Bone, Large heads, Extremely Wrinkled flat faces and massive Ropes. They're almost 8 weeks old $4000.000 each pet homes only . Please Contact Us if you would like to reserve one with a $500.00 deposit to secure your pick.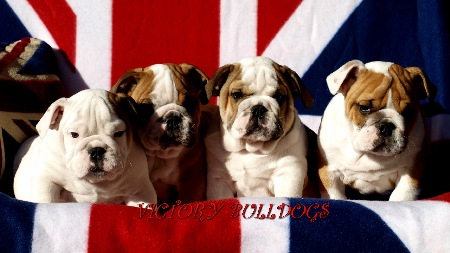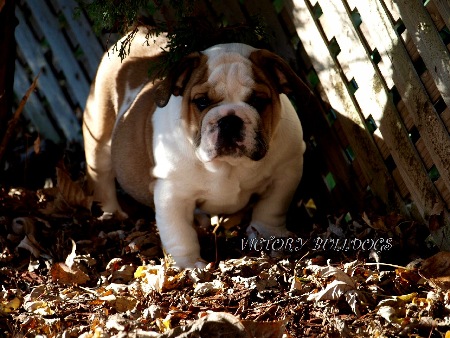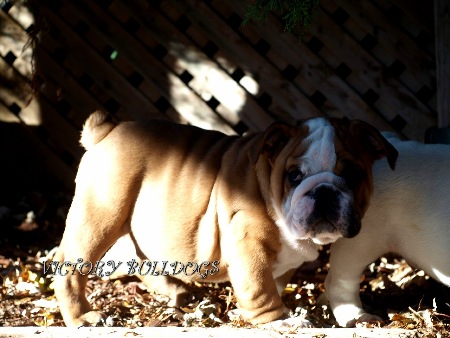 These Babies are all SOLD


CUSH SIRED BABIES BORN AUG 3RD 2015

This litter has all been SOLD


Availabull Bulldogs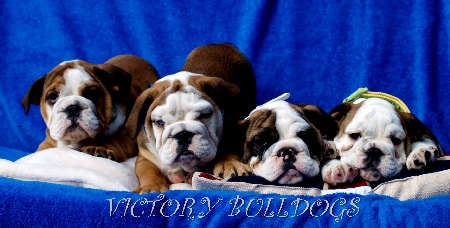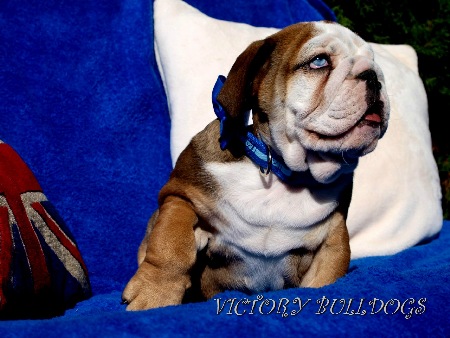 This litter have all found new homes

If you are looking for the BEST look no further.. We breed some of the worlds most sought after absolutely Outstanding Quality Bulldogs.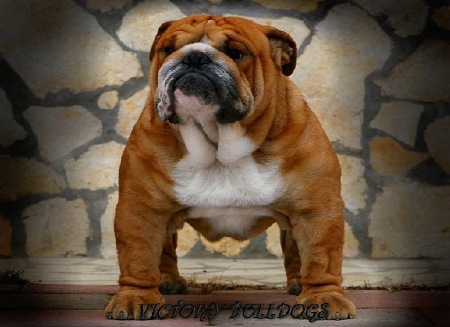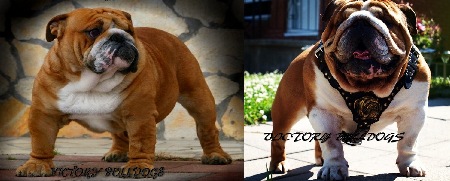 PHENOMENAL TOP OF THE LINE QUALITY BULLDOG PUPS AVAILABLE

Availabull Bulldogs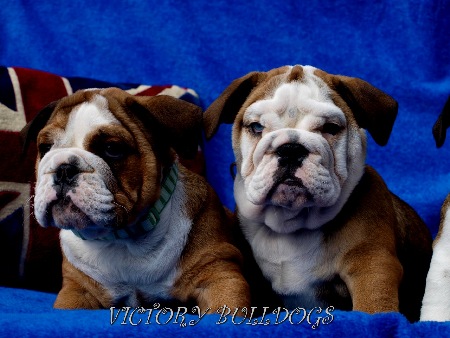 This litter is all SOLD

Availabull Bulldogs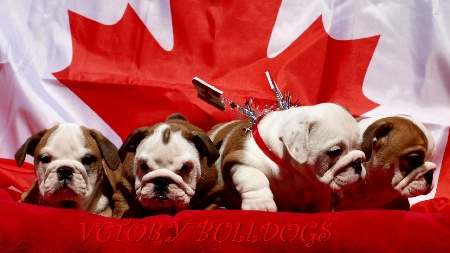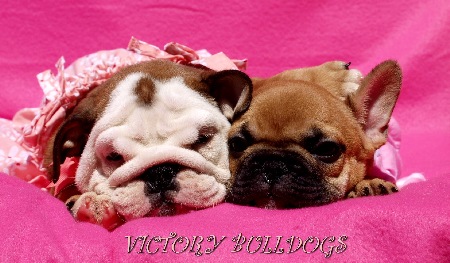 JR CHAMPION SOKATEL ALEN PUPPIES AT 6 WEEKS

These Stunning babies are a fine example of What Alen is producing, Top Quality Bulldogs! These puppies are all SOLD.



Black And Tan French Bulldogs

We have a couple new addition Rare Black and Tan French Bulldog babies. These babies are not for sale, We will however have some Black and Tan French Bulldog puppies coming up in the near Future that will be Available.

THIS FRENCH BULLDOG LITTER ARE ALL NOW SOLD


Availabull French

THESE PUPPIES ARE ALL SOLD


NEW FRENCH BULLDOG BABIES BORN APRIL10th 2015

Our beautiful French Bulldog puppies are now 18 days old and all doing well. We will now be taking $500.00 deposits to reserve puppies in this litter.

We welcomed to the world 8 Gorgeous Top Quality French Bulldog Puppies today! 4 Males and 4 Females. We will start to take deposits on the babies in the coming weeks and contact the families on the waiting list. Their colours will change over the next few weeks as they grow and they will be from The Rare Brilliant Bright Red (like Adonis) and Deep Mahogany Reds to Standard Fawn coats. They will be ready to go in June.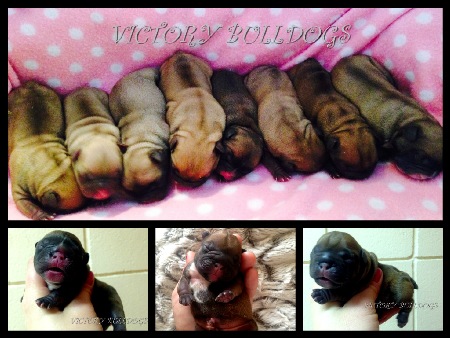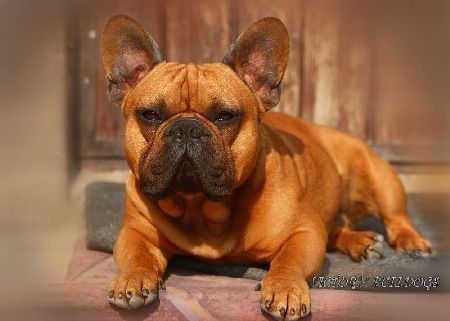 CH LORD OLIVER PUPPIES COMING

Our Very Gorgeous Boy Ollie will be a father again soon! Ollie's Puppies are always in Very High Demand and sell very Quickly, Will update once his puppies arrive.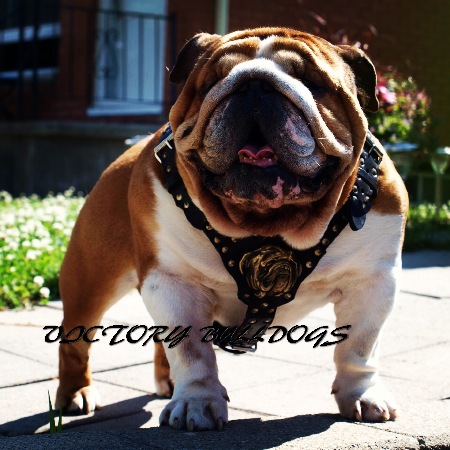 2 CUSH LITTERS COMING SUMMER 2015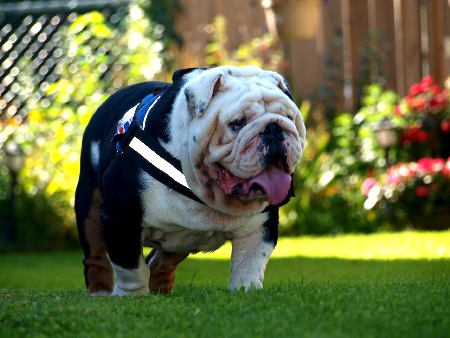 FRENCH BULLDOG PUPPIES BORN

We have a New litter of French Bulldogs Born April 10th 2015, And another litter due in June 2015. We have born and also are expecting Reds,Fawns,Sables and Creams all Black Masked. Now taking Deposits on the litter Born and names on the June waiting list.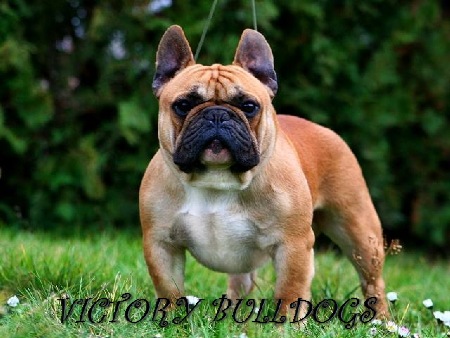 This Vito Litter is all now SOLD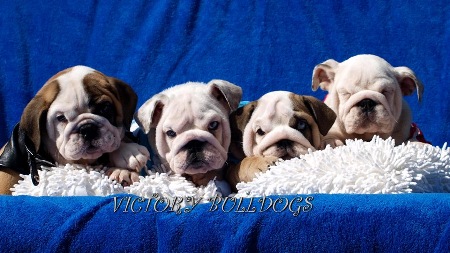 VICTORY'S STARK KNIGHT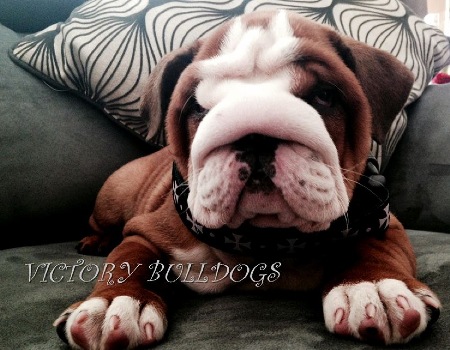 CUSH Puppies Born born December 2014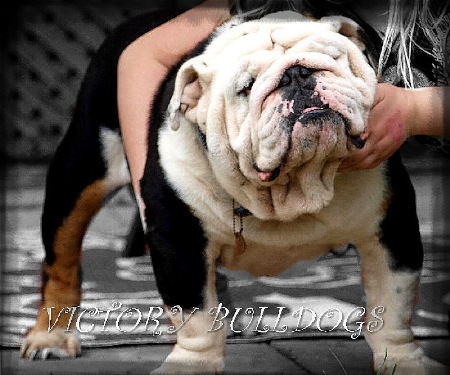 March 30/14 New Updated pic of Victory's Mail Sail Otis

Otis is absolutely something else! Words cannot describe how phenomenal this boy is turning out and he is even better in person! Otis is true perfection of what a top show quality Bulldog should look like. He is now 14 months old and over 80lbs of bully lovin! he's a big teddy bear with a heart of gold.




*** Cush all ready to be the Easter Bully ***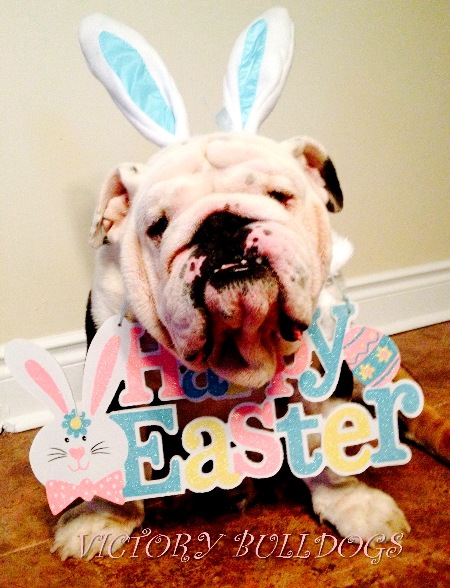 *** Availabull French Is updated ***

ALL THESE PUPPIES ARE SOLD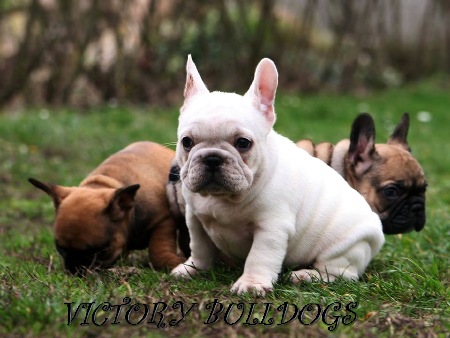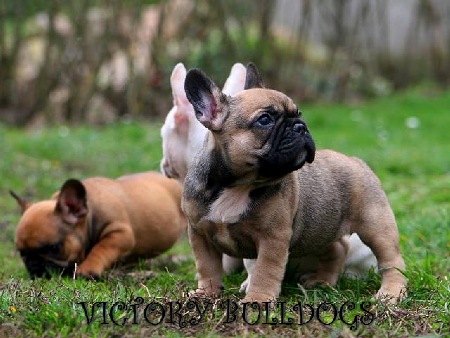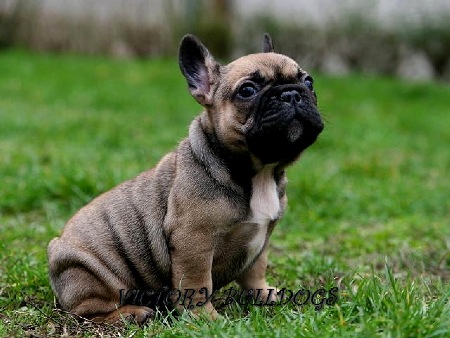 VICTORY'S MOLSON I AM CANADIAN IS SOLD

This Little Boy is just outstanding he is from our January 15th born litter and is now 7 wks old, if he was not related to our Cream girls he would be staying with us!.. This litter has far surpassed our expectations! Heavy wrinkled, flat square muzzles, short and stocky Top of the line proper looking French Bulldogs! They really don't come much better than this! Sire is a Multi Champion Grandsire is United Kingdom Crufts and inter-Champion Glen-lee Night Hawk and the apple does not fall far from the tree with their offspring! We have only a couple of puppies from this litter of 8 still Available and ready to go in 3 weeks time! These babies are priced accordingly and are not cheap, Serious inquiry's are welcome, Puppy Application will apply to families interested in one of these amazing bullbabys :)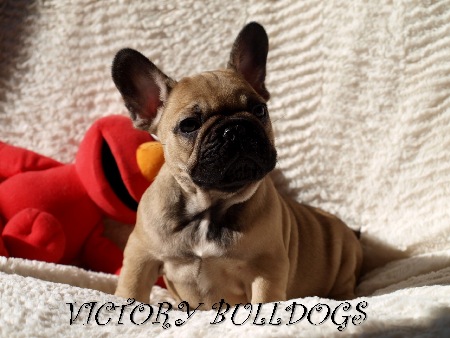 VICTORY'S COMET IS SOLD

Availabull French

Both Vietsy and Shanzy are now Sold


March 9th 2014

VICTORY'S KING CUSH'S First Official Breeding taking place in Canada Next Week!

We are pleased to announce Cush will be bred to Shamrock's Winnie early next week! These puppies will be over the top quality rare colours. They will also be full niece and nephews to Joe Jonas Blue Boy Winston. Pictured below Cush is a Black Tri Son of Cush and Trina a triple carrier black tri who is a past Daughter of Winnie. Cost of one of these outstanding rare beauty's will be determined once the litter arrives but they will range from $5500.00 for pet homes, full rights AKC/CKC will be additional depending on colour, conformation/quality & DNA.




ONE OF A KIND HANDMADE LEATHER BULLDOG HARNESSES AVAILABLE! MORE INFO AND PICS ARE NOW UNDER.

Bulldog Harnesses


WELCOME HOME KING CUSH

We want to officially welcome Victory's King Cush of Czin Czin to Canada! Cush arrived in Canada this week and I took some beautiful pics of our Amazing new boy today! Cush is not only a stunning Wrinkled stocky Rare Tri Boy but he is the sweetest most loving Bulldog. His temperament truly has blown us away as soon as we met him he stole our hearts with his loving and laid back nature he took to us very quickly and already has made himself quite at home here. We want to Thank Jo Ann again for such an amazing boy he is a true blessing and forever member of our family.

STUD SERVICE UPDATE FOR CUSH

We have had such a overwhelming wonderful response to King Cush coming to Victory Bulldogs and Breeders asking if we could please allow them the use of his services. So for a limited time only we will open up King Cush to Stud only to reputable breeders we personally know on approved females. Right now we have 2 secured stud services on Cush for Shamrock Bulldogs and will allow for a couple more. Cush's stud service will be Second Pol or a Stud fee of $2000.00. We can overnight fresh chilled semen/extender within Canada and USA. Cush is from Yugoslavia a proven stud AKC Dna'd and Quad Registered AKC,CKC,FCI,IOEBA. Don't miss out on this amazing boy as his services will only be available for a limited time only.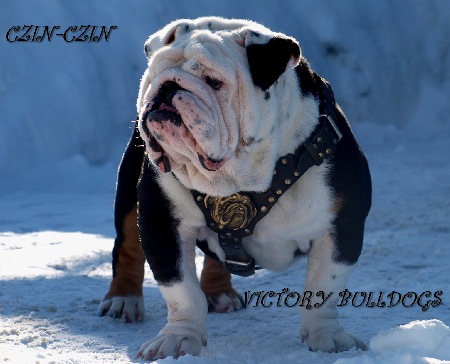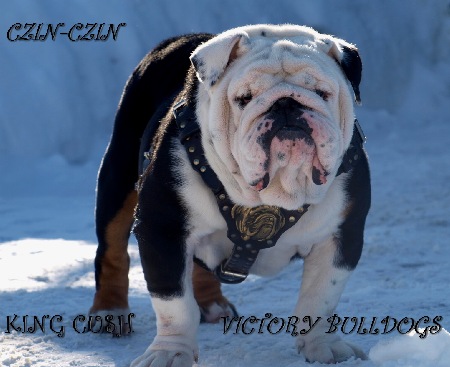 6 Week Old Champion Sired Ollie Dolly's

These girls are very special to me because there was only the two girls in the litter and I hand raised them from birth; so needless to say they have been a wee bit spoiled :). They are growing up into phenomenal looking Bullies with an Amazing full Russian, British and Hungarian Champion line! I will defiantly miss these babies when they do go off to their new homes. They are starting to get their little personality's now and Viatzy is a very mellow little girl and Shanzy is the feisty one, very vocal when she wants attention. They are just now starting to get their big nose ropes like daddy and soon will get extremely wrinkled. This is a very overdone heavy wrinkled line some of our best bred Bulldogs have been sired by our Ch Lord Oliver.




New pics taken Jan 27th These puppies are now ready to go




A New Outstanding Stud for 2014

Introducing our New Gorgeous Rare Black Tri King Cush who is taking the place of our now Retired boy King Rodney! We are very excited to add this Stunning boy to our line up of Studs! Cush is a 70 lb stunner known for producing amazing overdone heavy wrinkled pups and we are looking forward to our first up-coming litters with him spring of 2014, his puppies will defiantly be something to look out for this spring! A huge Thank You to Jo Ann for entrusting us with her special boy. I will be taking new pics of this handsome fellow in the coming weeks.


Little Lollipop! Our Gorgeous Cream Frenchie quality at it's best with this little one! Look out for her Up-Coming litter end of the year. We will have some gorgeous Cream baby frenchies bred with our new Cream boy who we will be posting pics of very soon! Cream French Bulldogs are a dilute gene and are very rare and hard to come by especially quality Creams like Lolli and our new Cream Boy who have very flat faces and resemble the look more of the English Bulldog in a smaller package!.


DECEMBER 24th 2013 Update

UPDATES IN Testimonials 4

Our long awaited Calendars finally arrived today and they look fantastic, we are so pleased with how beautiful they turned out this year! We will send emails to all those who ordered one. We will start mailing them out end of the week after Christmas or for those who would like to come pick theirs up in person we will make a date soon for collecting them.


We want to welcome our stunning Champion Ollie Sired babies born December 20th 2013 into the world! Victory's Viatzy and Shanzy! A truly wonderful Christmas Blessing!



December 9th 2013

Our Sweet little Bulldren Babies on The Hudson's Bay Set in Toronto today for a Commercial photo shoot! A Big Thank You to Kathie, the Art director, Hudson's Bay executives and the entire team who made us and our Bulldren babies feel so welcomed on the set. We are look forward to working with you again in the near future!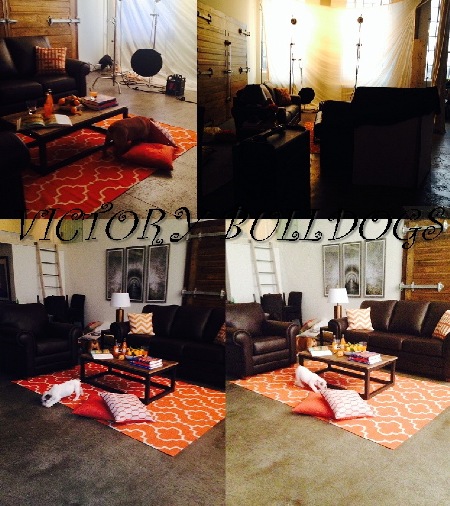 These puppies are ALL NOW SOLD

Watch for these puppies Spring 2014 in Hudson Bay Advertisement's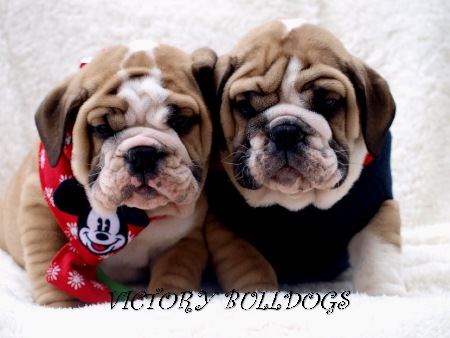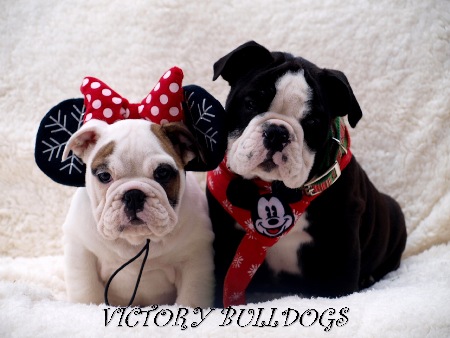 Winter arrived in our town as we got a Ton of snow! Here is OTIS Enjoying some fun playing in it! He has to be one of our Only Bulldogs we have a hard time getting in the house as he will play in the snow for hours burring his head and making tunnels if we let him :)

*** More Gorgeous babies like this Ollie Daughter coming Spring 2014 ***




2014 Calendars Update


We are expecting the Calendars to arrive next week and I have a group email I will be sending out to everyone about those with Payment options and to collect mailing addresses so I can send them all together at the same time. We was planning to open an Online store to sell some items with our Bulldogs on them as many have inquired about this but due to how extremely busy we are we just do not have the time to manage that as well right now. However my wonderful Friend Gillian who owns a successful Skateboard Shop is also opening a Pet Shop geared for Bulldog products mainly and will be having online items featuring our Bulldogs and her two Victory Bulldogs Buster and Vao. We are very excited for her new business and will help her anyway we can to make it a huge success so we will post more details about that as soon as she has her site up and running. She will also be selling our Calendar's so if you did not get a chance to order one via us she will have them available in her store.

The HDR Calendars have been Finished and here are the completed Results! We are so happy with how they have turned out! They have been ordered in the highest quality with all photos done in a glossy finish. We did not spare any expense in making these Calendars and all proceeds will be going to Southern Ontario Animal Rescue.


CH, JRCH CZIN CZIN VITO VON TEUFELHOHLE OF VICTORY

We are so proud of you Vito! You did it, Our Newest Champion Vito



This has to be one of our Favorite times of the year! We get to take advantage of this beautiful weather letting our Bulldren play outside and explore till their little hearts content.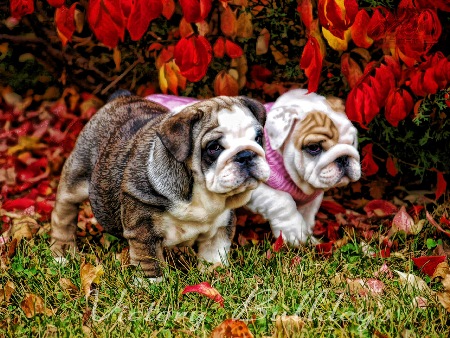 London X Rodney Puppies are all SOLD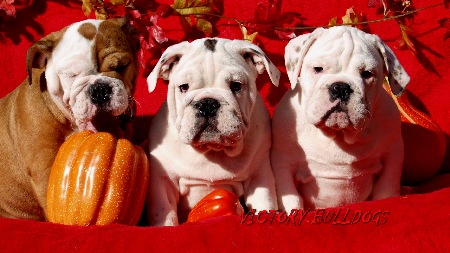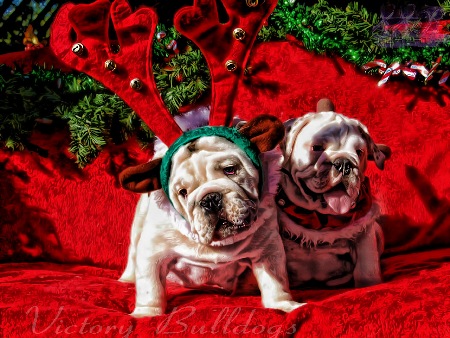 Photography has always been a fun Hobby of mine..Many have asked who does our Photography for our Bulldogs and they are all done by me. One of my fondest memories as a child growing up in the south of England was going to the Docks in Portsmouth where I lived most of my life! Taking pictures of the Tall Ships which one of my favorites was the HMS Victory of the Royal Navy and a ship my dad worked on when I was a Child, and this is also one of the reasons behind our name! We recently teamed up with an Amazing Artist Amanda @ HDR Art and we have been collaborating with my Photography and her Artwork which really bring the photos of our Bulldogs to life (They are not Photoshopped they are pictures of my Raw Photography Enhanced with HDR). We are working together on our new Calendar which will soon be ready as well as other pieces! She has already sold a few of the latest Halloween pictures with our newest litter. If you see a picture of our Bullies that you love Amanda can make them into wall art either framed or unframed in 20X30 for $49.99 or 18X20 for $39.99(unframed) pictures will be sold with our watermark company logos on them but they will be translucent. I will be adding a link soon with all of the information. We also have one of our well know Bulldogs on Rens Pet Store bags and we are looking forward to now working with them in the future with more of our bulldog photography for their products A big Thanks to Scott and Lynda Executive Assistant of Ren's Pet Depot http://www.renspets.com/

We have Signed a Contract with a very well known High End German Holistic dog food Company Vollmer's Hundefutter. Our One and Only Famous Boy King Rodney will be used on their products and also in some German TV Commercials which we will most defiantly post once they have been filmed!. We are honored they want to use our boy for their products, look out Germany King Rodney is coming to town! :).



This Beautiful Picture can be purchased in framed or unframed Wall Art!


We are going to be having our 2014 Calenders made in October they will be made in HDR(High Def Resolution) this year. If you are interested in one please contact us at this Email Address Victorybulldogcalendars@hotmail.com. I want to be sure we order enough this year as last year we made 300 and it was not enough. They are only $10.00 each and are professionally made in featuring our Bulldog and Puppy pictures from this year! They make great Christmas Gifts to Bulldog Lovers too! ALL proceeds for our Bulldog Calenders will go to SOAR (Southern Ontario Animal Rescue) http://www.soardogrescue.ca/index.php

~ These Babies are all Sold ~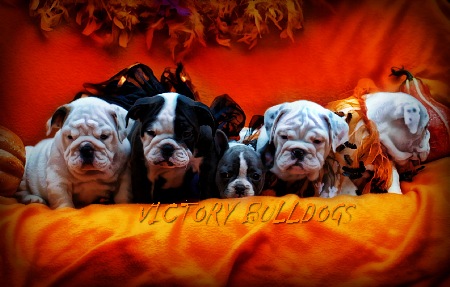 * Availabull French HAS BEEN UPDATED *

Our Blue Frenchies are now Sold


I had the joy of spending the day with my Gorgeous Niece today who is defiantly my little mini me as she absolutely adores the puppies. I had to take the opportunity to take pictures with Jadyn and the some of the puppies together. Her Favorite's are the French Bulldog Babies! I did take some individual pictures of these stunning blue babies and will be posting them up shorty, along with our newest litter of English Bulldogs babies out of London and Rodney!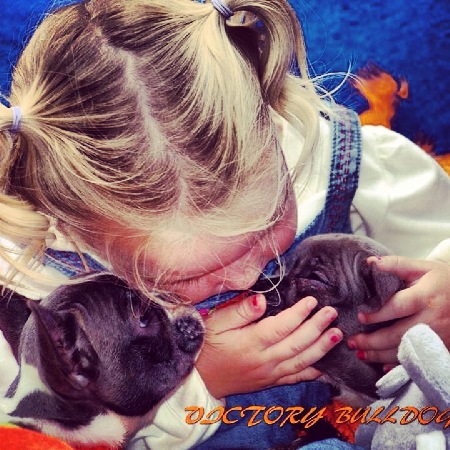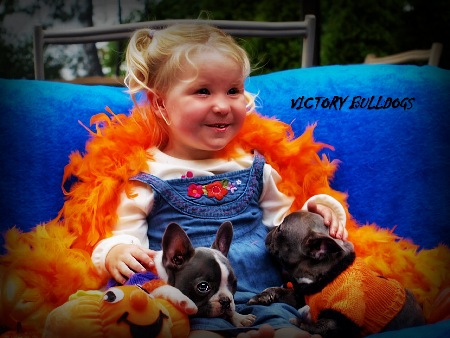 Were on Instagram! if you want to see more everyday pictures/videos of our wonderful life we share with the amazing Bulldog Breed. Please click on the instagram banner to be taken to our page.



Our Gorgeous Mai

Miss Whitney will be staying with Victory Bulldogs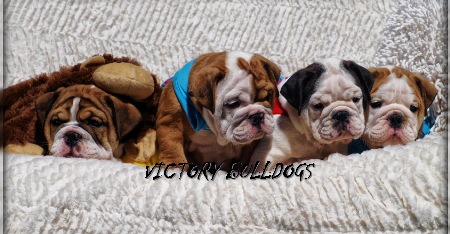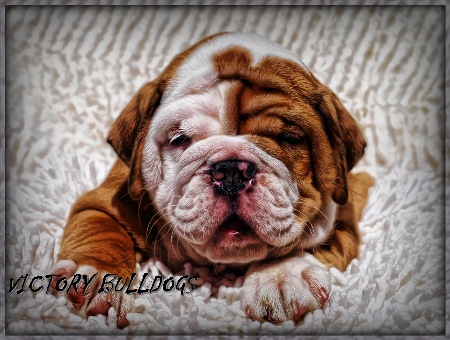 OLLIE Love's Playing Football almost as much as he likes eating his footballs





TJ Son of Rodney, Such a Lovely Pic of our Boy!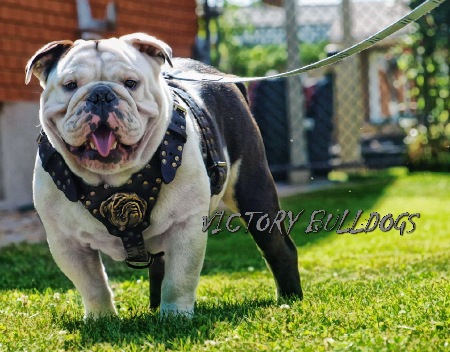 Victory's Triple Trina of Shamrock

Trina is turning out into a Stunner! I had to post her newest picture taken of her today. Trina is a truly very special Girl... She is a Outcrossed Black Tri Triple Carrier and quality is second to none! We will be breeding this girl for some amazing very Special rare colour Pups! This girl can produce Blue, Dark Chocolate and Lilac Tri Puppies! We cannot wait to see what she produces for us Quality and Colour! This anticipated up-coming breeding is however already pre-sold. We will keep all those on her waiting list up-dated with any news in regards to her breeding date.

Victory's Mail Sail Otis At 7 Months

This Boy is Top Quality at it's Finest! Otis Pictured here at only 7 months old this Photo Taken on Aug 24 2013. We have big plans for this Young Stud Next Year!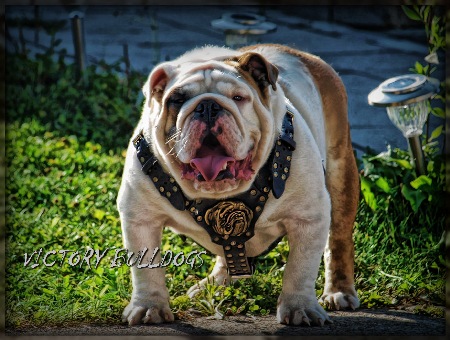 Victory's TJ JR Our King Rodney Son


LUNA X RODNEY LITTER AT 7 WEEKS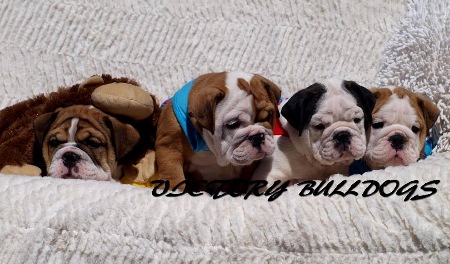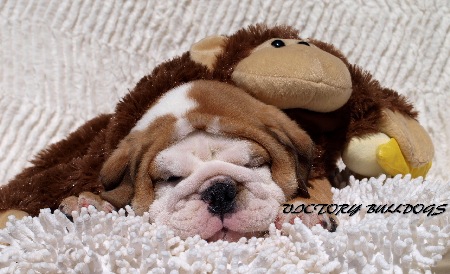 We are so Thrilled to have Entered Ollie and Otis into the European World Dog Show in Finland next year 2014 we have been anticipating registering our boy's for the show this week. Ollie is already a Champion and knows his way around the show ring and we will be working hard with Otis's training this winter. We are very confident of these Amazing boys making us proud and look forward to sharing their accomplishment's in Finland while doing some sightseeing in the stunning city of Helsinki.


http://www.worlddogshow2014.fi/

Corey Perry from NHL's Anaheim Mighty Ducks Picking up his new Puppy he has named ACE! He will be loved by Corey and his lovely girlfriend Blakney.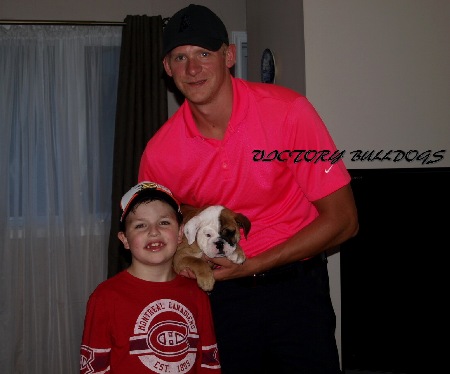 ~ Otis and Ollie Relaxing Outside Today ~

OUR RODNEY X LUNA BABIES ARE NOW 5 WEEKS
These Boys are SOLD

VITO PUPPIES ARE ALL SOLD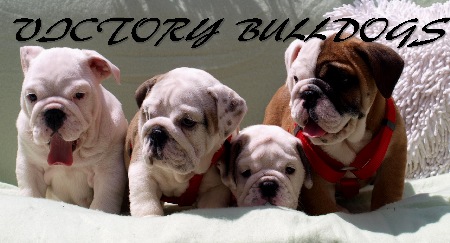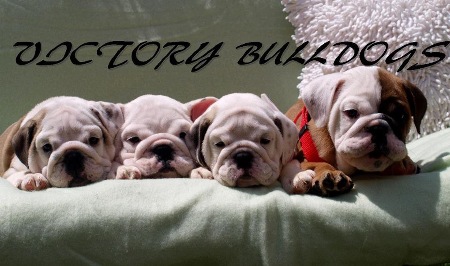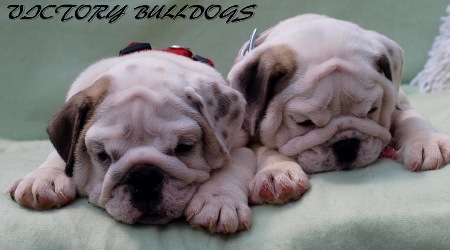 ~ SUMMER FUN IN THE SUN AND THE BEST WAY TO BEAT THE HEAT~

LUNA X RODNEY PUPPIES ARE NOW 3 WEEKS OLD

~Two of these babies are reserved~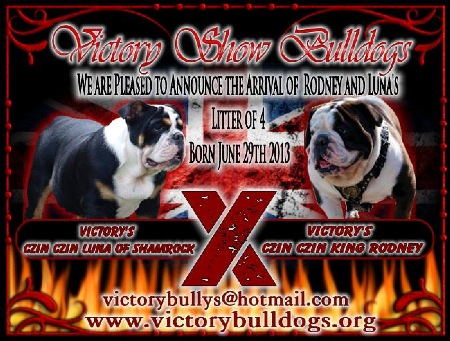 ~These Babies are all Sold~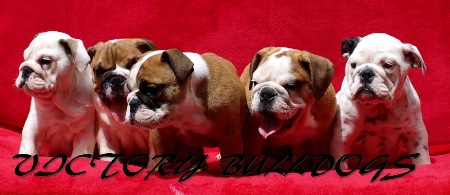 GOT WRINKLES?

They don't come much better than this! These Baby Bulldren are simply phenomenal quality! 5 week old puppy playtime July 7th/13 with Rodney and Roy Grandkids!

*~*~* This Litter is All Reserved *~*~*

*We do however have some Phenomenal Puppies Available*

6 Weeks old, In just a few weeks these 7 little Angels will be joining their new families

THIS LITTER IS ALL NOW SOLD

VICTORY'S MAIN SAIL OTIS OF CZIN CZIN

Otis just Turned 6 Months old! He is turning out Amazing. Otis will be heading to Europe the end of August where we will show him for his Jr Championship. Thank You again Bobby, We will be sure to make you proud!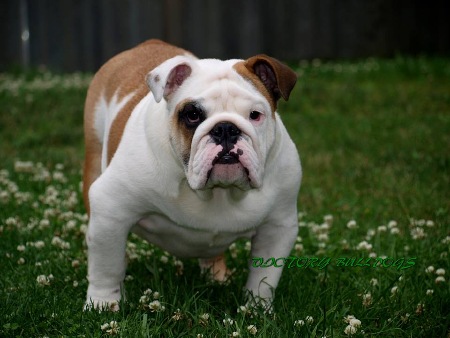 VICTORY'S GOLDEN STAR MING-MAI MERY

Our Stunning Mai at 6 Months doing what she does best Snuggling with her mummy.. Mai has a few shows coming up in the next couple of months now she is old enough for Jr. We have high hopes for this little girl in the Ring this summer, her sire is a 5X International Champion. Mai is a True Blessing and brings joy to our lives everyday Thank You Stephen we look forward to sharing her future accomplishments with you.

Our Gorgeous Champion Lord Oliver of Victory Summer 2013. We are planning a breeding with this amazing boy Fall/Winter 2013.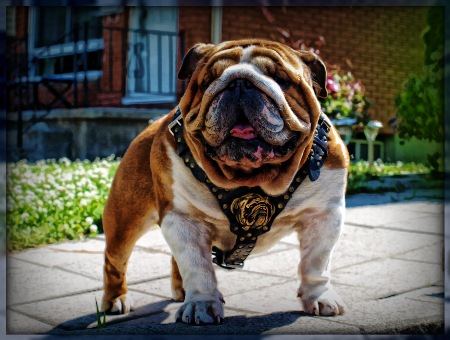 ~TRINA OUR TRIPLE CARRIER BEAUTY~

Trina is being bred Fall/Winter 2013 to a Rare Lilac Stud this breeding will produce extremely rare colour Bulldog pups! All puppies will be Triple Carriers and we are expecting a rainbow of colours Black,Blue,Dark Chocolate Tris & possible Lilacs. Trina is also very special being she is one of 2 only nieces of Joe Jonas's Blue Boy Winston! These puppies will be very special and will be for selected private treaty. First Three pups are already reserved.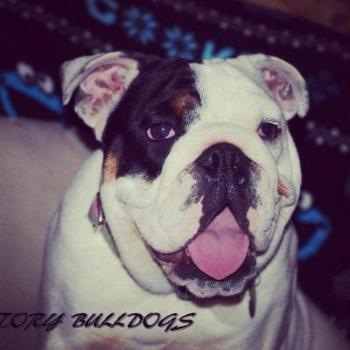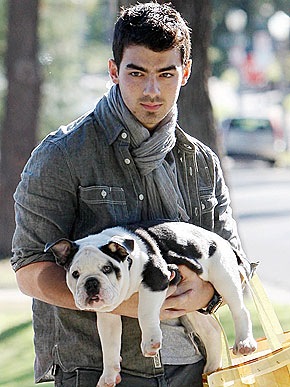 Trina's Uncle Winston with his owner Joe Jonas.

VICTORY BULLDOGS KENNELS OPENING FALL 2013

We are very pleased to announce we will be opening a boarding facility in the Fall of 2013. Families who own our Bulldogs will have the reassurance of breeder care,knowledge and piece of mind for their Bully when going on vacations! More information will follow in the coming months but we are thrilled to be able to offer this service to our Clients.

TESTIMONIALS 4 Page Added

We just wanted to Thank all our wonderful Clients for your continued support and amazing updates and pictures. We have had a busy and great start to 2013 and we will be updating the new testimonial page throughout the week and will try to get everyone's pictures and updates posted Have a Great Summer and keep your Bulldren cool, Check out our Bulls and Heat for some great summer tips

Danny Syvret of the NHL'S Philadelphia Flyers Picking up his New Victory Bulldog Puppy Dougie, now known and Moose!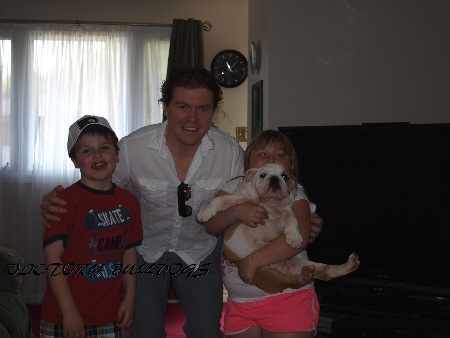 ONE LAST MALE FRENCH BULLDOG AVAILABLE
This will be our last French Bulldog for 2013

THIS LITTER IS ALL NOW SOLD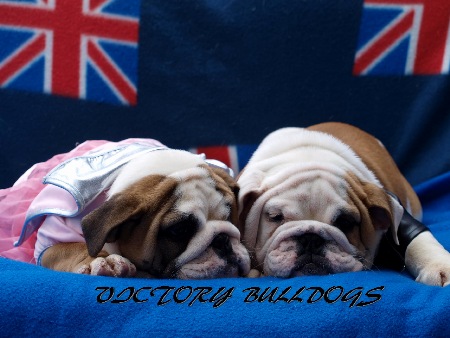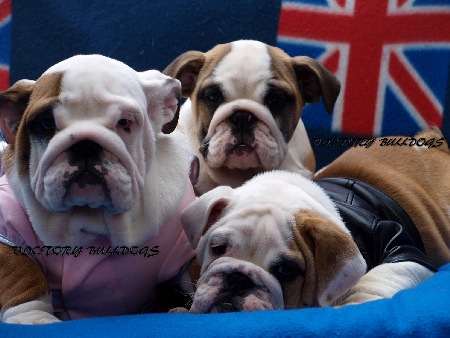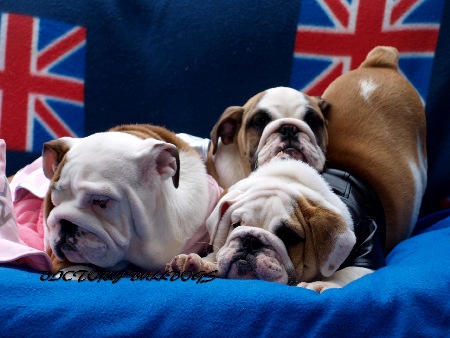 NEW VIDEOS DOWNLOADED OF OUR ADULTS

Our New Addition MAI who joins us all the way from Europe! Thank You Stefphen she is truly a wonderful addition to Victory Bulldogs.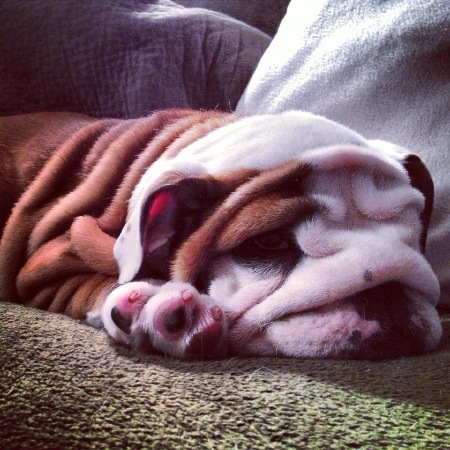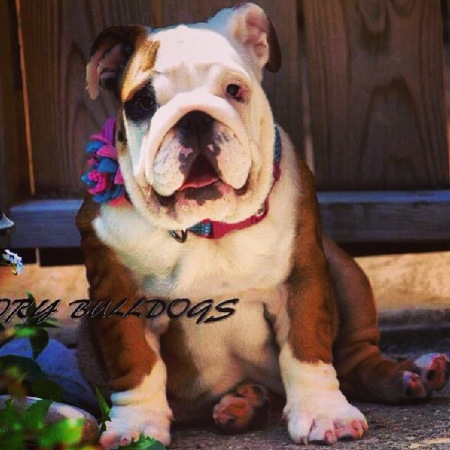 VICTORY BULLDOGS NEWEST MEMBER OF THE FAMILY!

Introducing Otis! He is just a Absoloutly Stunning Boy we are overjoyed with and a huge Thank You goes out to Bobby for this amazing kid! We have big plans for this boy. Watch out for this young man he is going do us very proud!!!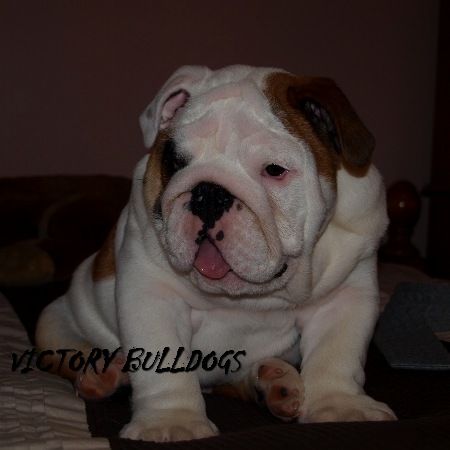 NEW LITTER OF ENGLISH BULLDOG PUPPIES ARE AVAILABLE

THIS LITTER IS ALL NOW SOLD

TRINA Say's Happy St Patricks Day!

INTRODUCING OUR NEW ADDITION

Victory's Triple Trina! Trina is a Truly Very Special Black Tri! She is not only the Only Neice to Joe Jonas's Bulldog Winston she is also a UC Davis Dna Tested Triple Carrier!! Trina will be bred in the future for Dark Chocolate Tris, Black Tris and Lilacs! We have our Amazing Longtime Freinds Shamrock Bulldogs to thank for our baby girl! A Big Thanks also goes out to our Amazing friends Blackgold Bulldogs for making this baby possible! We love you both and look forward to what she will do for us all in the near future!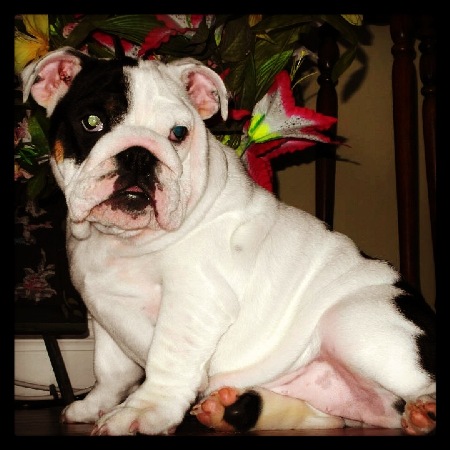 WE HAVE SOME LOVELY FRENCH BULLDOG PUPPIES AVAILABLE

Please Visit the page below for more information

http://www.victorybulldogs.org/455963.html

BLUEBELL'S LITTER PICTURED BELOW 1 MALE LEFT

These Babies are Blue and Possible Chocolate Carriers Double Factored Babies

This litter is all SOLD

What a wonderful start to 2013! We have been blessed with 2 phenomenal French Bulldog litters. One sired by Marmite the other by Bubika, pictures of Available puppies will be placed up soon.

Brandon Prust NHL Montreal Canadian Forward picking up his new French Bulldog puppy from us as a suprise for his lovely girlfriend marie-pier!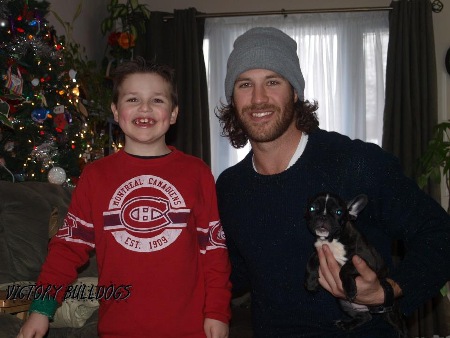 Victory Bulldogs 2013 Calendar are now Available

$12.99 Including Postage

**RODNEY DOES IT AGAIN 9 PHENOMENAL ENGLISH BULLDOGS PUPPIES**

This litter is all now SOLD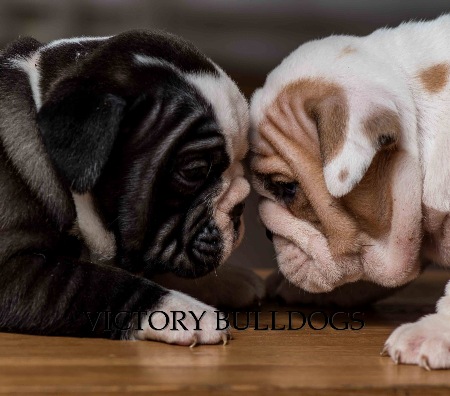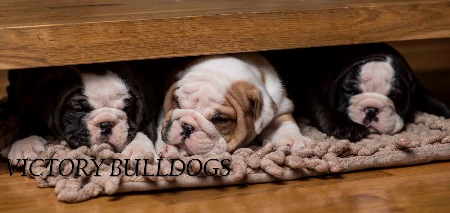 THIS LITTER IS NOW ALL SOLD

https://vimeo.com/victorybulldogs

Updated picture of Pheobe one of our past puppies living with Lindsay! Loved and Spoiled to peices they will be adding a New Brother to the family for Pheobe soon.

Trition will be a Future Stud! Watch for his puppies in 203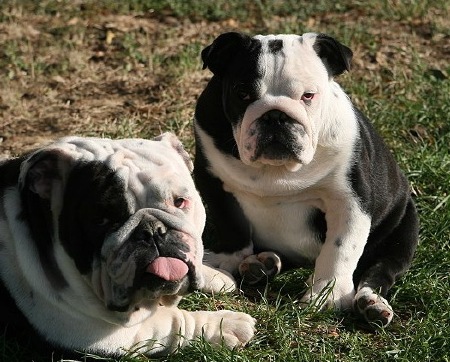 Update August 25 2012

All Current French Bulldog Puppies are now Sold... 2 Litters Due Mid September 2012 If interested please contact us our next litters of Frenchies will be ready to go Mid November 2012.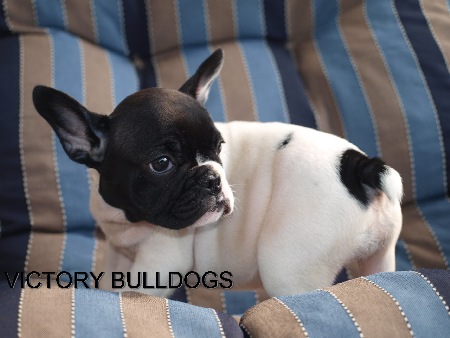 August 12th 2012

4 NERO SIRED BULLDOGS PUPPIES BORN... PICS COMING SOON....

BELOW IS RODNEY KIDS! 9 Weeks old... 10 Amazing Bronze Seal babies born all puppies are spoken for to pet homes. Next litter from Rodney possibly Fall 2012!

Bubika and Lily before Bubika's first Sailboat ride this weekend, He loved it!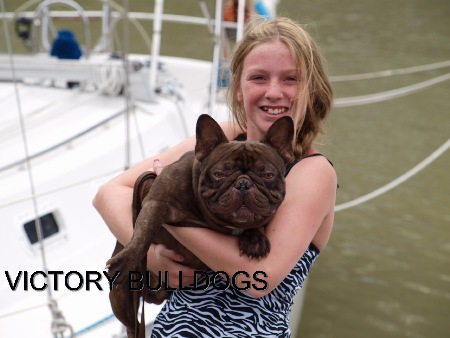 VICTORY'S STUNNING NEW SOLID BLUE FRENCH BULLDOG STUD!

VICTORY'S ICE ICE BLUE BABY "ICE"

Ice will be bred to Bluebell in 2013 for a Solid Blue Litter, More information about ICE under our French Kings Page. We are so thrilled to have such a stunning blue boy!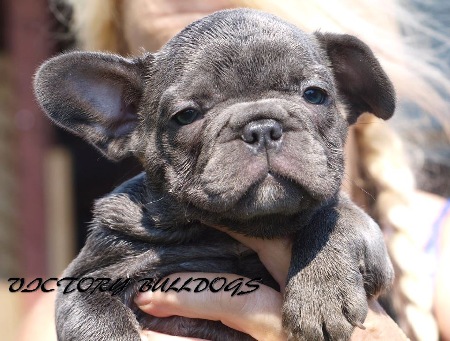 THIS LITTER IS ALL SOLD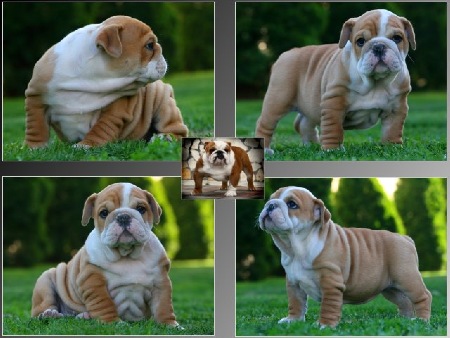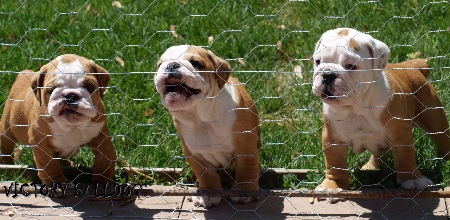 ONLY ONE LOVELY RODNEY FEMALE LEFT

More information under Available Puppies

MARMITE PUPPIES COMING THIS FALL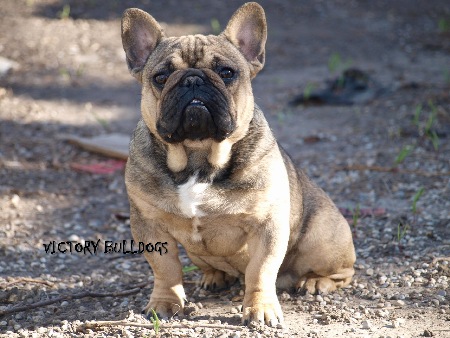 London March 2012! Watch for London's Puppies this Fall

BUBIKA CHOCOLATE FRENCH BULLDOG STUD WITH AMBER EYES

BUBIKA & CHOKITA CHOCOLATE FRENCHIES COMING FALL 2012

"Victory's Tiny I am not so Tiny Now" (Son of Rodney and Skye) is now the proud father his first litter of 4.. One of the puppies Born is a Solid Blue.. Tiny is Uncle to Luna Pictured Below.. Tiny is a Bronze and White Boy and carries Black Tri and Blue. 2 Pups Available posted under the Available Puppies page.

VICTORY'S LUNA MOONA OF SHAMROCK

Luna is now 8 weeks old and has arrived at Victory Bulldogs! We look forward to watching our little Grandbully grow up into a beautiful girl like her mumma Skye! Luna is a Blue Gene Carrier and we have hopes to breed her to our Blue Boy in the future.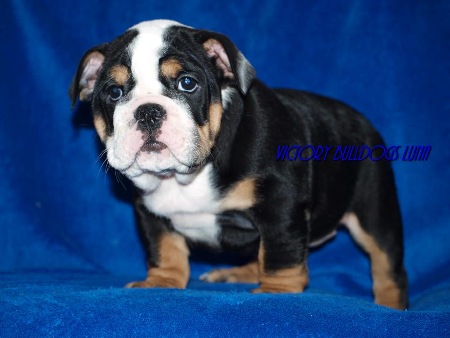 Luna at 14 weeks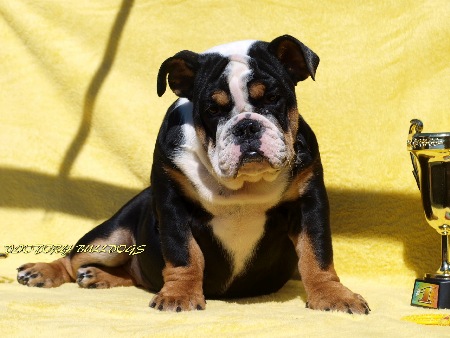 We are beyond excited to Announce our Newest Boy! He is a very rare Solid Blue English Bulldog with completely outcrossed new Blue lines. We are still thinking of a name for our special boy but we are excited to have such a great opportunity to own such an amazing boy! Thanks to our good Friend Jen at Mystyle Bullies

"Shooter" now known as "Ferdinand" Sold to Actor Greg Bryk his Lovely Wife Danielle and their adorable children. Ferdinand will also be apart of the Bryks new Television Show, we look forward to seeing him grow up with their lovely family.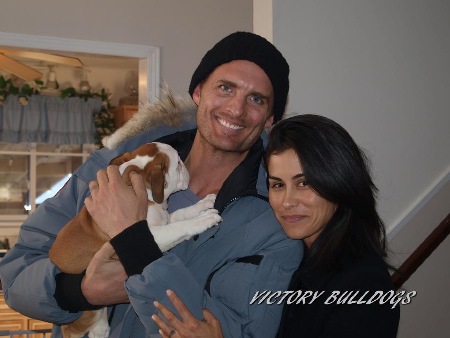 VICTORY'S BARRACUDA PUMA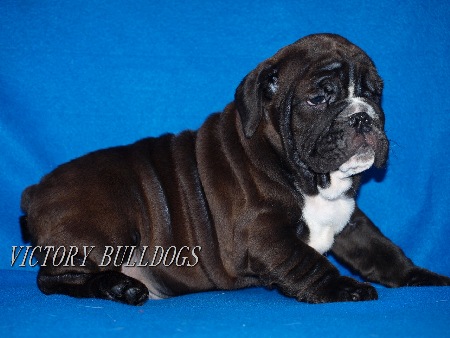 VICTORY'S LONDON'S CALLING 60 lbs 8 Months Old

London will be entering in her first show in March 2012 we have very high hopes for her in the ring. We also will plan a litter with London and Rock towards end of 2012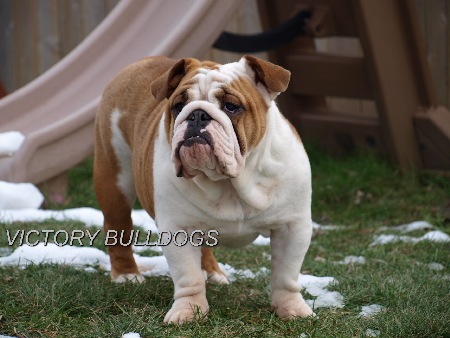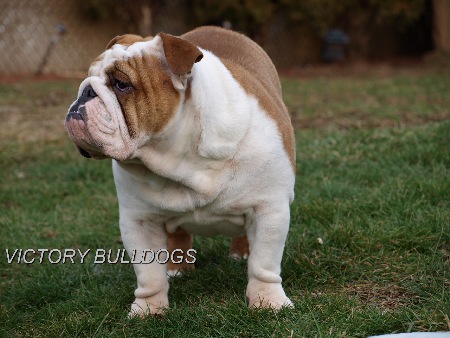 Introducing Victory's Newest Member And Our Own Grandbully

Victory's Luna Moona of Shamrock

Luna is a very special girl she is one of our special Grandbullys bred by our very close friends/business partners at Shamrock Bulldogs in B.C. Luna came from a litter of Solid Black Tri and Solid Blue Tri's (No Brindle) we will be DNA testing our little Luna for the Blue gene.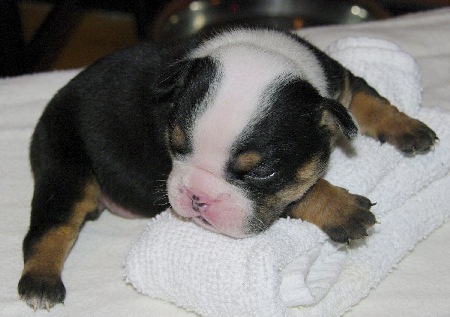 Updated picture of Luna's litter at 3 weeks

Great Job Shamrock! We are so proud of you. They all look Amazing!

THIS IS ROCK! OUR PHENOMENAL NEWEST BOY TURNING 2 IN 2012, THANK YOU TO OUR VERY CLOSE FRIENDS OF OUR FAMILY SZ AND PETER FOR TRUSTING US WITH ROCK AS YOU KNOW HE WILL BE VERY LOVED!... WE HAVE A PLANNED LITTER WITH ROCK NEXT YEAR 2012! IF INTERESTED IN A PUP OUT OF OUR ABSOLOUTLY GORGEOUS BOY ROCK PLEASE EMAIL US NOW TO GET ONTO OUR WAITING LIST! WE ALSO WILL ENTER ROCK INTO SOME CKC SHOWS NEXT YEAR AND SEE HOW WELL HE CAN DO FOR US IN THE CANADIAN SHOW RING! MORE PICTURES OF ROCK AND PROFILE COMING SOON..... WATCH OUT CANADA THIS BOY IS A FORCE TO BE RECKONED WITH!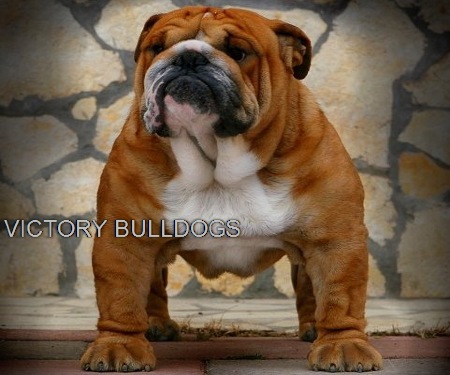 Our Gorgeous Boy Charlie!!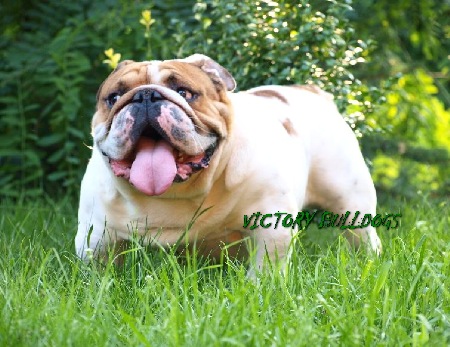 "VICTORYS SHINING STARR" Our newest keeper pup!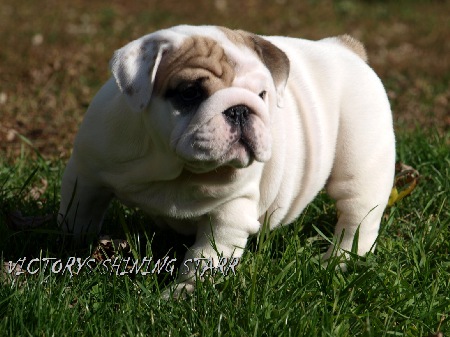 "VICTORY'S GOLDEN SPICE"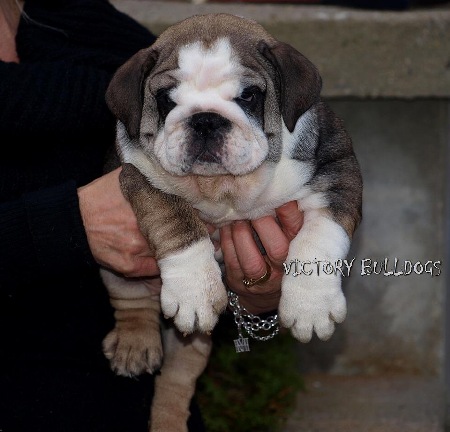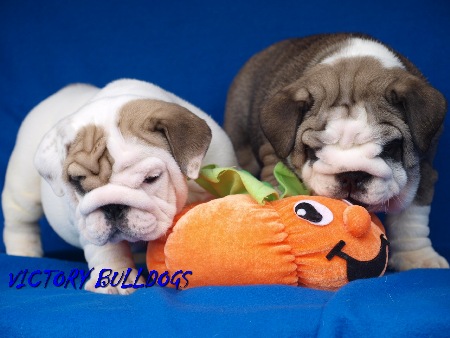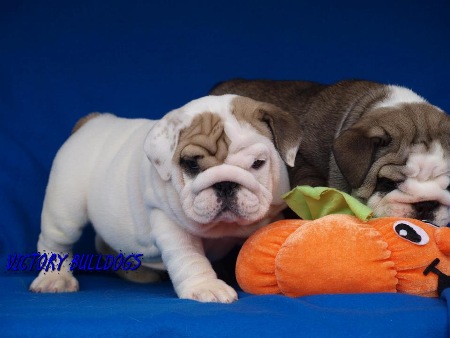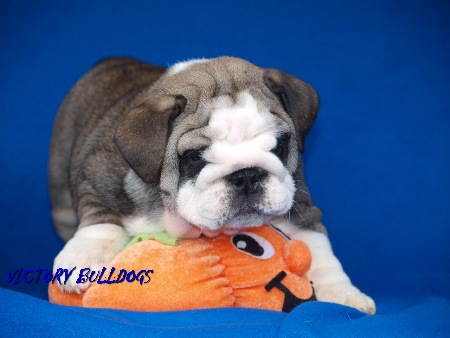 Introducing our newest addition "Victory's London's Calling" . London is very special to us she is from two of our past Bullies 'Victory's a place above Topanga" and "Victory's Tank". She was bred by Dina who did a wonderful job with raising this girl, she has personality plus and amazing conformation and is dripping with wrinkles. She has CH Cherokee Legand Floyd and CH Cherokee Legand Rock as well as European including many UK Lymans CH bloodlines. What a great package, show quality with top quality bloodlines. We plan to put her into the show ring in the next few months..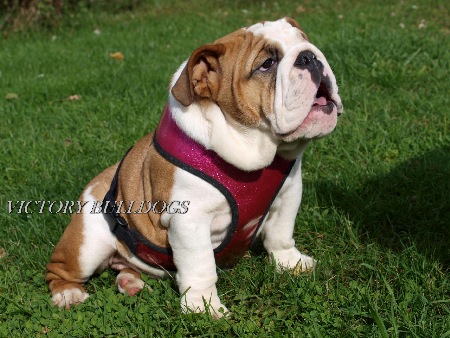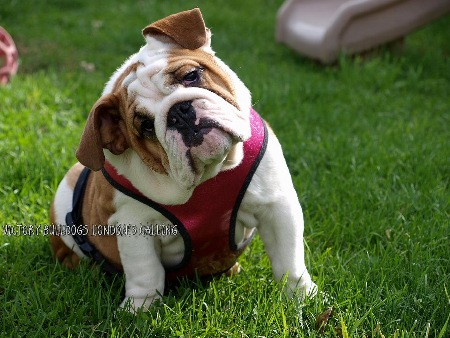 Victorys My Mate Marmite! Carrys "a" "Ay"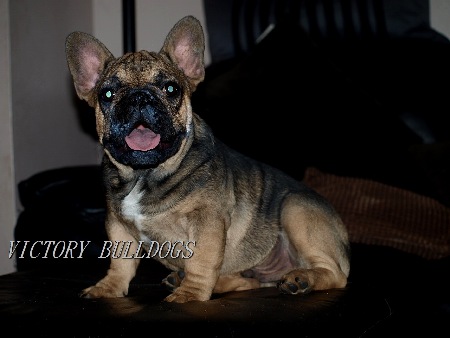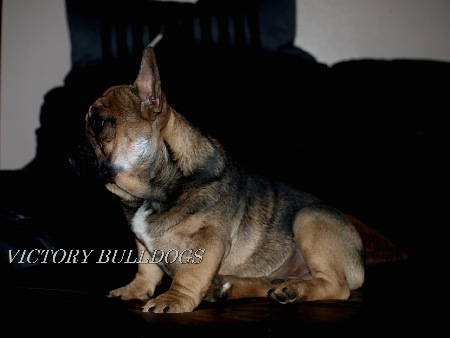 We have a few Red male puppies Available! Amazing bloodlines top quality! Please contact us for more information!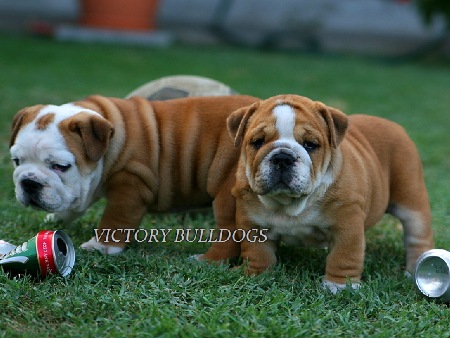 This Boy Clash is Sold however we have 2 of his siblings Available

OLLIE AT PAWLOOZA AUGUST 20TH 2011

Watch for Ollie puppies coming October 2011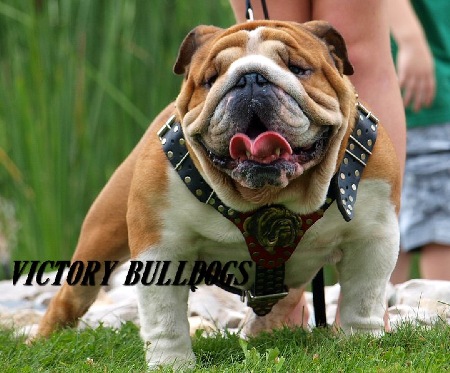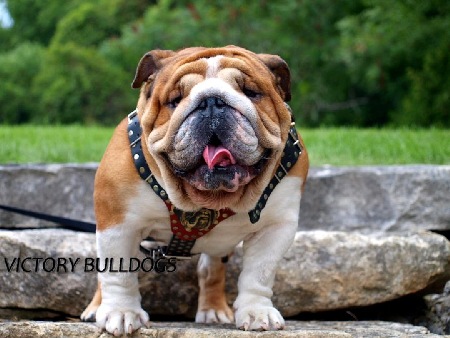 This Beautiful picture of Lyla was taken by the Hartmen's neighbor Annie. Thank you for sharing such a lovely picture of our beautiful girl!

BLUE LACY AUGUST 2011, Breeding planned with Sidney this October, Now taking names on our waiting list for her puppies which will be ready to go Feb 2012.

Our Beautiful Little Jadyn and Marmite the Frenchie! All our puppies are raised with small children as apart of the family.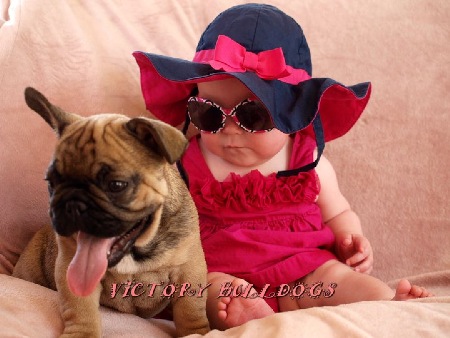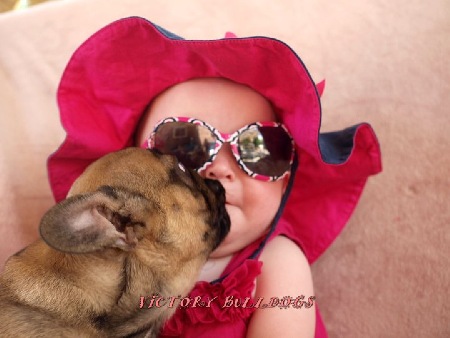 Our little Angel Jadyn at 6 months, She is soo adorable we just had to show her off :-)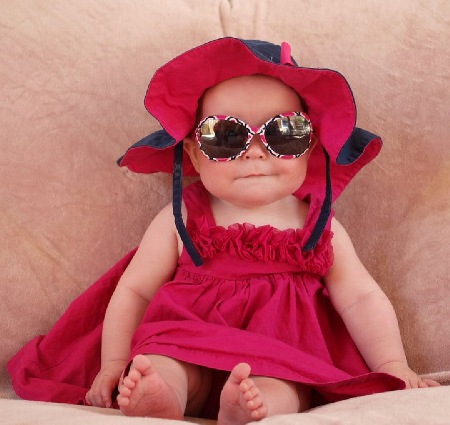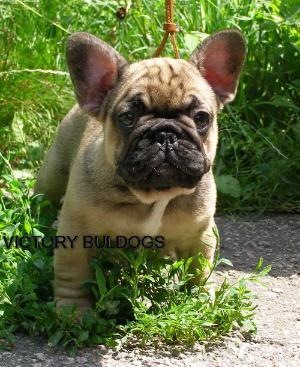 INTRODUCING OUR NEW BOY TO VICTORY BULLDOGS. THANK YOU SO MUCH OLYA FOR A TRULY WONDERFUL BOY! WE WILL SHOW HIM IN RING NEXT YEAR.

OUR BEAUTIFUL OLLIE 3 YEARS OLD JUNE 2011

LEO PICTURED BELOW AT HIS MOST RECENT SHOW IN JUNE, THIS PHENOMENAL CHAMPION BOY IS ALSO THE SIRE TO OUR TWO CHOCOLATE MALE PUPS WE ARE NOT ONES TO BRAG ABOUT BEING THE FIRST OF THIS AND THAT! BUT WE FEEL WE HAVE TO ANNOUNCE THESE AMAZING SPECIAL PUPPIES AND WE ARE THE FIRST TO HAVE CHAMPION PARENTS TO TWO CHOCOLATE MALE ENGLISH BULLDOG PUPPIES THE FIRST IN CANADA AND USA (WITH CHAMPION PARENTS) AND ALSO UN-RELATED TO ANY OTHER RARE COLOR LINES IN THE WORLD.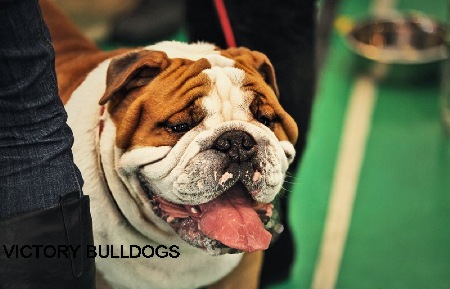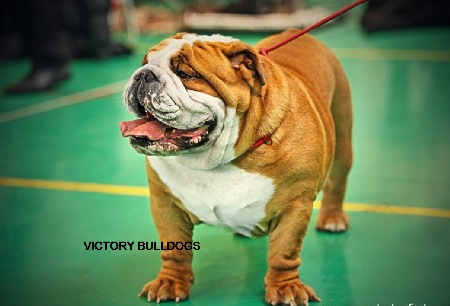 Great picture of VAO taken by Gillian and Chris in B.C, proud owners of two Victory Bulldogs Vao and Buster!

All these gorgeous Bronze and Seal babies are sold .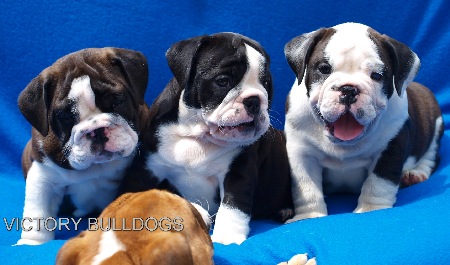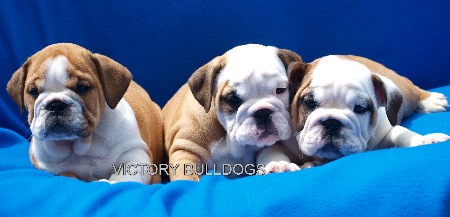 VICTORY BULLDOGS PRODUCED SOME OF THE MOST FINEST BRONZE BULLDOGS IN THE WORLD AND VERY PROUD TO BE THE FIRST TO BRING THEM TO CANADA! THANKS TO BLACKGOLD BULLDOGS FOR RODNEY! HE IS ALMOST 5 YEARS OLD AND CONTINUES TO PRODUCE THE FINEST BRONZE BULLDOGS YOU CAN FIND WITH COMPLETE OUTCROSSED LINES FROM OTHER RARE BULLDOG COLOURS! WE WILL HAVE MORE RODNEY BRONZE AND SEAL PUPPIES IN 2012!!

VICTORY BULLDOGS ONE AND ONLY FAMOUS RODNEY TROTTER! THE KING OF BRONZE BULLDOGS!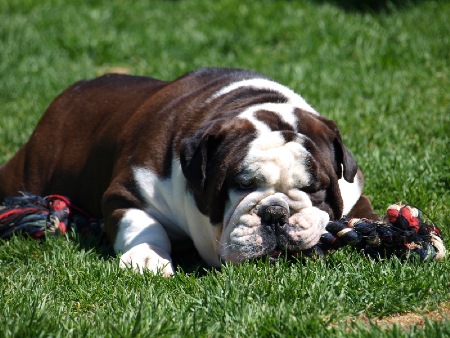 VICTORY BULLDOGS CEE CEE OUR CHOW CHOW (BULLDOG BABYSITTER) AND ISABELLA OUR LITTLE FAWN PIED FRENCHIE.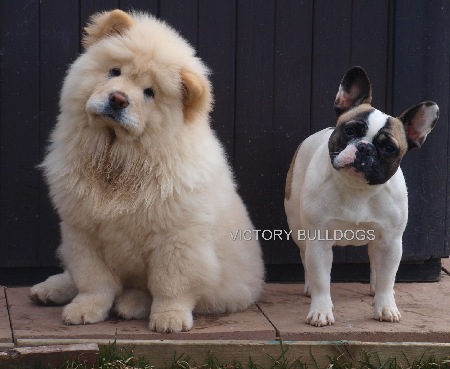 NEW PICTURES OF OUR CHAMPION OLLIE! PURE BULLDOG PERFECTION!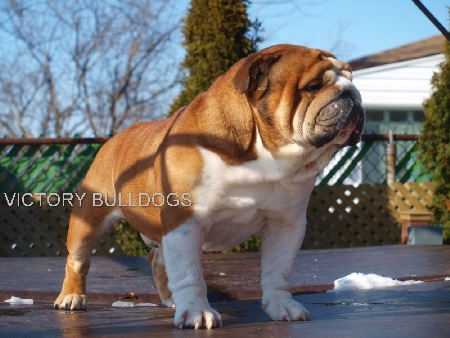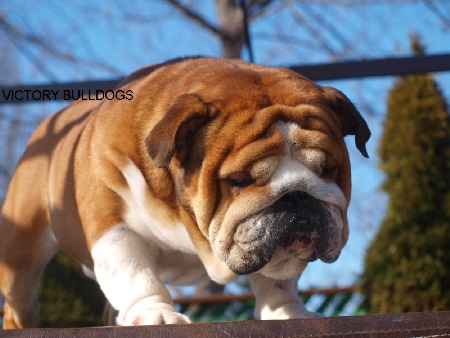 BUBIKA OUR CHOCOLATE FRENCH BULLDOG MARCH 2011. WE ARE PLEASED TO ANNOUNCE WE HAVE A SOLID CHOCOLATE FEMALE JOINING US SOON SHE IS A YEAR OLD AND WE HAVE A PLANNED LITTER WITH HER AND BUBIKA THIS SUMMER. WE ALSO HAVE A SPECIAL SUPPRISE PUPPY COMING SOON! WATCH FOR UPDATES SOON.

OUR GOLDEN GIRL GLORIA AT 8 MONTHS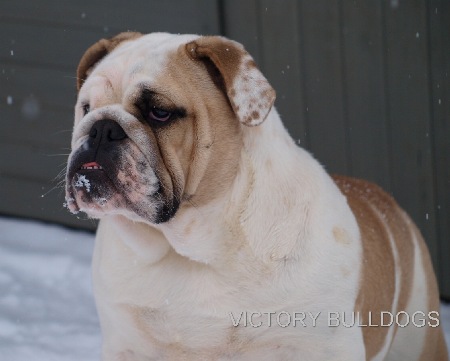 INTRODUCING TONKA OUR NEW STUNNING BLACK TRI GIRL

Pictures and Bio of Tonka under the Queens page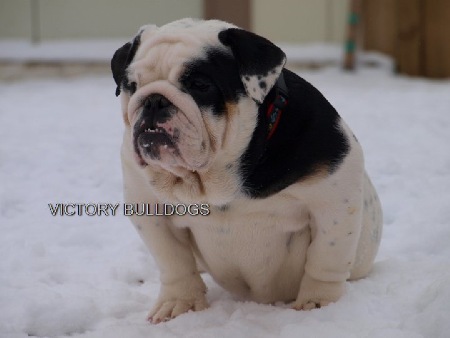 VICTORY'S BLUE LACY OUR NEWEST FRENCH BULLDOG ADDITION

More pictures and Bio of Blue Lacy under French Queens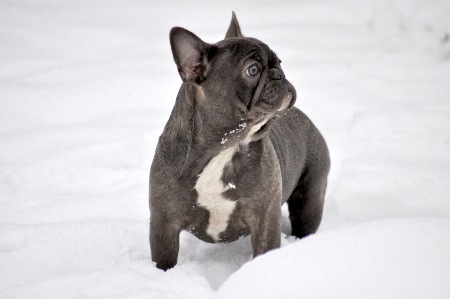 INTRODUCING OUR NEW BOY LEO

LEO is a Hurricane son and from a daughter of Roy. This boy is has HUGE bone structure short legs and is a massive 92 lbs. We will be having a litter with Leo born in January. They will be AMAZING thick bone puppies. More info on Leo will be coming under our kings page.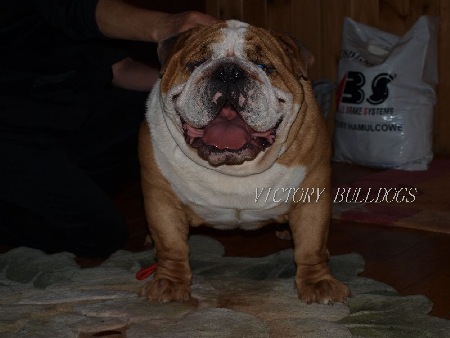 Below is Maddie one of our amazing Bronze seal girls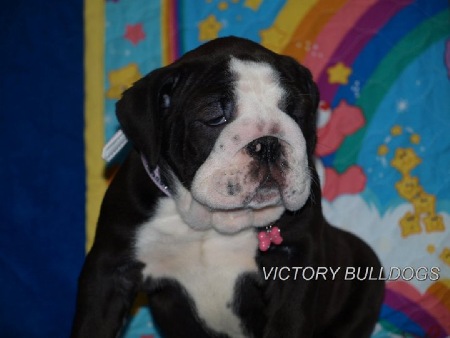 HARRY 7 MONTHS OCTOBER 2010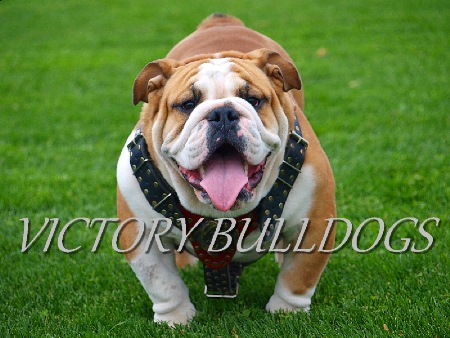 Below is our new pure Choco French Bulldog Bubika and our black boy Jack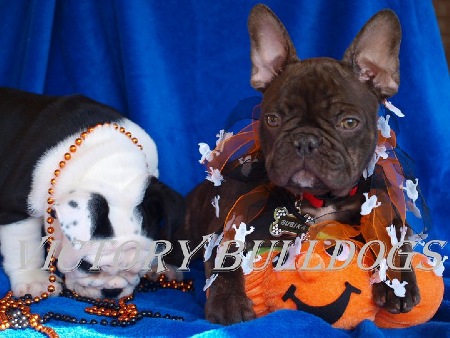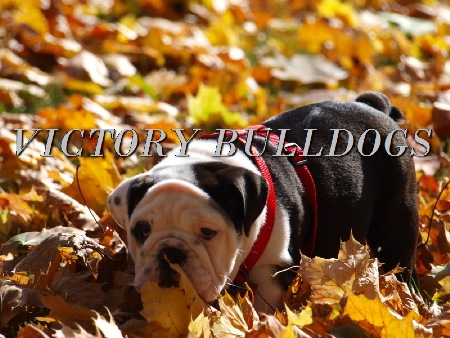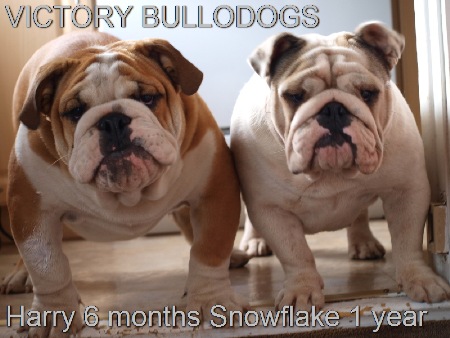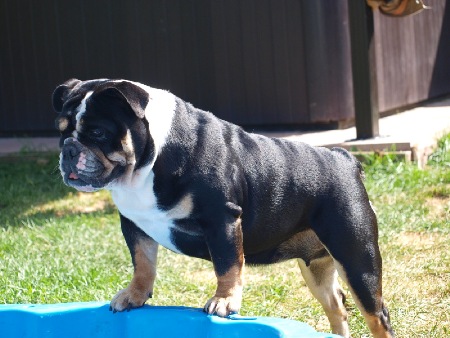 Our girls with their frenchie pup and our baby Gloria.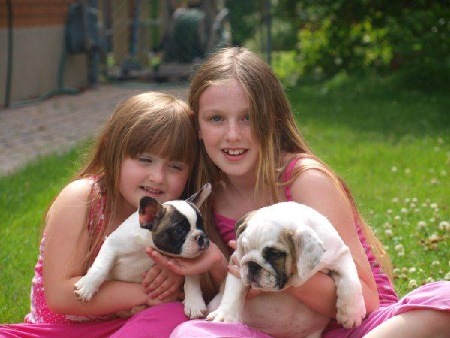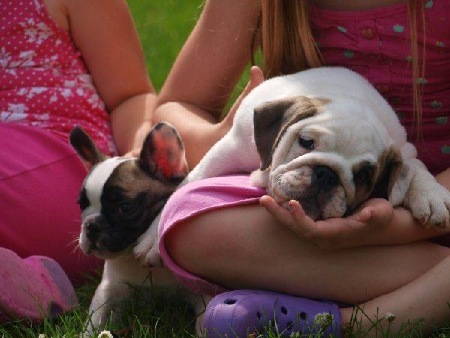 SUMMER HAS FINALLY ARRIVED! WHY MANY OF YOU ARE EXCITED AS MUCH AS US ABOUT THE LOVELY SUMMER AHEAD PLEASE PLEASE BE CAREFUL WITH YOUR BULLDOG DURING THE SUMMER MONTHS AS BULLDOGS AND HEAT DO NOT MIX

********* PLEASE READ OUR PAGE ABOUT BULLDOGS AND HEAT *********

A few pictures below of our bullies enjoying summer 2010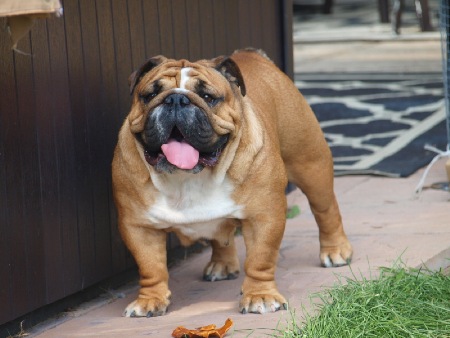 .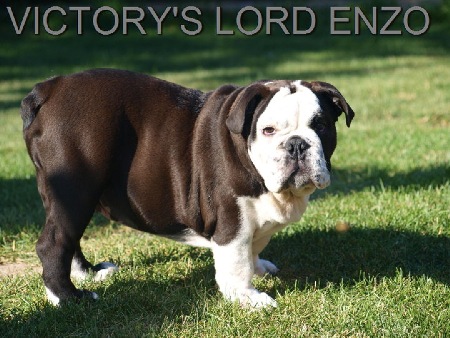 RODNEY LOVES HIS SKATEBOARD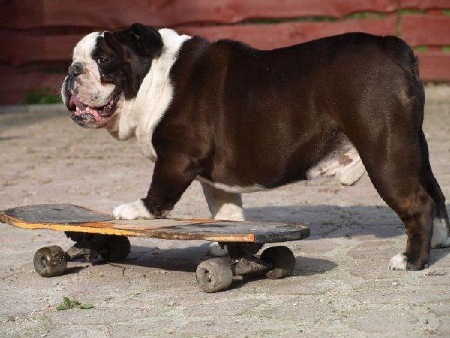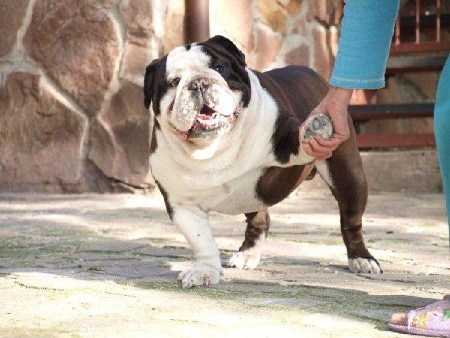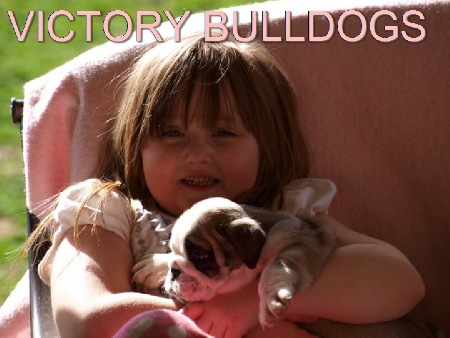 We are please to announce the newest member of the family and future champion Prince Harry. We thank our wonderful family in Europe for trusting him with us and cannot wait to see how he grows. For more pictures and bio on Harry please check out the Kings page.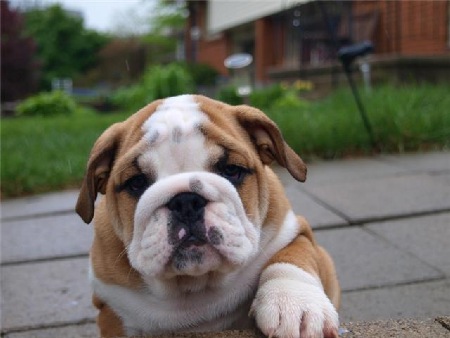 ***VICTOR'S DEEJAY ***

We are very excited to show Deejay and obtain his ch title this year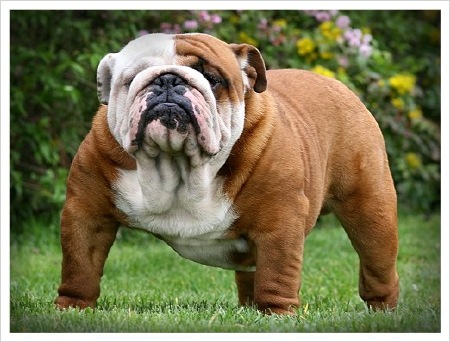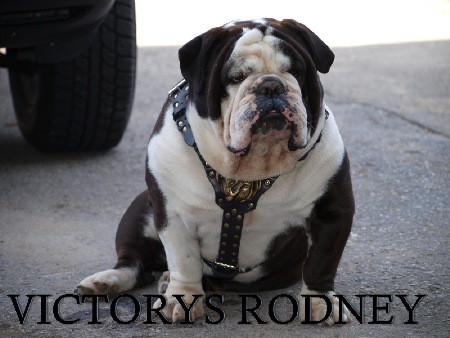 Below is Trez one of our past Bronze pups

*******Below is our AMAZING EUROPEAN MULTI CHAMPION of 4 countries NERO CH Pl, CH HU, CH SK, CH NL He was Best Bulldog in 2007,2008 and 2009 and 15 X CACIB ( Certificate of Aptitude for International Champion of Beauty,dog show title). We will be showing NERO in Canada and US 2010 and hopefully we will obtain a Inter-championship for him this year (Inter-Champion is Ch of 5 or more countries). NERO is truly something special to us and we thank our loved ones for trusting him with us ********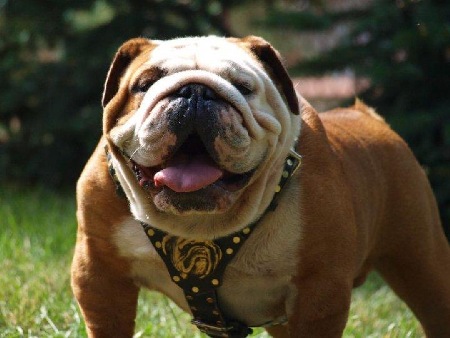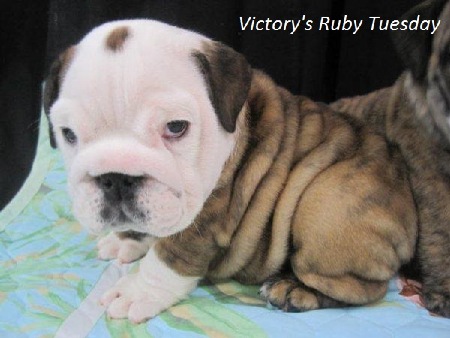 Victorys Mystyle Marley was chosen to represent January for a European Bulldog calinder 2010 along side her best buddy Des.

Victory's Falling Snowflakes and her sister Victory's White Wynter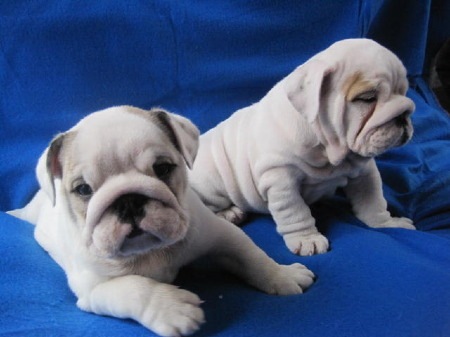 VICTORY"S MYSTLE MARLEY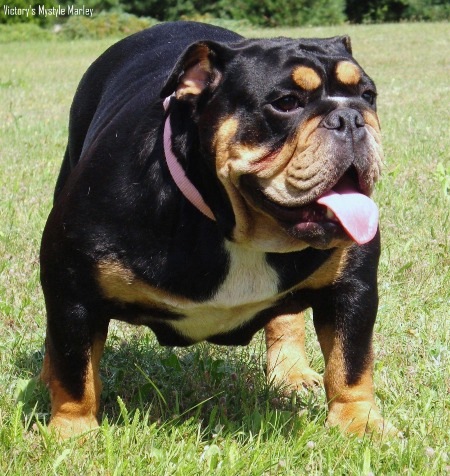 Picture Below is some of the boys together
Left to right Charlie,Hurricaine,Nero and Roy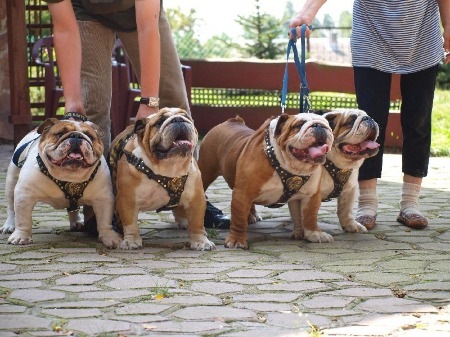 Ollie Wins 1st place in group and Best Of Winners at Monarch Kennel Club


Our New Stud European CH Valintino

VALINTINO TAKES BEST OF BREED AND BEST IN SHOW JUNE 13TH 09