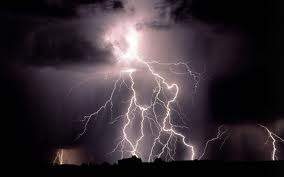 Thank you to all our wonderful Clients for your continued support and updates, we truly appreciate all the amazing families are Bulldren are adopted into. Please keep sending us pictures and updates we absolutely love to hear from each and everyone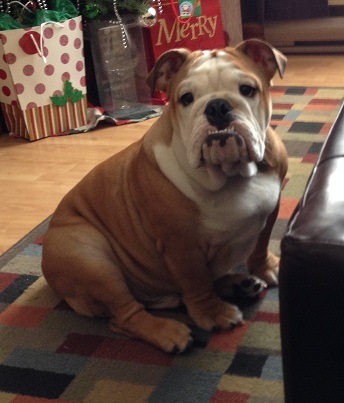 Chester, Christmas Living in St,Johns Newfoundland.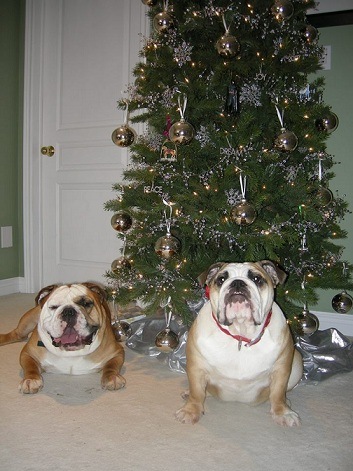 DEXTER & ADELE Sending their Christmas and New Year Wishes.



BACI a Chokita and Bubika Son! Owned and adored by Andrea and Gord in New Westminster B.C.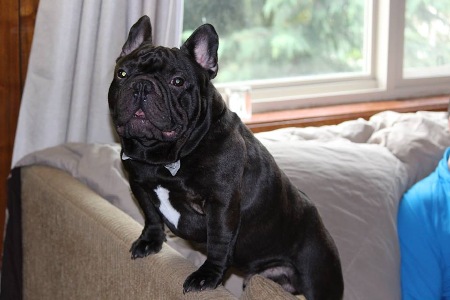 Hi Victoria,
This is the latest picture of our beloved Emmit and Winnie. Hard to believe Emmit is 2/12 years fast approaching 3 in April. Winnie will celebrate her 2nd birthday in March. They are the best of friends and Winnie in true female style rules the house. They both are healthy active (for a bulldog) puppies and now with our west-coast winter upon us enjoying longer hikes and walks in the woods.
Winnie is a very bright, social, need to know little girl, who loves to cuddle and spend every waking moment with you. Emmit is quieter and much more stoic but a bed hog and cuddle bug as well.
Everyone who meets them cannot believe how big they are and recognize immediately their well bred genes. They are a complete joy and the loves of our lives.
Just wanted to give you a glimpse of how lovely they are. We could not be happier with our beautiful babies. May you have a wonderful New Year.
Sharon R-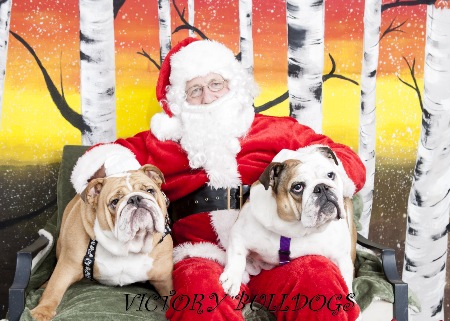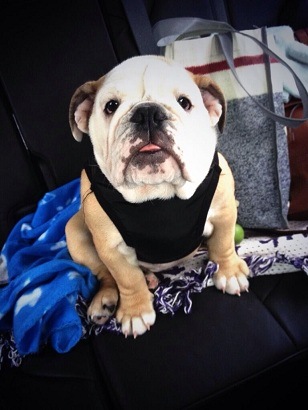 Fiona lovin life as the BEJE Gym Mascot!

Ruby's Christmas Picture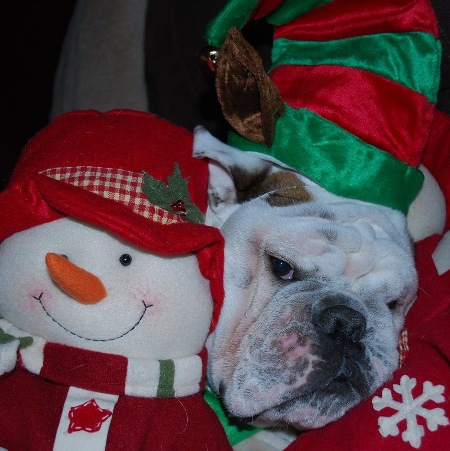 Hi ladies I just wanted to send you a photo and an update on our little bull babies . I can't tell you how much pleasure these two give us , they really are the bright spot in our year !
Slater as you can see is stunning and has the sweetest temperament , he loves everyone he meets . Lillian ( Fergie )is really starting to bulk up and is a little firecracker, she can also ride a skateboard already! The two bulldogs and Hooch our Dogue de Bordeaux play together so well it has been good for him to have pups around as he is just young himself. The boys of course now know that Lil is the boss !
As you can see from the picture the pups are on the sofa , this has never been allowed in our house before , my kids say I'm getting soft but it's easier to cuddle with them that way.
We hope you and your families have a merry Christmas and a wonderful new year !
Barb and Scott Nugent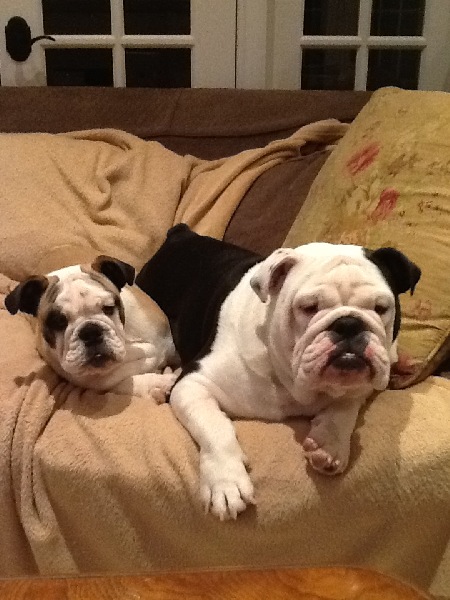 A lovely Christmas Card from the Snopkowskis in Toronto who have two of our gorgeous French Bulldogs Franklin and Louie.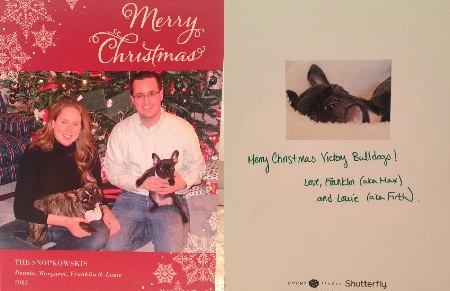 Sweet Maya and her litter sister with her Bulldog Amos! Merry Christmas Girls XOXO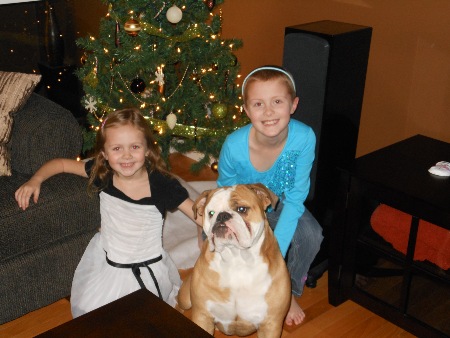 ACE gets to spend his Christmas in Sunny California with Anaheim Ducks Corey Perry and my wonderful friend Blake! What a lucky boy!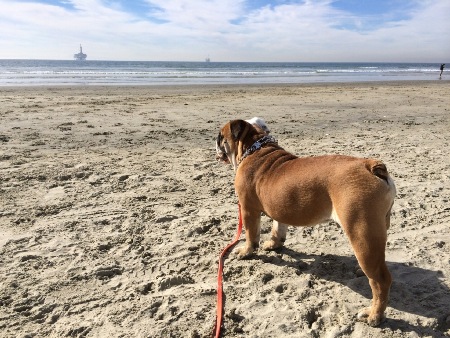 Good morning Victoria

We received Tula's pedigree in the mail yesterday Thank you. I wanted to send you a few pictures of Tula she is the most amazing addition to our family and we cannot thank you enough for allowing us to have this girl in our lives. She travels everywhere with us and goes to work with my husband everyday and is the centre of attention wherever we go.

We are starting to think about another baby from you in the new year, what do you have coming up in the spring? I think Tula would love to have a brother or sister to play with she loves other dogs and we could not imagine owning any other breed now.

Wishing you and your family all the best, have a wonderful holiday and new years and we look forward to discussing getting Tula a sibling soon. I may touch base and give you a call over the weekend.

Terri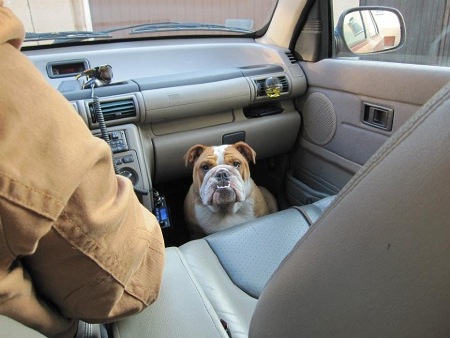 Beatrice Enjoying some fun in the Snow! Owned and Loved by Brad & Dr Biederman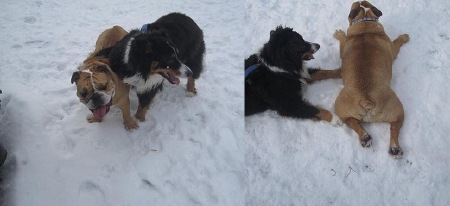 Holidays with the Helmer's and Mystro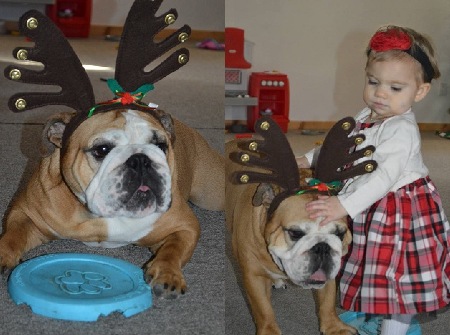 Hello, do you remember this little guy?
It's Love heart! We named him Hank :) Hank just turned 1!! and we wanted to share updated pictures with you. Hank is such a good boy... We are sooo blessed to have him :). Hank is 21lbs! I have seen other french bulldogs around and I do notice hanks face is a lot more flat with more wrinkles( which make him extra cute ;) we are still battling itchy skin... My Vet wants us to switch him to that prescription food that vets sell ( I think it's garbage) but thought I would ask you if you would recommend only doing grain free ( we have always) Hank eats Horizon legacy a fish flavour one. We tired natural balance again .... But he won't eat it ... Lol

We are very happy with Hank... He was a great boy right from the start! You and your mom did a great job raising him.. He never gets into trouble .....a little stubborn @ times ....but he is full of love :) We get compliments on how well he behaviour all the time... :)

Christel



Corry Perry's Beautiful Girlfriend and a wonderful friend Blake taking Ace this past weekend to training where he will spend the next month training for his Therapy Dog Certification. We are so very proud of Ace and look forward to the possibility to put this gorgeous stud muffin to one of our Amazing girls next year.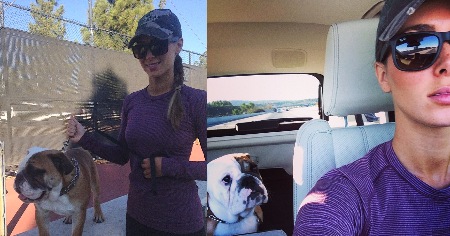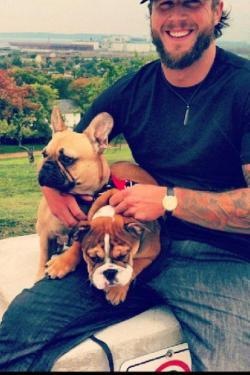 Nathan Loves his Boy's Bert and Reynolds :)

Doesn't get much cuter than this, the Boudouin's babies loving life.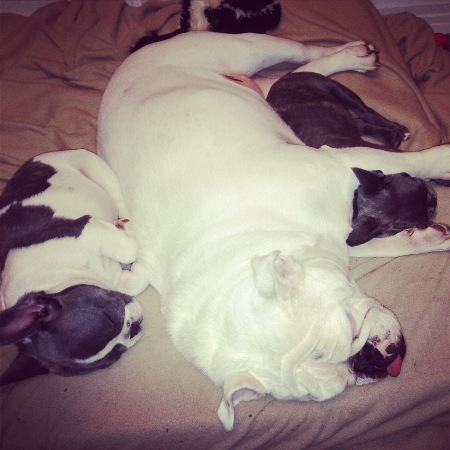 Ace Our Champion Sired Vito Son! Who is loved and owned by Anaheim Ducks Corey Perry and the absolutely sweet Blake his girlfriend they are professionally training Ace to become a Therapy Dog. We know with his temperament he will make the most amazing dog for this type of work. We are so proud of Blakeny & Corey for taking the time to do this with Ace :)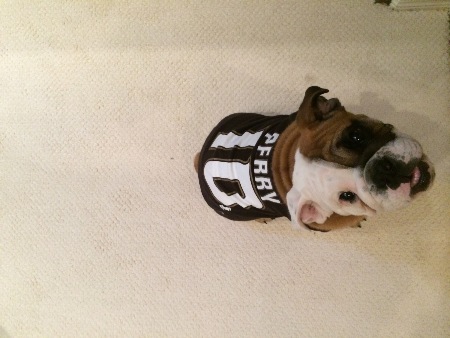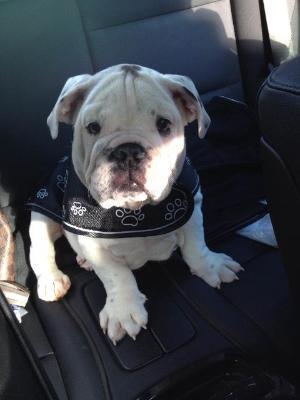 Domino being absolutely spoiled by Aras! He is allowed on the Leather in his brand new sports car, what a spoiled bulldog puppy.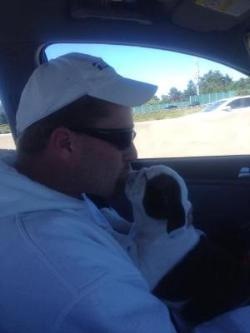 Drew with his new baby re-named to Makita.

Deputy Dexter and his Sister Adele celebrate Dexters 2nd year in style! They even got to share a big birthday cake made especially for Dexters Birthday.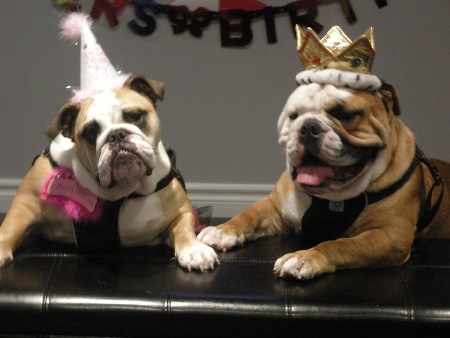 The beautiful, sweet and my friend Mariepier Morin with her and Brandon Prust's adorable first bully baby, Lola :).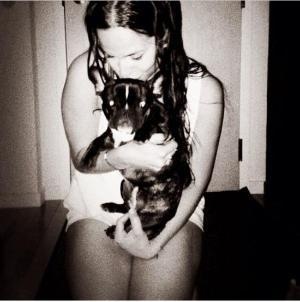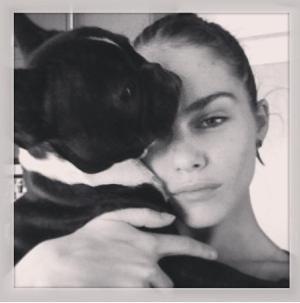 Hi Victoria
Hope you are well.
we would just send new images of Thor by Rodney.
He is doing well and thriving in Denmark.
He is the most loving dog in the whole world, his mind is perfectly He loves children and other dogs.

If we must have a new English Bulldog we would buy it from you.
we are so happy for him and we love him very much.

many greetings from
family Kastrup
Denmark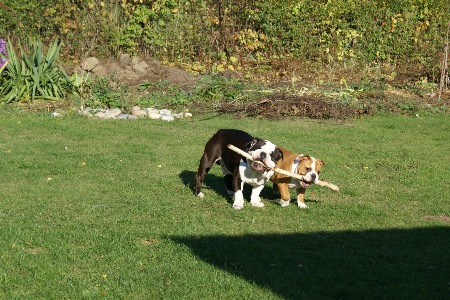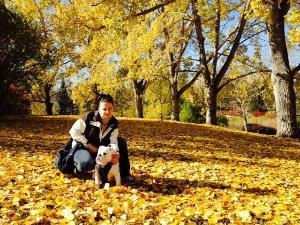 Hi Victoria,

I just want to say Hi from Fiddy:). He is doing totally fine and he is
just adorable and wonderful baby:)!
And I attached couple pictures of him for you:). Please enjoy:)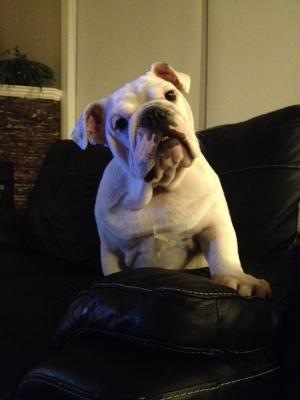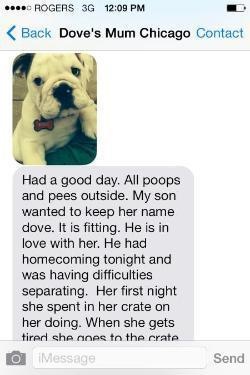 All Our Babies Living with the Boudoiun Family in Guelph, their newest additions 2 Blue Frenchies Sylvia and Nick.. Spoiled to pieces these guys are!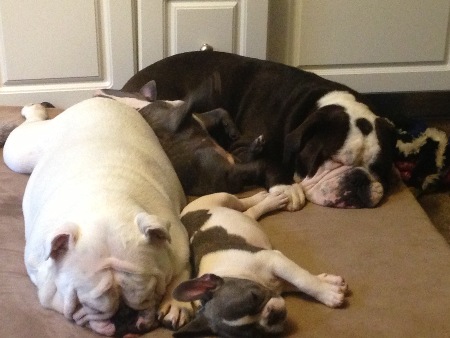 Go Ducks Go! Blake has got Ace All Ready for the NHL Season with Outfits to Match Daddy Corey Perry :)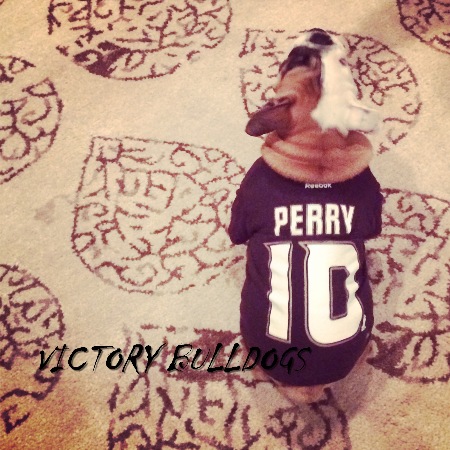 This Precious Little Girl Maya pictured with her sister and her Bully.. She defiantly has pulled on our heartstrings and we are so glad her Bulldog Amos has bought so much joy to her life! She is the most amazing little girl we could have been blessed to meet.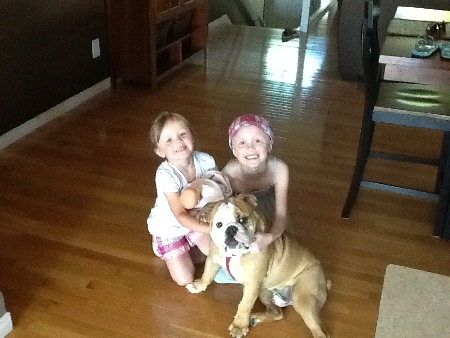 I Absolutely LOVE this picture! Taken by an Amazing great friend of mine Damien! This is Tank he is a past puppy of ours out of Ollie! Like Father Like Son..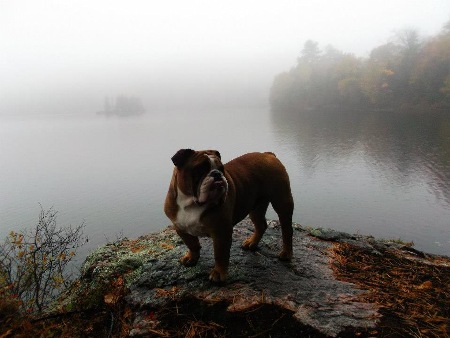 A few Instagram Pics with some of our Bulldren Posted by their new families!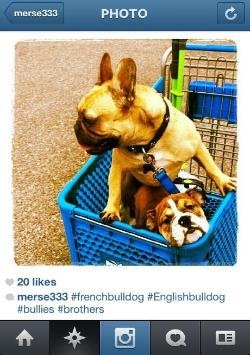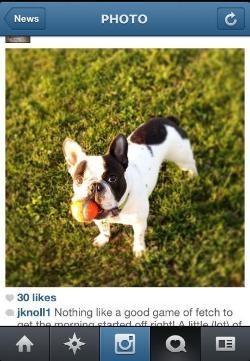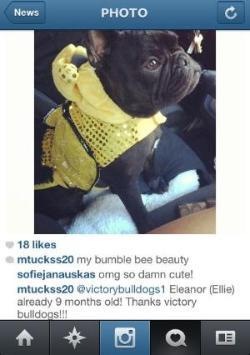 Victoria, Here are some pictures of him! He always jumps in the tub after playing and barks until someone turns the tap on and gives him fresh water!

He will not sleep anywhere but in bed with me, and even though he is agile enough to jump onto the kitchen table from the ground, when he is tired he won't move so I had to build stairs up to my bed for him! There is a picture of him with my parents golden retriever Ryzer and also my brothers Puggle Emma. He gets along very well with everyone.

When I go to work, even if someone is home, he will sleep on the back rest of the couch in the big front window and wait for me to get home! So I always sneak up and snap a picture of him sleeping! This one is the best!

Bryce,
Sault Ste. Marie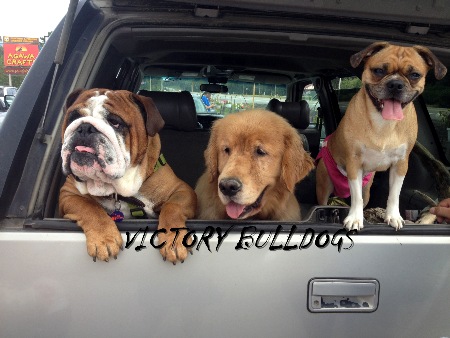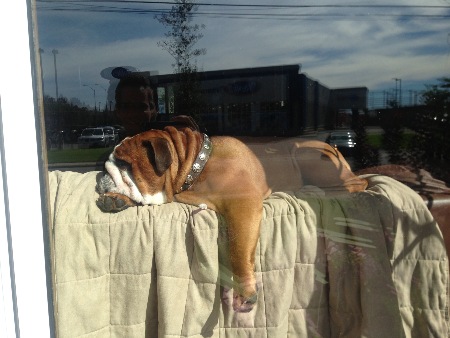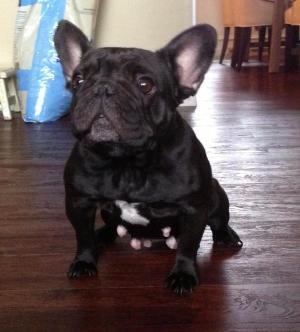 Chokita! Now living with Gina in Michigan. We spent a lot of great years with Choc and I do miss her dearly but she is being spoiled and loved by Gina! Thank You for taking such great of her, it means the world to me you love her like we did and keep us updated on a regular basis about her :)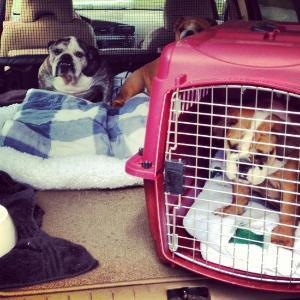 Brookie Leaving us for her long trip home with her family the NHL Booguaard's.. She is joining her sisters Boogey 2.5 and Trinity 10.5. We could not ask for a better home for our Bulldren! These guys are spoiled to bits, travel in comfort and go everywhere with them :)

We Absolutely Love to have families who are in our area come by with their Victory Bulldog Baby for a Visit! We try to make time as best we can to see our bulldren, It means so much to us that so many of you keep in touch with us on a regular basis :)

Hey Victoria,
Percy and I are heading to London in a couple of weeks, September 15-17, to visit my parents. Was wondering if you or your mom would be interested to see Percy (Grady). If that sounds like a good idea let me know. :) Will send some pictures soon from our summer camping trip.
Cheers,
Jordan and Percy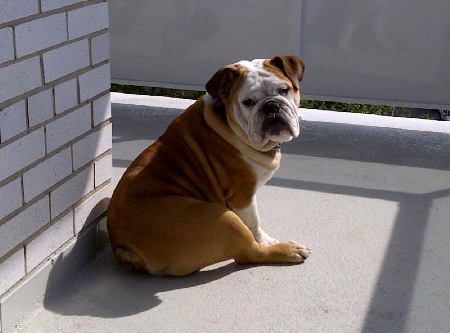 A couple of Texts from Happy Families with their Luna X Rodney Babies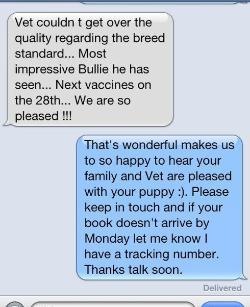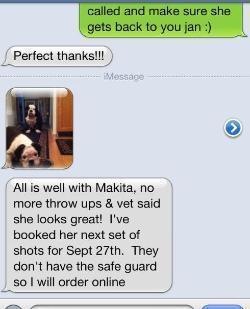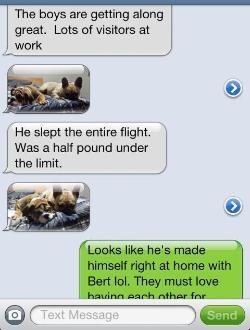 Dear victory bulldogs
We are the lucky owners of a Rodney baby, he looks like his father very much and we are happy to own a nice Rodney baby. Thor feel fantastic.
we just wanted to share some pictures with you.

regards,
family kastrup in Denmark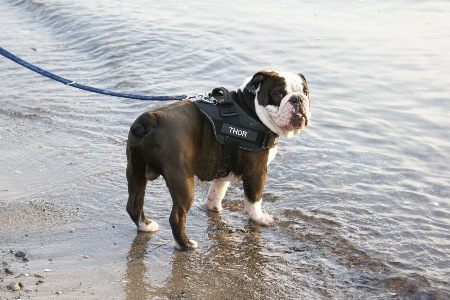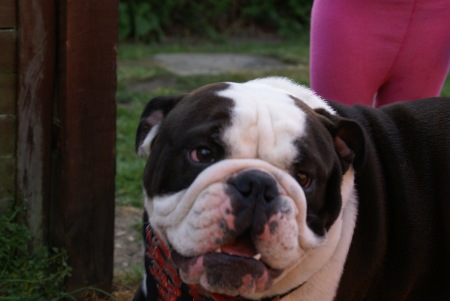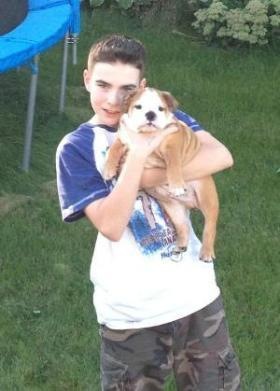 Carlton a Rodney X Luna Pup now in his new home with his lovely new family in St John's Newfoundland. They have renamed him "Manchester" After the Footie team and we have to agree being British as well that it is a Super Name :)

ACE! Preparing for his Trip to California for the Hockey Season with his Daddy Corey Perry of Anaheim Mighty Ducks and Mummy Blakeny thought what better way to get him used to California living by watching House Wives of O.C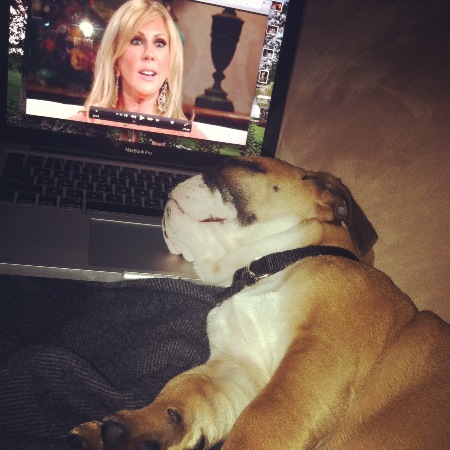 Hello Victoria

I just wanted to share this picture with you. We were camping in Maine last week and Eddy decided he wanted to hitch a ride with our camping neighbor Dave ( who we just met), thankfully, he was nice enough to take him around the campground for a spin and Eddy loved it.

Take care,

Carla, Halifax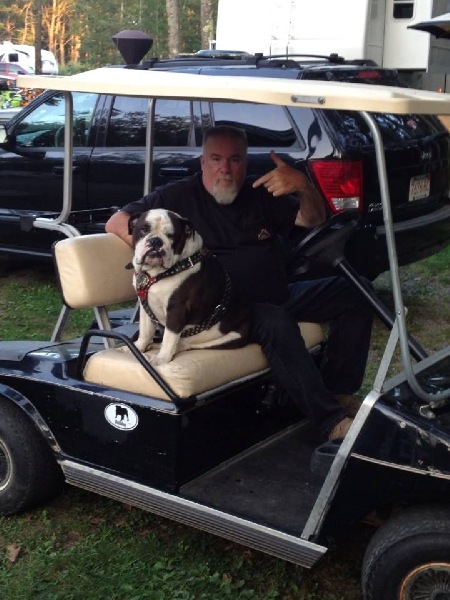 This Absolutely Gorgeous Love Bug Otis is now 4 years old he is Owned by Jan and Drew.. Otis is now a New Big Brother and will be joined by his full sibling baby Sister Vivie who will now be called "Makita". We are Sure Otis is going to be the Greatest Big Brother to Makita.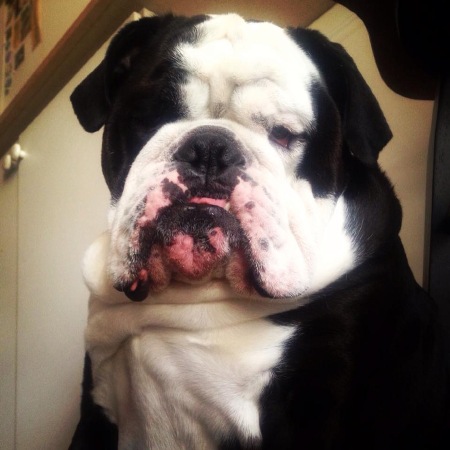 Deputy Dexter and his partner in crime Adele! Lovingly owned and appropriately named by their Two OPP Police Detective Parents who have become wonderful friends :) This Pic taken shortly after Dexters 2nd bday party looks like it was a great party and the kids are exhausted!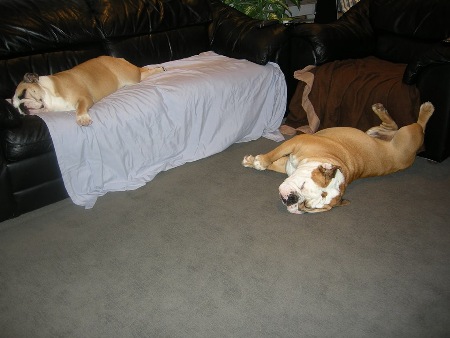 Ferdinand Helping his Daddy Greg Bryk on the TV Show BRYK HOUSE with Danielle Bryk Ferdinand makes quite a lot of appearances on the show being apart of the Bryk Family and like all Bulldogs causing lots of laughs and chaos along the way including ruining that new couch.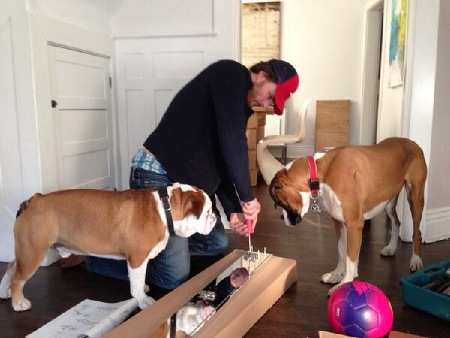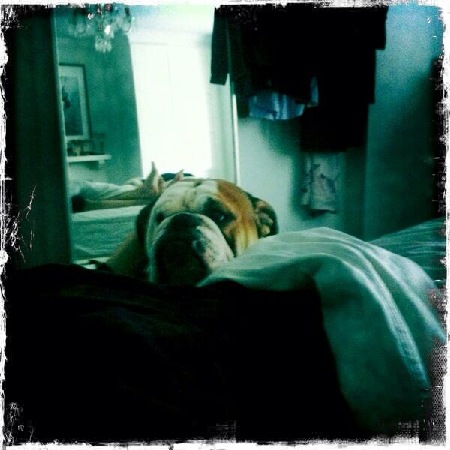 MYSTRO(Nero Son) 2 years old, Loved by the Helmer's in Kingston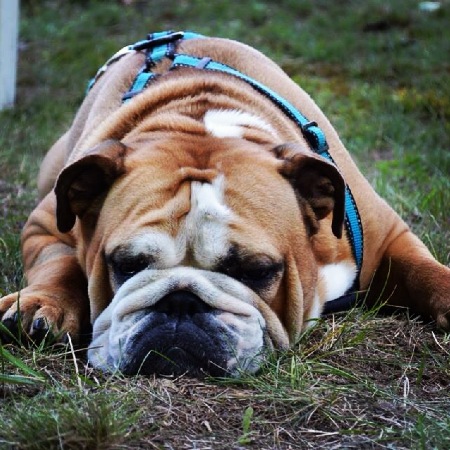 SKYE and her Frenchie Siblings Pearl and M&M Loved By our dear Friend Fay in B.C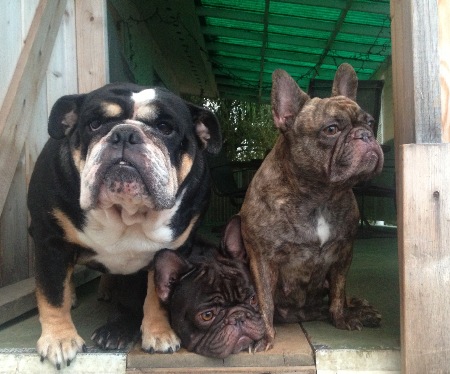 Brittania being Spoiled and well Loved by Alina in Halifax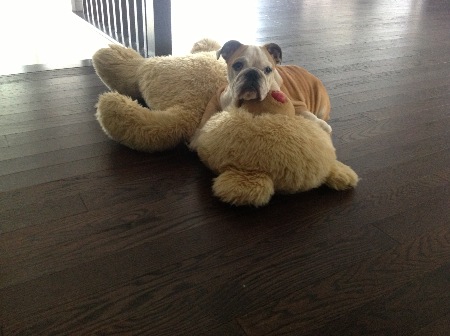 Hey Victoria, Hambone is doing great. I cannot tell you enough Thank You's, We are so in love with our little guy he is the most amazing addition to our home. Me and Mike are already talking about when we will be back to get him a Sibling :)

We have kept up on his de-worming schedule like you had said and our Vet even gave us the same de-wormer you had suggested. He goes next week for his vaccinations our Vet and the girls there can't get enough of him he even made onto their wall of fame already. Our Vet had wanted us to compliment you on such a well bred bulldog, Thank You so much again you have really made our little family complete. I will send you pictures and updates as he grows.

Maria.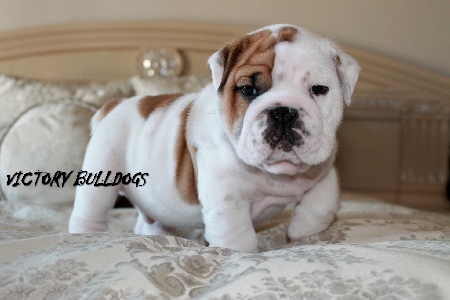 Mr Tickles now known as Dozer is loved and spoiled by the Poutney family in London.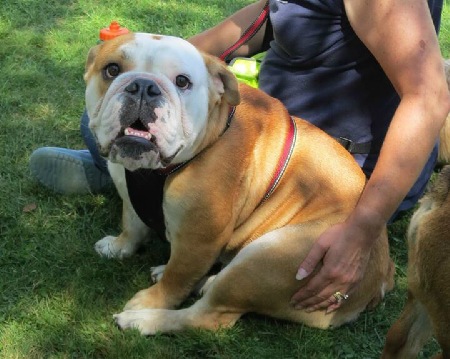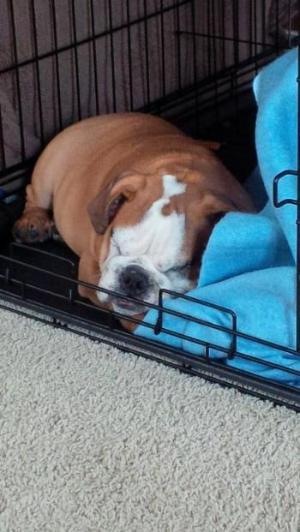 "Bennie" Now named Bowzer now loved by the O'Keefe Family in Waterloo.

NOEL Bronze Seal Daughter from Rodney. 2 years old and 72 lbs! We are very proud how this girl has turned out. She is Owned and Loved by our Dear Friend Fay in B.C.

Recently another well known breeder got to meet our Noel in person and had contacted us with this lovely letter. Thank You Hamid for your Kind Words we truly appreciate you taking the time to acknowledge our work with the breed :)

hello vikki, just wanted to drop you a line to let you know seen noel in person and oh my god my mouth dropped on how beautifull she is so I wanted to give you hats off to such a production!!! great work and also checked out your site and seen you have some of the most beautifull dogs i have ever seen, HATS OFF.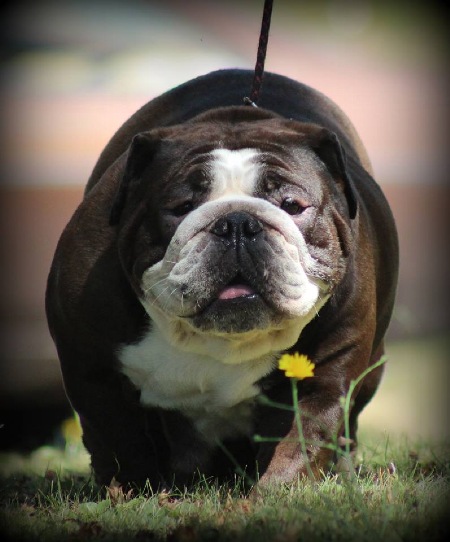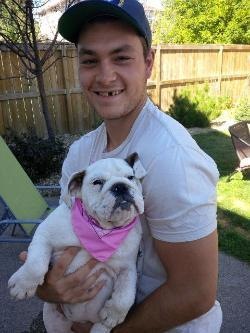 Blakey is Loved and cared for by the Point Family in Calgary.... Pictured here with Brayden Point who plays in the WHL and is a future NHL Star in which we send him much love and support for his future. We look forward to updates and watching Blakey grow up with this wonderful family.

Our Very Wonderful Friends NHL's Hubs Brandon Purst and MP with their "Victory's Chicken Finger Prust Lola"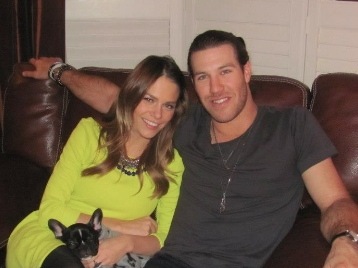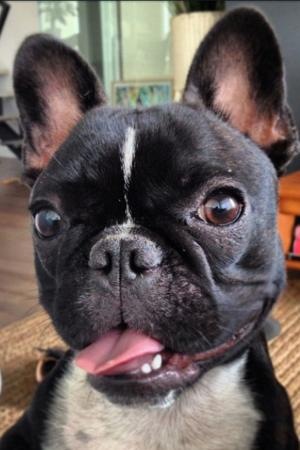 LOLA Chicken Finger Prust.. A Bubika and Izzy Daughter.

BUSTER & VAO Owned By Gillian and Chris in Delta British Columbia

Words really cannot describe how close I have become with Gillian and Chris over the years! Buster is a Son of my beloved Saba who would have turned 9 this year but I tragically lost her 3 years ago. Gillian was always there during those difficult times to comfort me and seeing her Son Buster Grow up over the years really helped me still have that part of my Sabs in my life! They later Adopted Vao from us and Buster and her have been inseparable since :) I wanted to Thank Both Gillian and Chris for all the love and Support over the years and that we do consider you and the Bulldren Family to us :) We Love you Guys and are so proud of your accomplishments with Street Dreamz Boardshop!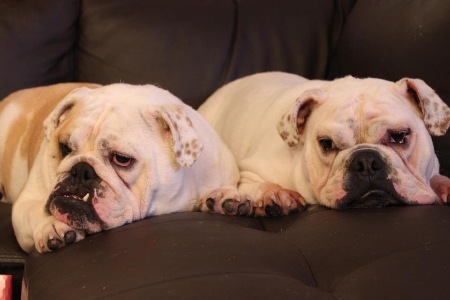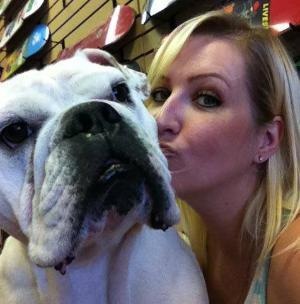 Gilly and her big love muffin Buster!

HANK is Owned and loved by Brent! Look at this boy just living the dream and being spoiled to bits! I am so happy to say Brent you not only give the best love and care for one of our Bulldren but we also cherish the wonderful friendship we have developed over the years, Hugs for you and Hank.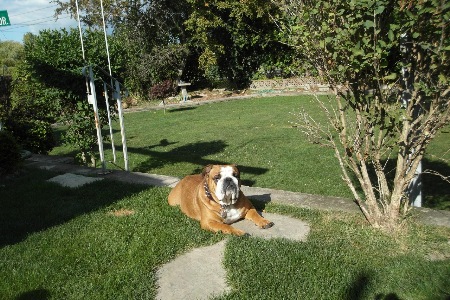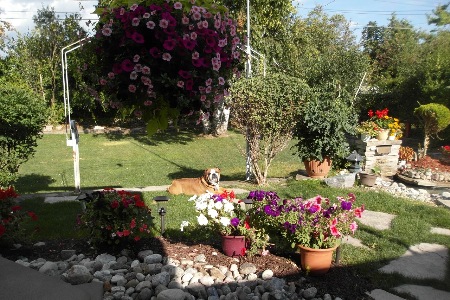 First name: Michelle
--------------------------------------------------
Last name: Carr
--------------------------------------------------
E-mail address: Michelle.carr00@gmail.com
--------------------------------------------------
Comment:
I took your advice about getting our bulldog out of the hospital a little over a week ago after the said to put her down. THANK YOU for your advice and help. Her X-rays showed she is nearly 100% better from the Pneumonia thanks to your recommendations. I am so happy we did not let them kill her! You will never know how much you helped me and my baby girl and you don't even know us, and to take all the time you did speaking with us and our Vet all the way in Wyoming to save our Bulldogs life we will be forever grateful! God bless you.

Victoria.. I can't tell you how much we are enjoying these two ! They are a real joy,

Barb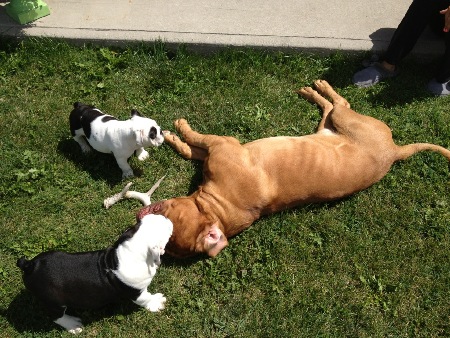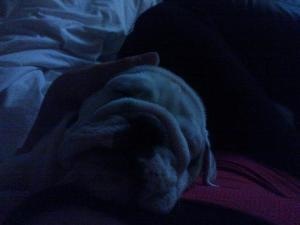 Buddy is home and he is the cutest darn thing ..... He is running around the house with the kids and getting lots of loving .... Thanks so much :)

Judy in Calgary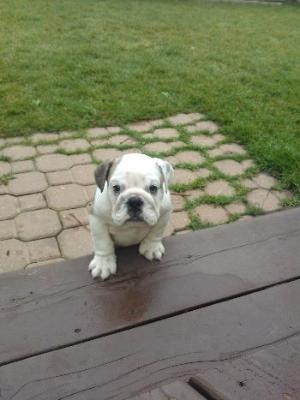 Buddy Playing Outside!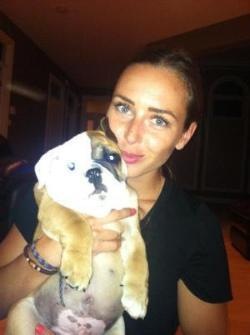 ACE! With Corry Perry from Anaheim Ducks Girlfriend Blakeny Loving up her new baby boy!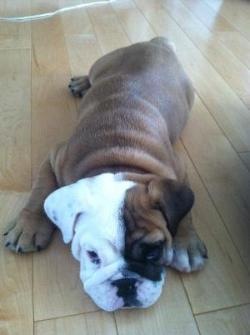 ACE Chilling Out at the Cottage.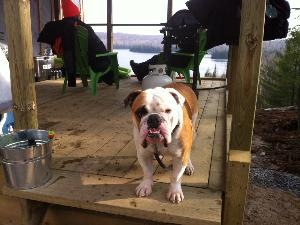 Some updated pics after 2 years of the best addition to our family ever!Gus is doing great! Hope all is well. Working on my wife to get Gus a playmate, will keep you posted


Sean
Clintar Landscape Management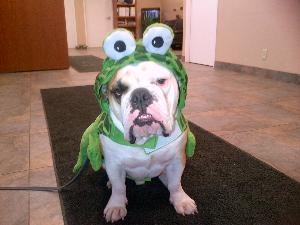 GUS Aka Mr President! Looking not so impressed with his Halloween Get up :)

Hey Victoria.

Hope all is well. Just dropping a line to let you know all is well. Shots And deworming are done and Clover is settling in more and more every day. Got her first bath tonight with her sister and she loved it.

Ian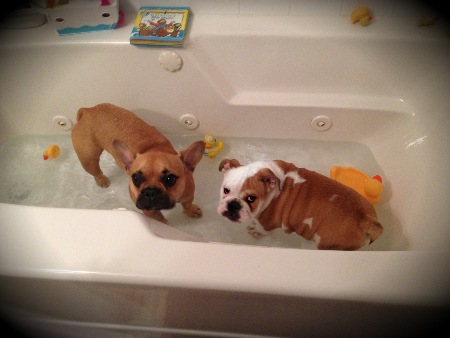 Hello Victoria,

We are very happy to have Brittania with us. She has had lots of kisses from my kids and myself. Thank you
very much for the puppy she is gorgeous.

Alina and the family Halifax, Nova Scotia.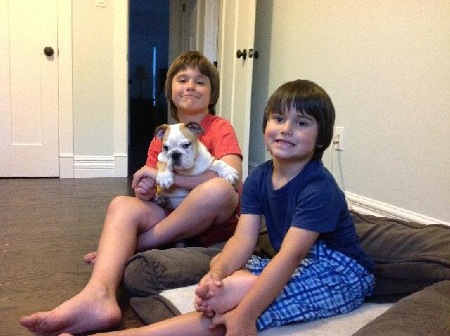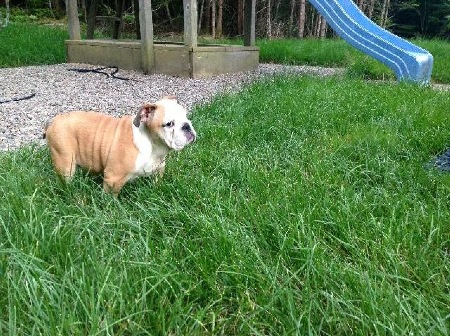 Victoria! She's loving the cabin and is doing great!! She is fitting right in and is such a sweet heart. The first week has gone really well.........


Thanks Ian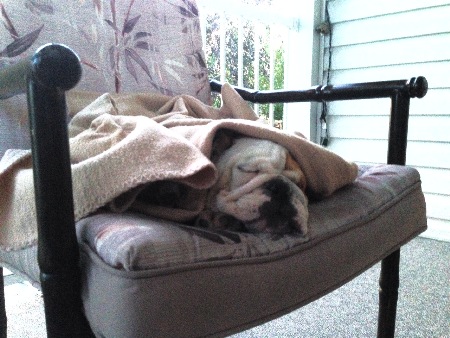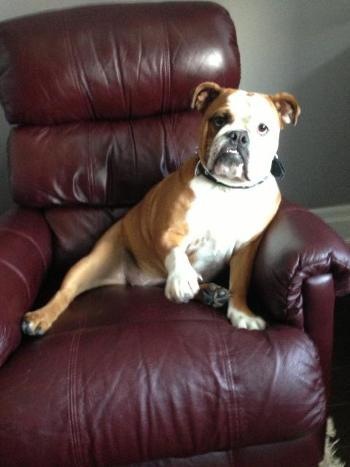 BARKER Owned and Loved by Zach!

Dear Victoria,

I wanted to Thank You for everything and give you a quick updated on Utterly Butterly known known as "Buttercup". She has settled right in and become a wonderful addition to our family. I cannot Thank You enough for all your advice and support over the last few weeks you truly are a wonderful caring person and your passion and expertise shows in your amazing dogs and it was absolutely wonderful to meet you. Your love for your dogs truly shows with how they react to you and I am sure Buttercup will always remember you. I tell everyone at every opportunity I can where Buttercup comes from and how great you guys are so expect some more calls from the West Coast! I have a ton of pictures from the Beach last weekend I will download and get to you asap but I wanted to write a quick Thank You and we will stay in touch.

Brian in Vancouver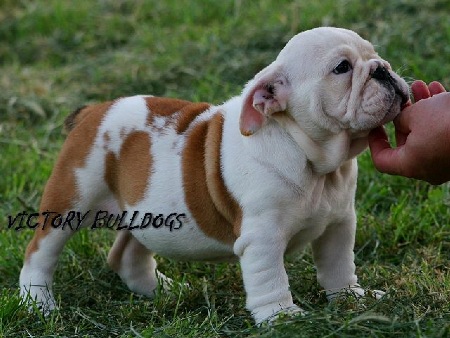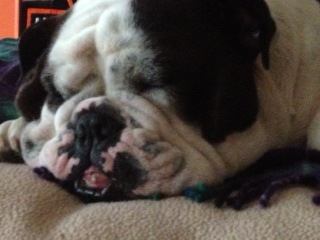 Sweet EDDIE! Loved and Spoiled by Carla in Halifax! Thank You so much Carla for you Lovely Gift and Letter. It is so wonderful we still keep in touch over the years! We have to come visit you and Baby Eddie :)

Thank you Jordan and Martin for the lovely card it was a very nice surprise, enjoy the summer with Percy, We look forward to watching him grow.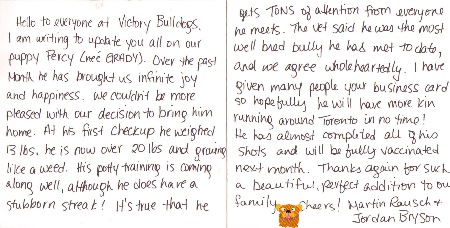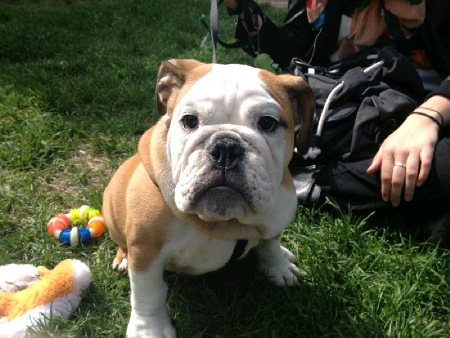 Victory Bulldogs
London, Ontario
Canada

Dear Vikki & Maggie,

Please accept our heartfelt appreciation for your professionalism and most ethical leadership of Victory Bulldogs.

Your commitment and unrivaled customer oriented service in support of this special breed truly speak volumes of your passion and love of the Bulldog.

Its been said that "people may forget what you said and people may forget what you did but people will always remember how you made them feel"

On behalf of Dexter and our new baby girl Clarice, thank you for helping us live and feel the incredible joy and memories our bullies have and will continue to share with us for many years to come.

Once again for your sheer love of the Bulldog, we sincerely thank you.

Kindest regards,

David, Brenda & Deputy Dogs Dexter & Clarice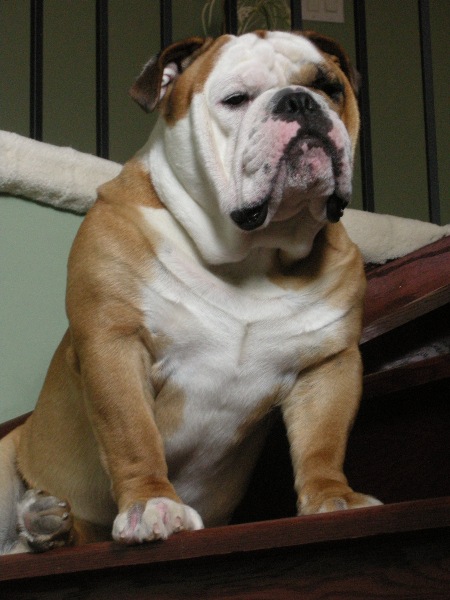 Hi Victoria,

Thanks so much for Ocean. She is such a sweetie and everyone loves her.

Thought you might like to see how she's settling in.

Take care,
Julie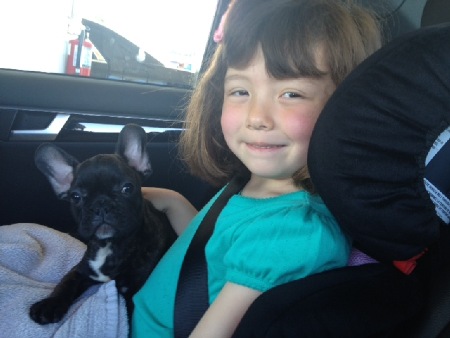 Hi,
We bought one of your bulldogs in November, and just recently got her spayed. Her original name was Willow, but we call her Bella.
I was wondering if I could update her microchip records, and get the registration papers.
She has been a really wonderful dog, and would like to thank you for all your help.
I have attached a copy of the vet receipt, but let me know if you need anything else. Thanks again, me and my wife couldn't be happier, and love Bella to pieces. :)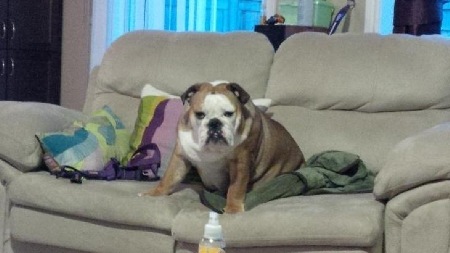 Hi
Hope all is well. Did Poptart get sold? Hope she was doing ok!

Ellie is doing amazingly well. She is so affectionate and so extremely cuddly. Have attached a couple of pics below.

Thanks so much and we are so enjoying her!

Betty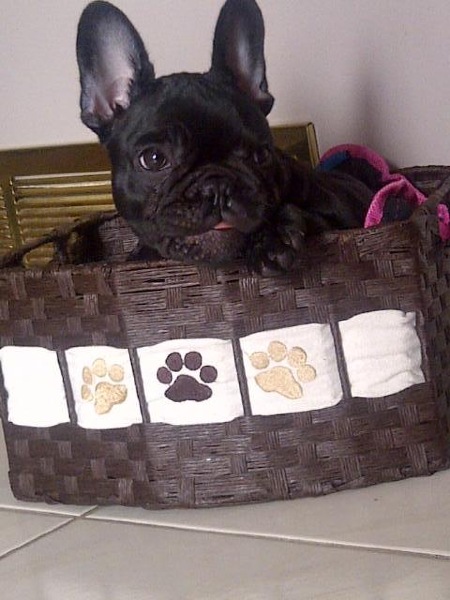 Hi Victoria I thought I'd send some pics of Oberon.

Duren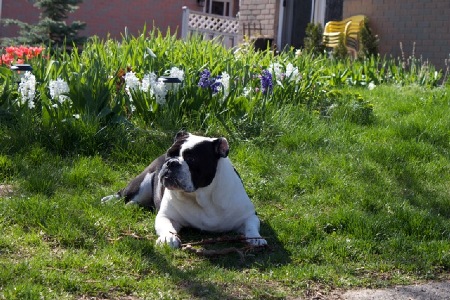 Hi Victoria,I just wanted to contact you as my pup will be 1 on May 20. I am the one that adopted Phillipe the French Bulldog last August but changed his name to Louis. He has turned out to be an AMAZING boy..so smart and great personality with my little grandsons.I recently sent in his photo to People Magazine's twitter account for a #cutepic and he was chosen as a cutie of the week..so his pic was featured on their website!! Here is the link to his picture :) Louis has been such a great companion and his health is great..he has an iron gut and is playful and smart! He loves everyone and all other dogs..however when my son's dogs are visiting, he makes sure he is on my knee and doesn't want to share that :) It was one of the best decisions of my life to get Louis. He has a bit of tear stain on his face..the side that only has the dark patch over his eye..I am cleaning it with wipes from the vet and then putting sudoderm cream on it but wondered if there was some sort of other treatment so it won't look so brown.. Thanks again and I attached a recent photo of him..btw..he is HUGE..he weighs 32 lbs haha but is not fat..just big. I always look at your puppies..I am slightly addicted haha Cheers,Jane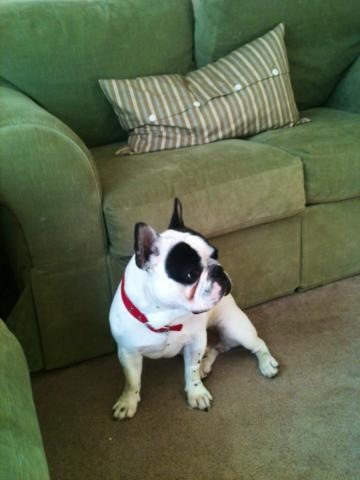 Hi Victory. After loosing the love of our life [ Rogan] at a early age. I would like to thank you for this greatest gift. Dozer is amazing. He looks unbelievable. He is one big beautiful boy. I'm not just saying that. He has retained his very cute face and he is very fit. His temperament is like I've never seen before. Also very intelligent, Tony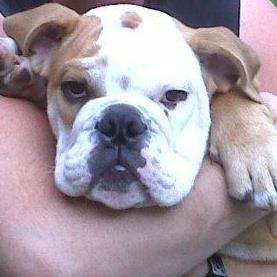 Hey Victoria, I hope all is well just sending you a one year updated photo of Walter (Mr. Cheeks), that we got done professionally. He is doing very well !! he did under go an emergency surgery for his palette+gland correction that was extremely needed 3 months ago but since then he believes he is an athlete ahaha!! He is spoiled as ever but a great dog with a well bred personality. Hope you enjoy the update Crystael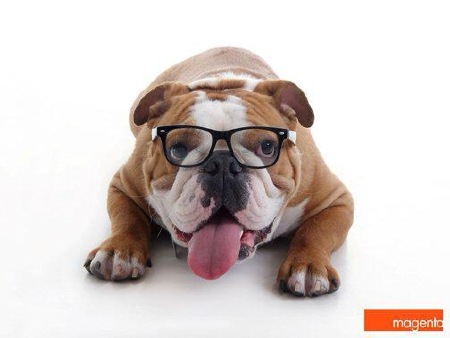 Hi Victoria. I hope all is well and TJ is doing great. I look forward to seeing his picture on your web site.

Just another update on Bree. She had her final shots today and weighs 30 lbs. The vet thinks we should cut back on her food a little. She is giardia free now and some adult teeth are coming in. He also recommended spaying before her first heat (9-10 months) to prevent breast cancer. Any guidance on either her weight or spaying would be appreciated

She is about 90% trained and is easily adapting from the pads to outside. She sleeps all night. She is slowly making friends with the cat but is still too hyper for the cat's liking.

Will try to enrol in Beginner 1 training classes although she knows many commands already. She is also doing very well in her harness on a lead. She is still very social and loves to visit the vet, pet store, etc.

We all love her very much.

Cheers Carol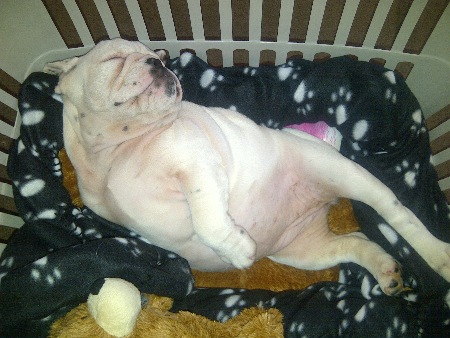 Updated Picture of MR President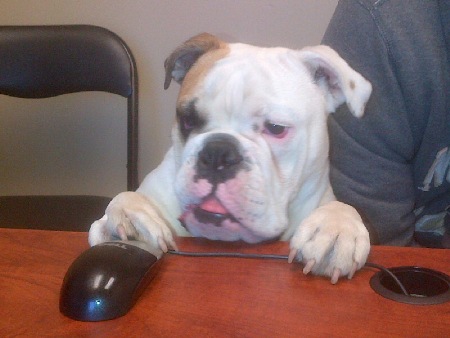 Updated Picture of UNO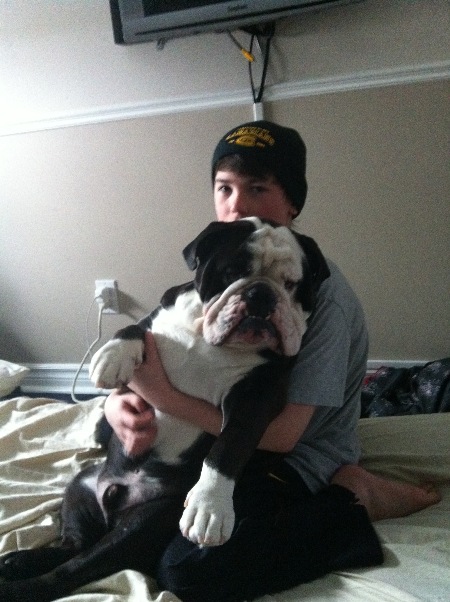 Lola Owned and loved by Brandon Prust and Marie Pier Morin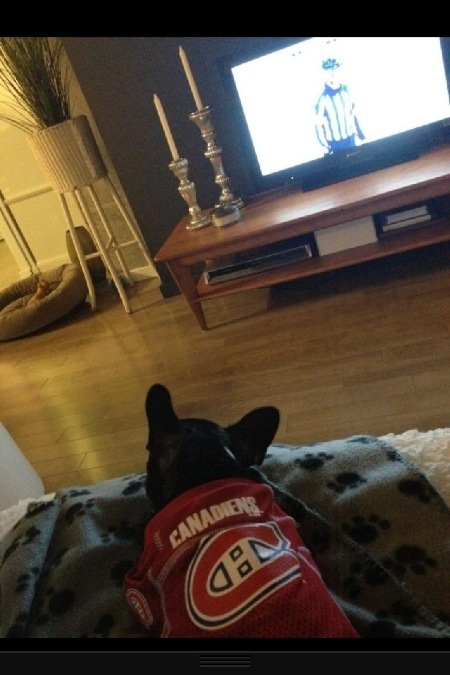 MYSTRO Owned and Loved by the Helmers in Kingston