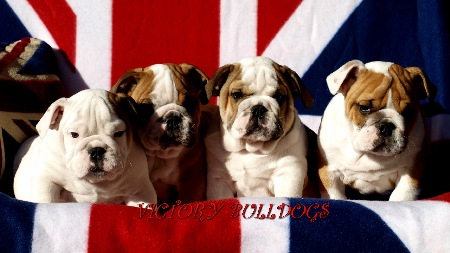 2016-2017 TESTIMONIALS

LOTS MORE TESTIMONIALS ALSO ON THE FACEBOOK PAGE

Lancelot at 4 months now known as Boomer! Loved by Valentino in Toronto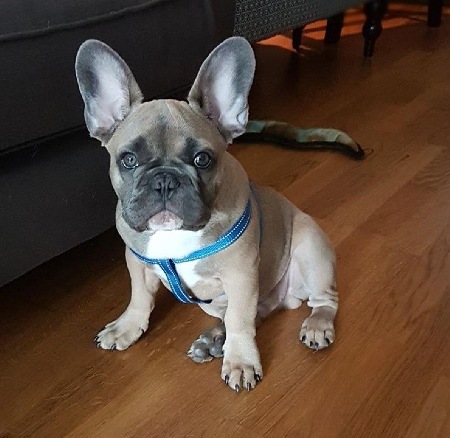 OK Seriously!! He is the best boy ever!! We are so on Love and lets not even talk about how handsome he is..

Jodi in Ingersol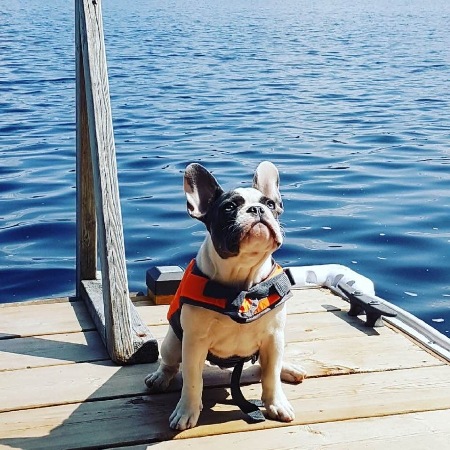 Hi Victoria,

I just wanted to give an update on Luna. She went to the vet for her checkup and second round of vaccinations last night and did excellent. The vet said she is in perfect health with no issues and she did well with the needle too!

She has been adjusting very well and took to potty training immediately with no accidents yet! She also had her first full night of sleep last night and we are all adjusting to routine.

She has shown how smart she is and we encourage her to problem solve for herself before helping. Learning how to sit and wait (for about 10seconds) has been something she picked up quickly as well. She loves car rides and snuggles when she wakes and before she goes to bed.

I have attached a picture of her watching football while sitting on the couch. She seems to have attached to the both of us quickly. Thanks for such a smart, beautiful puppy!

Brandy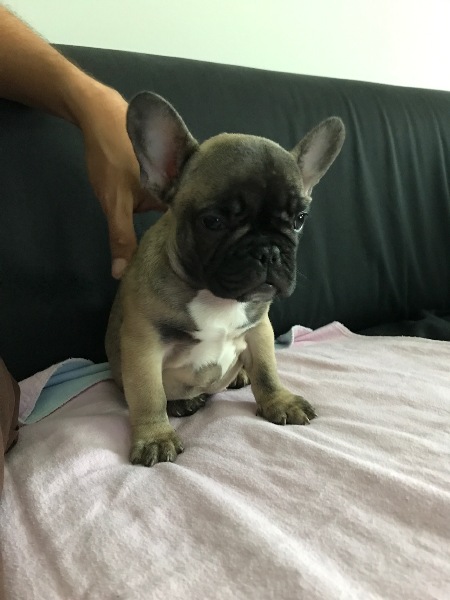 Hi Victoria!

Penny (Onyx) went in for her 2nd set of vaccinations today and took it like a champ! She is doing wonderfully. Weighed in today at 4 pounds 12 ounces (even though I feel like she's already growing so much!). She is still too tiny for her harness but I did some adjusting and we just started using the leash! Before then we would go for walks up and down the street and she just follows right behind me everywhere I go! She loves playing with her snake, dinosaur and ducky... little mini tennis balls and chewing on her bully sticks (forever chewing literally haha). So far we've been crate training and she's adjusting great. She's just had a scattered pee accident every now and then on the floor but nothing to fret... she's starting to go to the door on her own now and goes outside all the time! She's met lots of friends doggies and gets along great so far with every person and doggy she's met... no fear in her! To say I'm in love is an understatement! Here's a few pics of her first 2 1/2 weeks in NL :)

Heather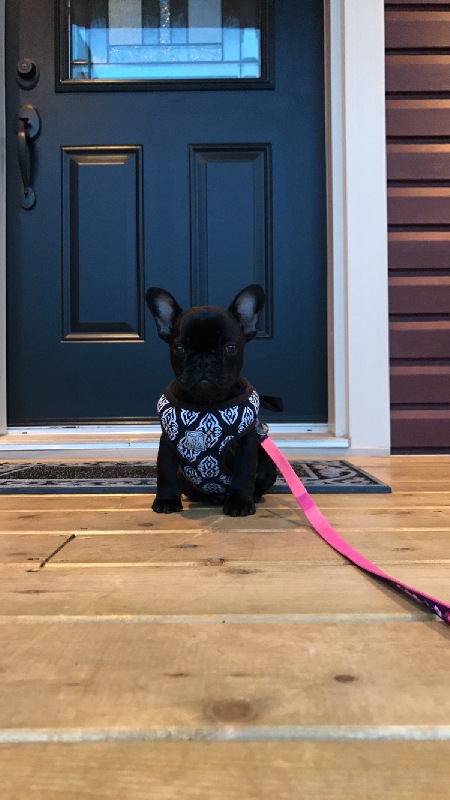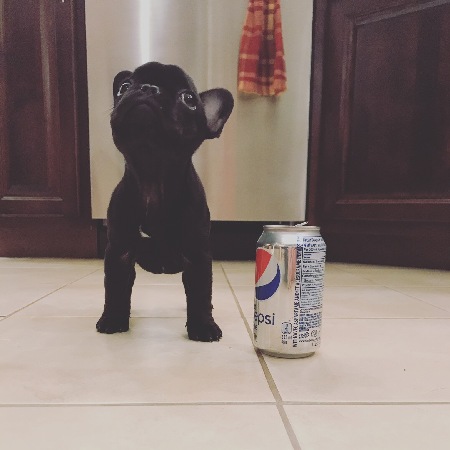 Dear Vicky and Mom

Time flies and we have loved every minute with our baby bulldog. We are looking forward to enjoying this comic all summer long.

As you know, Ariss was born April 1st, 2016. As per your recommendation we waited to have her spayed. Her surgery is scheduled for tomorrow (March 23) and we will email a copy of the spay certificate to you. If we can, we would like her papers to state JOHN ROUND as the Owner, rather than Rachel please.

Ariss is such a head turner and I have never known a bulldog that is this stunning, comical and sweet. When we took her on our ski vacation to the Blue Mountains, she got so much attention that we caused many traffic jams. I even had more than one person chase after me to see if we would consider selling her. I offered one of my children instead. Hee Hee

She has grown up beautifully so far. Ariss is 48 pounds, 32" at the chest, 29" along the back with a 24" neck. Her eyes are circled black and both wrinkles are black so she always looks like her mascara is running. Gorgeous.

I have attached too many photos, but they will show you your pup and maybe give you some idea of her life with us. Who knows? We may need another bunch of funny wrinkles!
Cheers!
Karen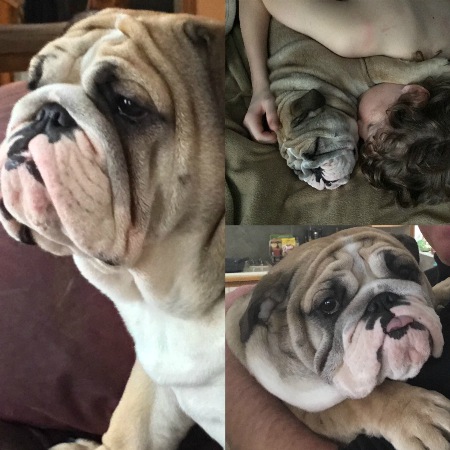 I'm so thankful that we decided to get our new family member from victory bulldogs! The amount of knowledge and support that was available,has certainly made the decision (which was a tough one) of adding to our family extremely easy and worry free! We love our newest addition, and he has shown us so much love since arriving. There is no doubt, that if we decide to expand our family further, it will absolutely be with another victory bulldog!!

Craig Evans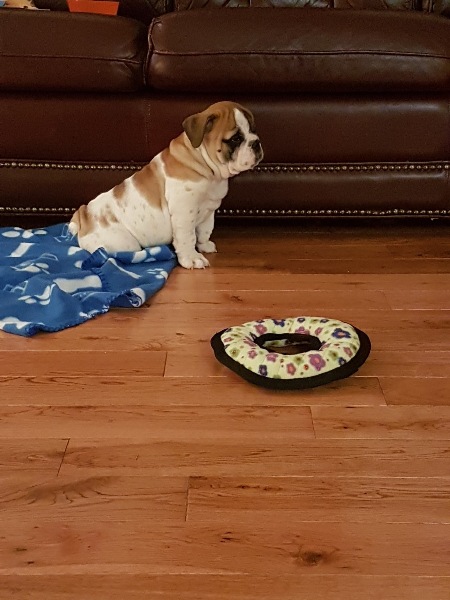 MOOSE Now 3 yrs old A Vito Son loved by NHL Star Danny Syvret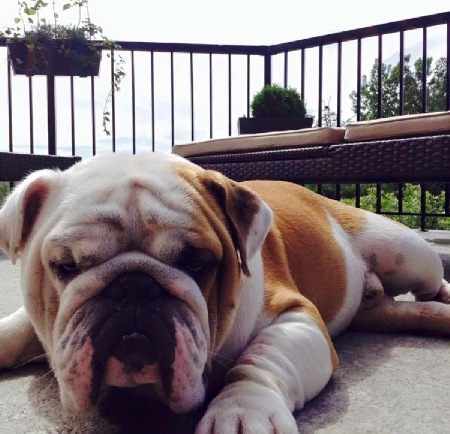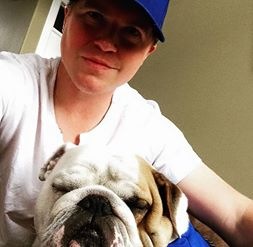 Our Past puppy Handsome Man Ace only Flys First class with his NHL Daddy Corey Perry and Mummy Blakeney Perry.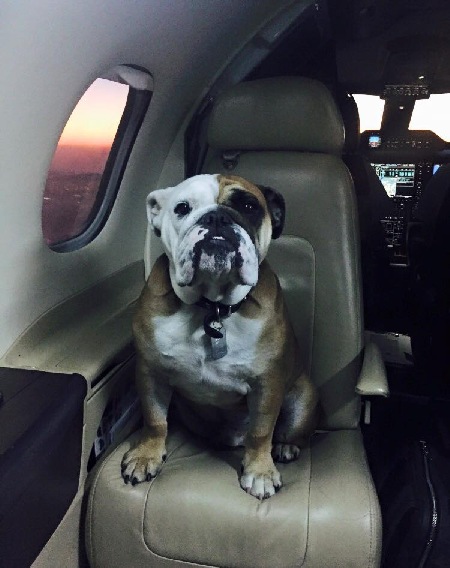 Hello there Victoria how are things ?
Just an update Charlie is doing very well he had his final set of shots yesterday and he is growing so fast…he weighed in at 38 Lbs, he doesn't miss to many meals…lol.
I have attached a couple of pictures for you to have a look at they were just taken today.
Talk to you soon,
Joe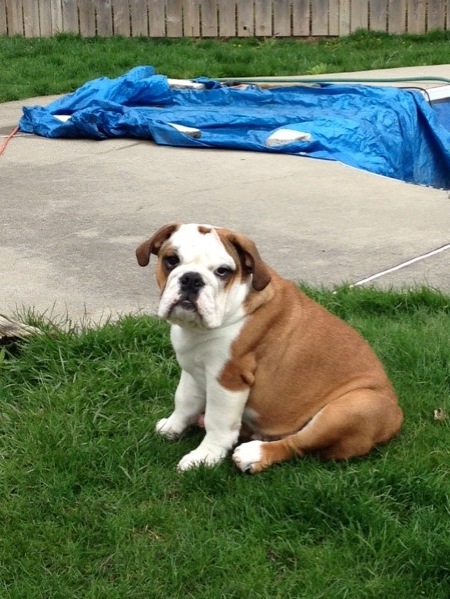 He's Home! We can't Thank Victory Bulldogs, Victoria and Margaret Enough for being so professional in helping us through our puppy purchase.

Lisa, Newfoundland.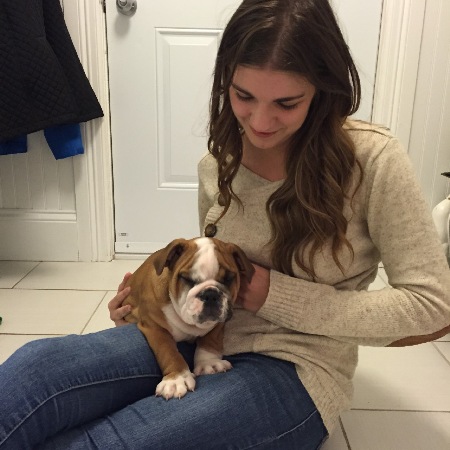 Hi Victoria, Tango (now Theo) is such a well behaved little pup! We washed him last night, put the drops in his eyes, and fed him a big meal. No fussing at all. When he woke up this morning his eyes were nearly perfect. We've started some clicker training already, and he seems to be very quick. Thanks again for everything. Hope your drive home was quick and the new litter was OK. -Matt and Catherine.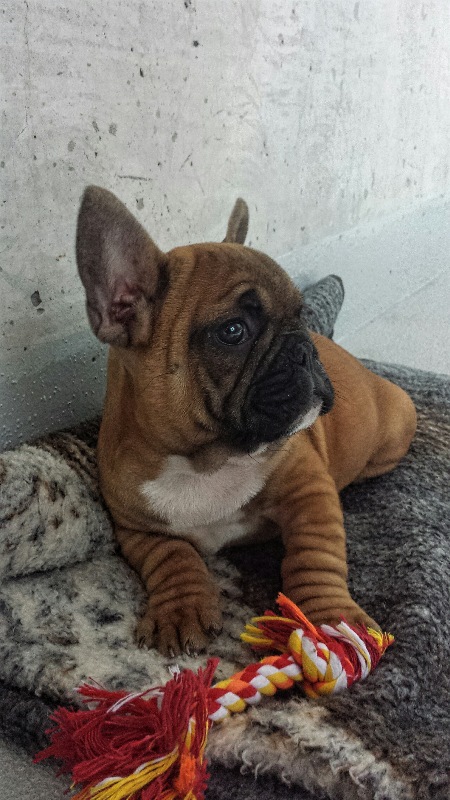 Hi Victoria
Happy new year. We wanted to send you a couple pictures of Reggie from your Feb.8, 2016 litter. He is the pride and joy of our family.
Take care
Lorin and Michelle Myers
Southampton, ON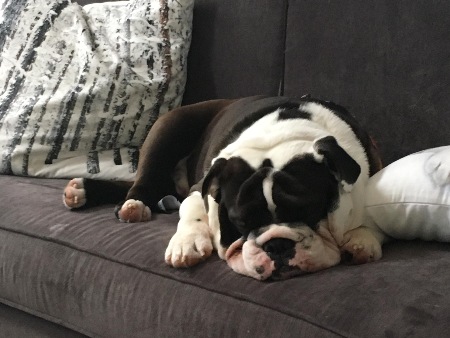 Hello,
I just wanted to take a moment to tell you how great Tulip is doing and that she has been the sweetest most wonderful addition to our family. She is definitely mommas girl, but thats exactly what I wanted. I am so happy that we brought her home, we just love her sooo much!
Hopefully you remember us...is been a while.
Ps even my husband (the dog hair hater) just loves her to bits!!
Lori, Ryan, Max, Rocco and Tulip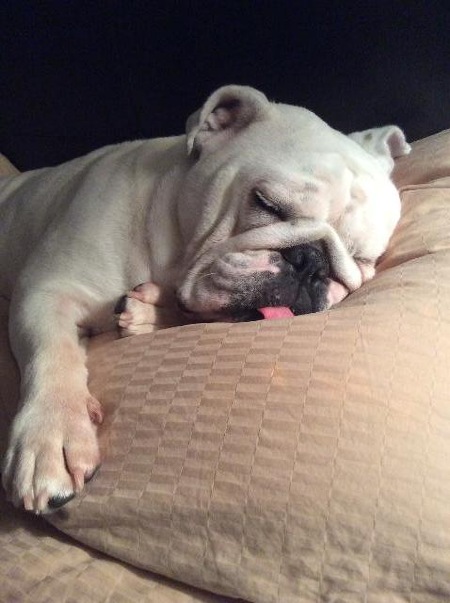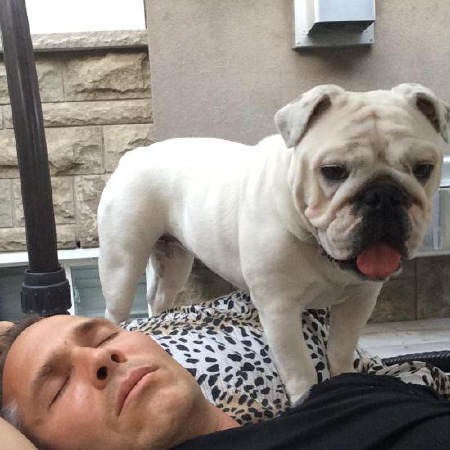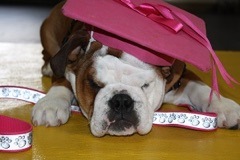 Molly has graduated puppy class at Canadian Canine College. She made the website http://www.canadiancaninecollege.com/classes.php?cat=1

Hey Vik, I just wanted to send a picture of Denim and let you know how extremely happy we our with this boy! We get stopped constantly and out vet say's he is the best looking French Bulldog he has ever seen! We recommend you to everyone and cannot wait to purchase our second puppy from you this fall. Thanks again and will be in touch soon about your new litters, Mark S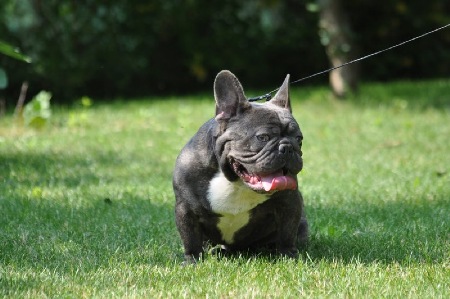 Hello Victoria, my son Christopher had purchased his dog from you and I am watching him here in America while he is on deployment. I have fallen so in love with Rocco and this breed that I am looking to purchase one as well. I love his build and look more than the English Bulldogs I have seen breed here in America. Rocco had surgery on his right eye recently and his American vet and the one that performed the surgery indicated that he is a beautiful specimen for this breed. I would like to look into any liter you have now or in the future and I could fly out to get him or her due to I work for the airline. I am including a picture of Rocco my son's dog. His name is Christopher Weger and currently lives in Germany.

Some of Our May 21st 2016 Born Blue Frenchie Babies in their new homes!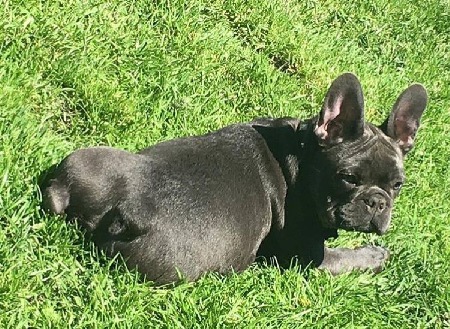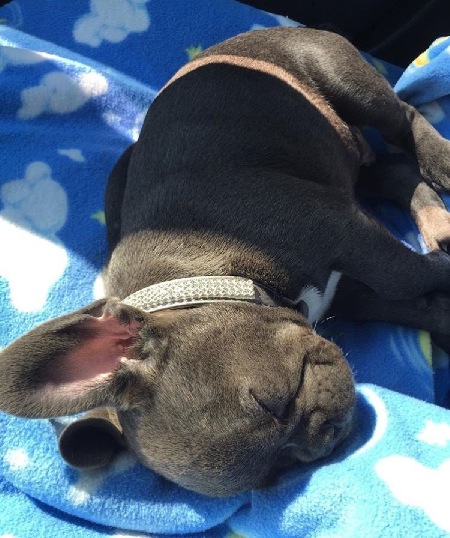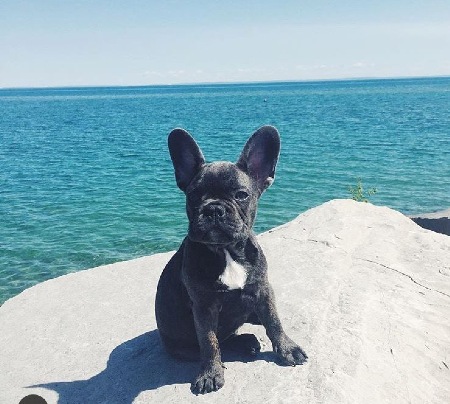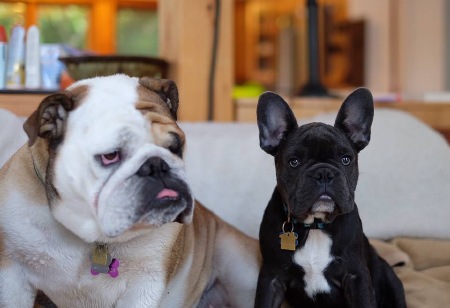 JULIO Owned by Mario and Courtney Lopez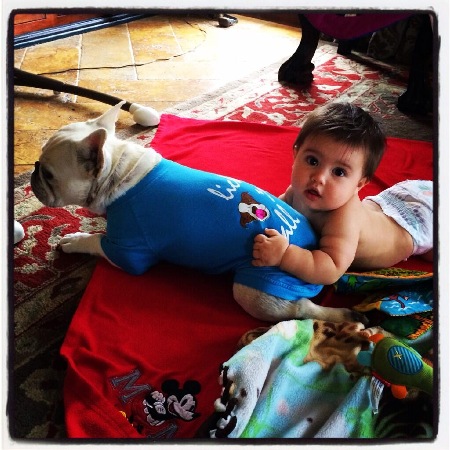 We named this Kid Earthquake for good reason lol! 6 Month Old Cush Sired Son Earthquake now known as Winston, Loved by Shanalee and Glenn in Sarnia Ontario...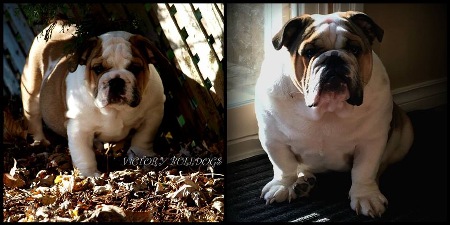 2 years down the track and Louis (Ronaldo) happily resides in Melbourne, Australia!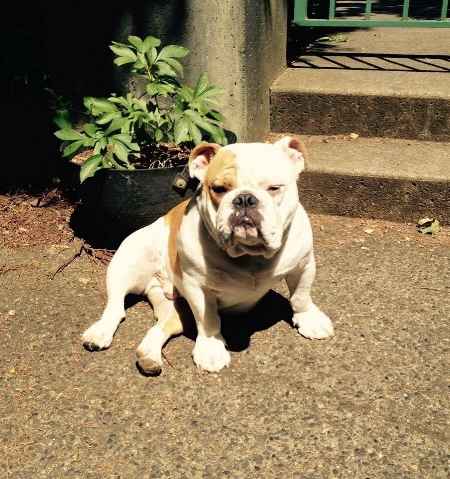 Hey Victoria... Oh this guy is melting our hearts....

Buddy and Keon, 2 Half Brothers sired by Vito living in Calgary!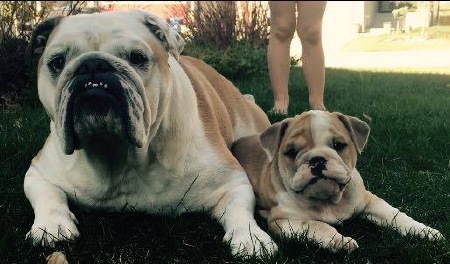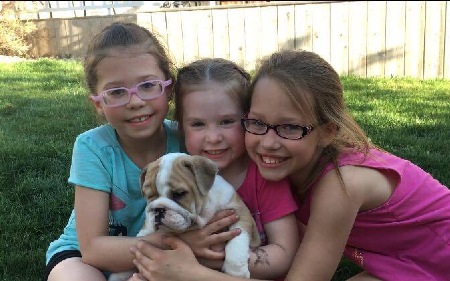 Omg Victoria, ROLY Is Amazing I am the happiest human right now! Oh my goodness she is the most major amazing little girl! Thank You so much. Karla in St Johns Newfoundland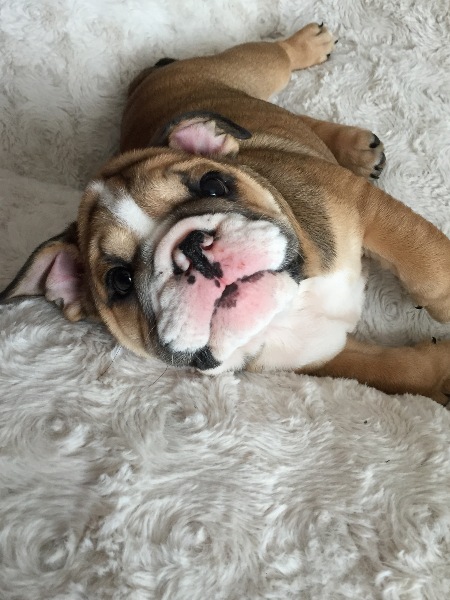 Hello! Just checking in. Percy is doing good. He LOVES his big sister. Here's a pic of them from this afternoon. I'm still working on a new name... Lots of friends with lots of thoughts :)We are meeting the vet tomorrow for a check up (everything is fine - I'm just getting him set up for vaccination, etc.)We've got crate training down pat - he's taken very well to "bedtime". We're strugling a bit with the potty training, but slowly we'll get it worked out.He's a hilarious little ham - I am very much enjoying his company. Ang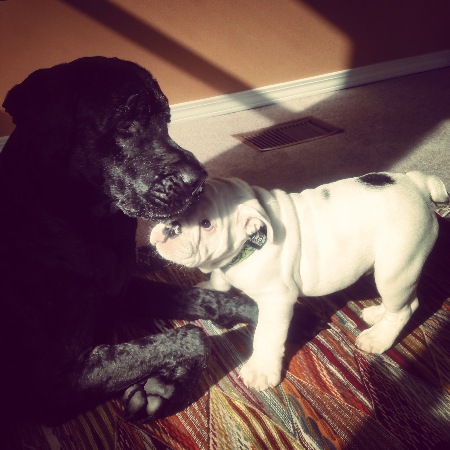 New update from a LEO Son Cody, 4 years old and a big beefy boy like his father!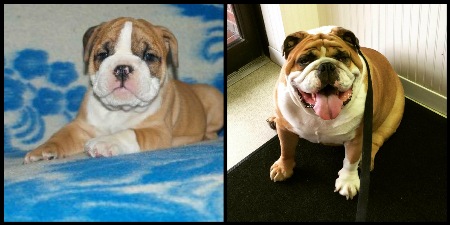 Frankie (AKA) Road Runner is almost 6months old and is such a smart little guy. He's sociable, easy to train and a pleasure. He's has a very sweet nature and insatiable curiosity. Thank you Victory Bulldogs!

Loved By Lee Caplan and Dr Bernard Caplan at Annex Animal Hospital Downtown Toronto http://annexvet.com/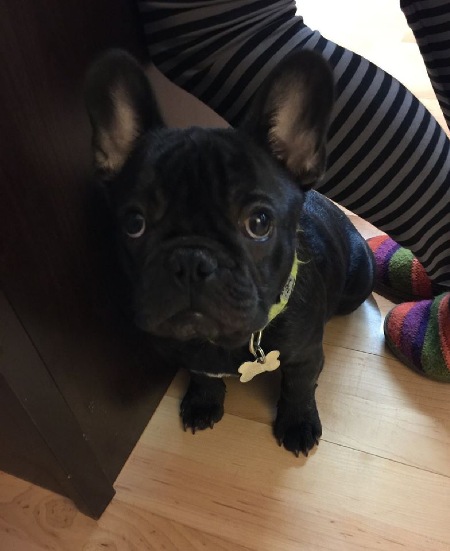 London Loved by Scott in Milton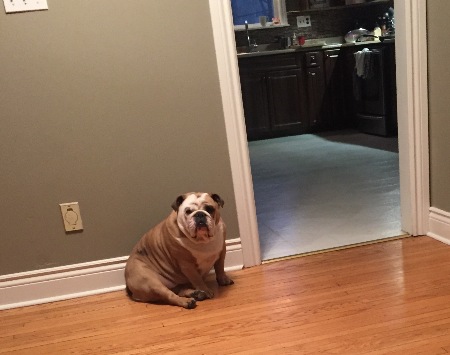 Hi Victoria! Just wanted to send you a pic of my sweet Reese! We couldnt love him more than we do! My Vet says he has the best Conformation she has ever seen in a Frenchie! Everyone is crazy about him and hes the sweetest thing ever! Thank you so much...Robyn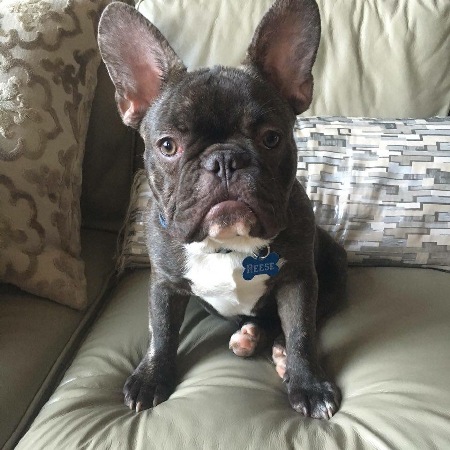 Hi Guys, Thought you would like to see an updated pic of Ollie.. He is now 6 months old and loving life.. What a Ham! Roslynn in London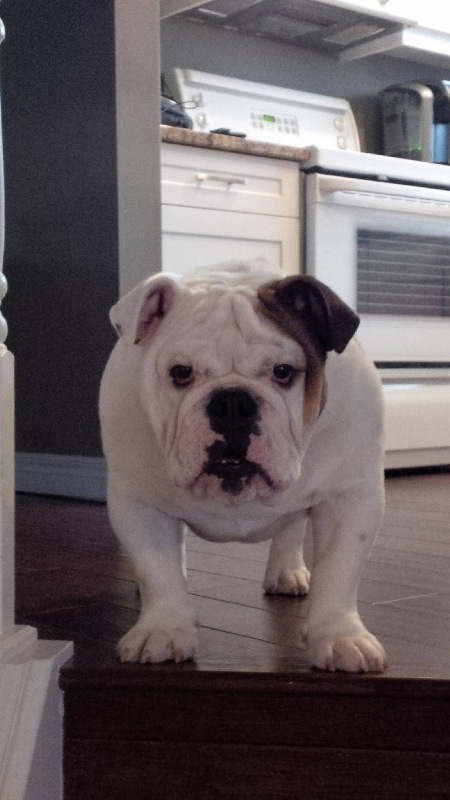 ABIGAIL Ollie Sired Daughter at 1 year old!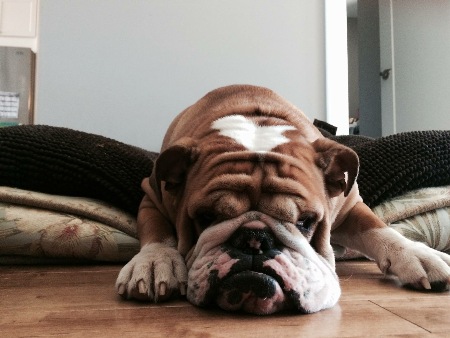 ACE Love by NHL Anaheim Ducks Player Corey Perry and Blakeny Perry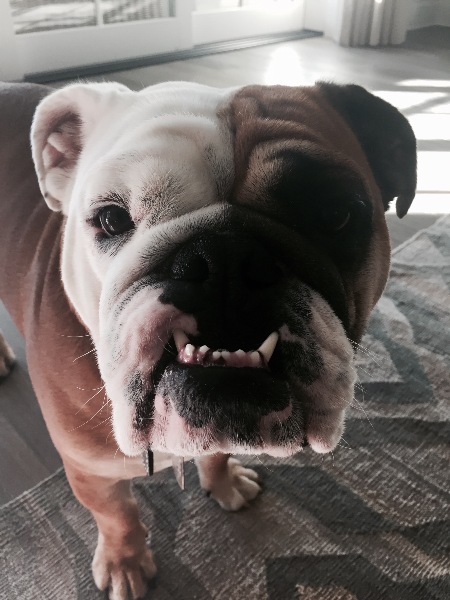 Hey Vik! Diva is doing very well.. Just sending a photo of her getting her Tan on :)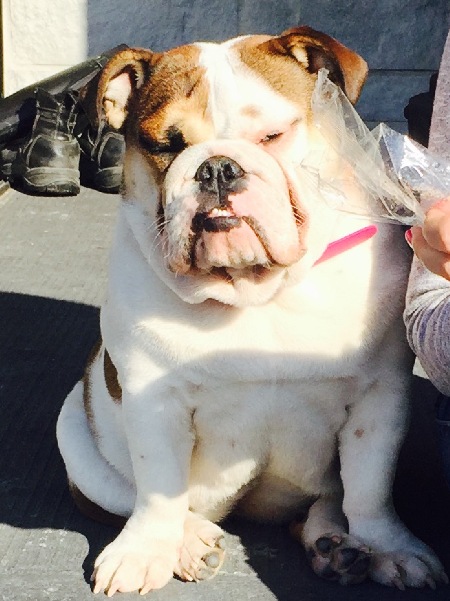 Matty Conrad and Ollie Daughter Wallis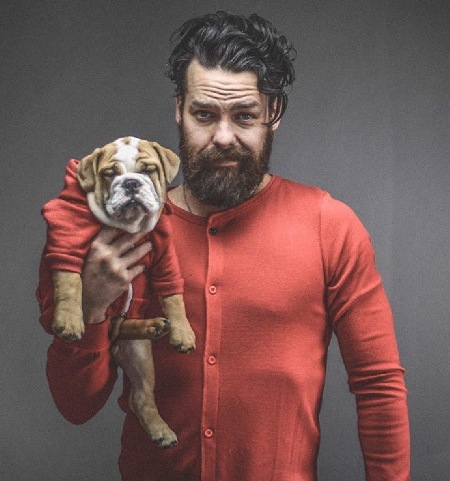 JELLI loving her new Sofa, she is loved by Kim in Nova Scotia and lives with her Full Sister Bella!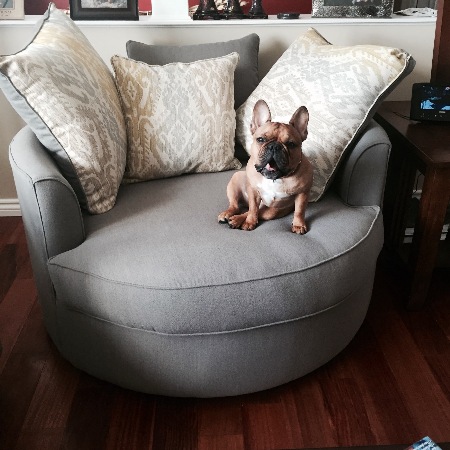 Abigail and Beatrice are loved by Brad and Dr Tamara Biederman in London

Hey there Vikki! Hope you are doing well. Just an update on the girls, they are doing super great. Abigail has added so much to Beatrice's life. Due to the extra activities ie play fighting beatrice has even dropped ten pounds. I remember you saying Abigail was one of your favorited from that litter. And that you carried her around a lot. While holding her did you kiss her a lot? Because she is always looking for kisses lol

Hey brad. So glad to hear the girls are doing so well. Great news about Beatrice losing 10lbs that's awesome! is she still wanting hand feeding it is that getting better now? I just love Abigals face she is so much like Ollie with all her wrinkles. And yes I always was kissing her I used to bite her ears all the time too, kind of a weird habit I have lol. I love seeing their pictures they look like they really love each other.

Lol yup still hand feeding, and unfortunately Abigail wants to do everything beatrice does. Although Abigail will eat shrapnel off the floor while beatrice somehow thinks it's tainted at that point. Even if it's her favorite treats. Thanks for teaching Abigail how to kiss, it's one of my favorite things about her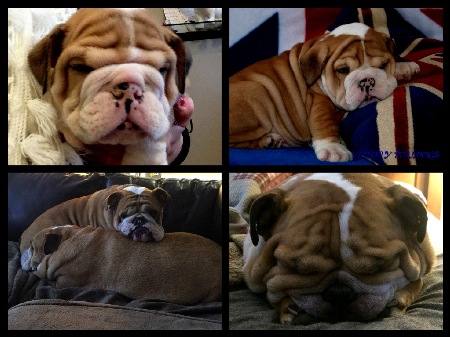 Hank Loved By Brent McMullin in Kingston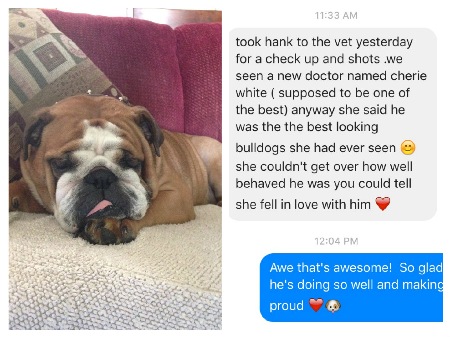 Hi Victoria,

I'm not sure if you will remember us from Kelowna...but I thought I'd send along an update in our boy Ripley (Rusty back when he was still with you).

I have to tell you that back when I was purchasing Ripley I was extremely apprehensive given the miles between us. I couldn't have been more wrong. Ripley has turned into one of the nicest looking frenchies I have seen and he turns heads absolutely everywhere we go. To make loving him even easier, he has the sweetest personality! I've never seen one sign of aggression and he is the most loving, cuddly dog I have had the pleasure of knowing. I want to thank you once again for this amazing little man!

Sincerely,

Laura Geiger
Kelowna, BC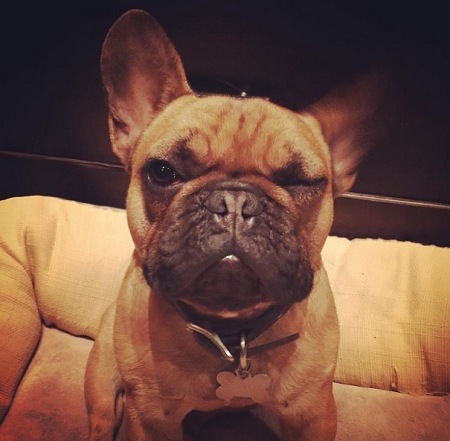 Hi Vic. Thought we would drop you a few lines and tell you how happy we our with our boy Neil! He is the love of our life and will be 5 years old in February. Since we last spoke we welcomed our little daughter Addy into the world and Neil and Addy are inseparable best friends. We had had some pictures taken of the Duo for Christmas and wanted to share some with you and let you know how happy and blessed we are to have such an amazing Bulldog and caring breeder who has always been there for us. We are thinking about adding a French Bulldog to the family next and would like to ask about any upcoming litters for this spring. Hope all is well with you and your family and look forward to hearing about your upcoming frenchie litters soon. Happy New Year,


Josh and Amanda, PEI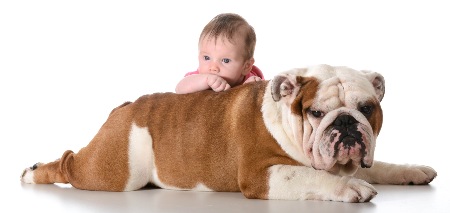 Merry christmas Victoria from sam liana and hank the tank.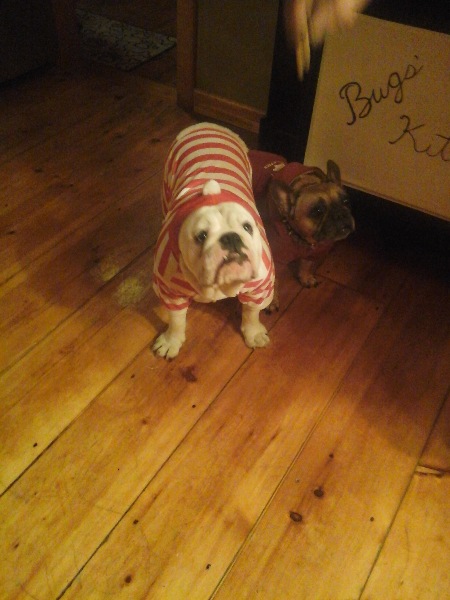 Hey Victoria, just thought we would say hello and let you know how our Tubbs "Beefcake" Nolan is doing, not only is he 3 months today and weighs 22.5 lbs....he is also a little menace....but a adorable one!! He has really come into his own. He loves LOVES to bite feet, and nips at you when we come home, I call it little love bites...something we are teaching him not to do but he is a persistent little devil, I mean angel....lol He is learning to climb stairs but prefers to sit at the bottom and bark till Mommy or Daddy come to the rescue but if we don't he gives up and goes up on his own....lol He loves our cat Willy and lathers him in kisses and absolutely adores Miss Judd. He loves everyone that visits, he loves other dogs, he loves kids...he is our super star!! He is a happy boy, playful, loving and feisty!! Just wondering though, you had on your facebook page the "panda" bulldogs....OMG they are adorable! As much as I would LOVE to have 3 I can't right now....but just out of curiosity, how much and do you have any of them available?? NO never mind, don't tell me...LOL We will keep you posted on Tubbs and let you know how he is doing! Happy New Year! Hope all is well on your end!!Take CareKim & Tim xo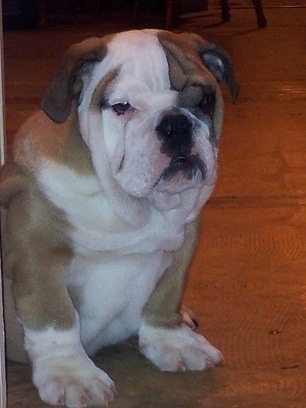 AXLE FAT BOY. Loved By Garey Dixon Owner of Privateers Harley Davidson Nova Scotia.
http://www.privateersharleydavidson.com/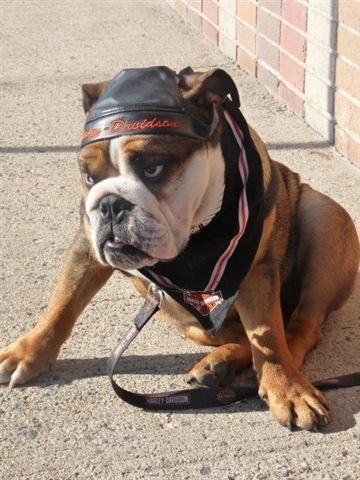 Hi Vik
Rory and Amy had the best Christmas and were so much fun. Although they play so heartily, since December 20, both puppies have put on two lbs. Rory outgrew his new coat!! He is just wonderful with her and is the non-dominant puppy. Amy has great female traits - she rules quietly!! We are so in love with her,

Happy New Year from our family to yours

Love Pat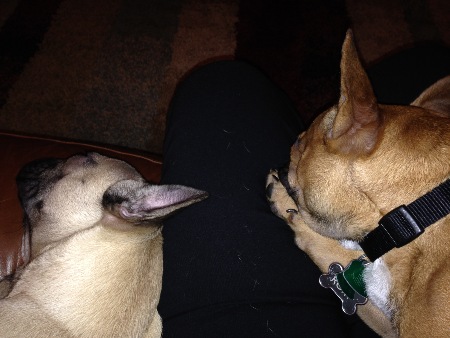 Matty Conrad's New Baby Wallis

As promised, I will keep you posted with lots of photos of Wallis as she grows.. Here are some we took today. She is such a ham. Seems to love the camera and generally isn't afraid of anything. We couldn't be happier
:-)
Amanda & Matty Conrad

http://www.victorybarbers.com/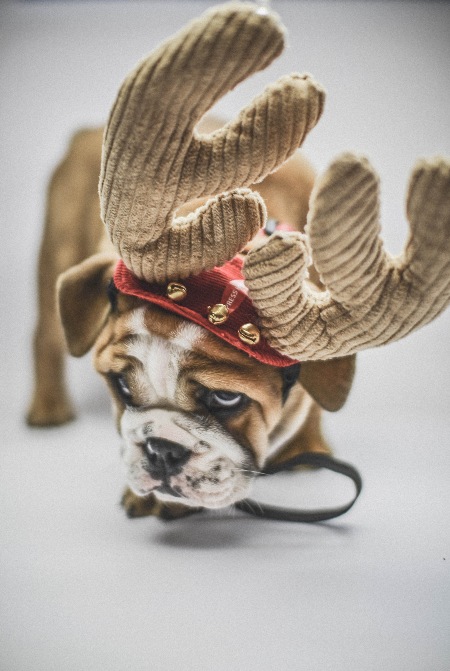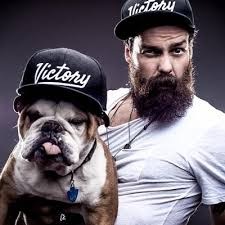 Hi Guys,
Thought that we would send you some pics of Ollie at 13 weeks.He is such a great guy, so loving and happy. The vet at Staples says that he is in great shape and that he is going to be a big boy when fully grown. As you can see, he loves to sit on my lap for his morning cuddles. hope all is well. Big Ollie's new litter are so cute.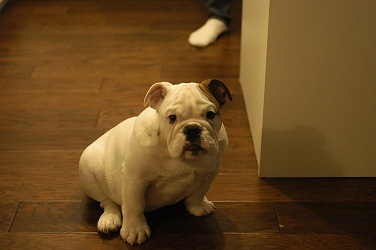 KANIKA Now Loved by Jesse F. Keeler From Music Band Death From Above 1979, and his wife Victoria.

http://deathfromabove1979.com/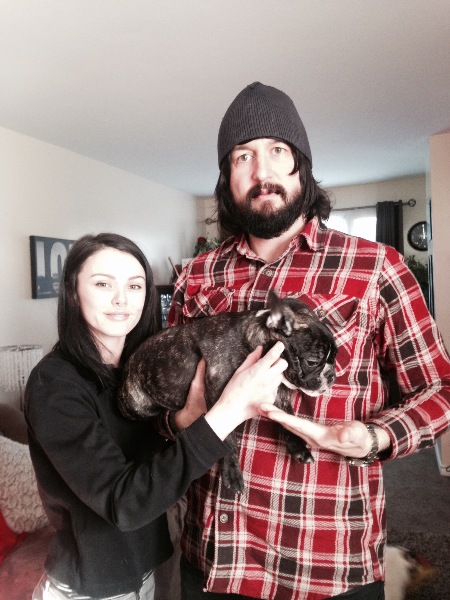 COCO (Rodney Grand baby) And TONKA (Ollie Son) Loved so very much by Christina and Dave in London Ontario!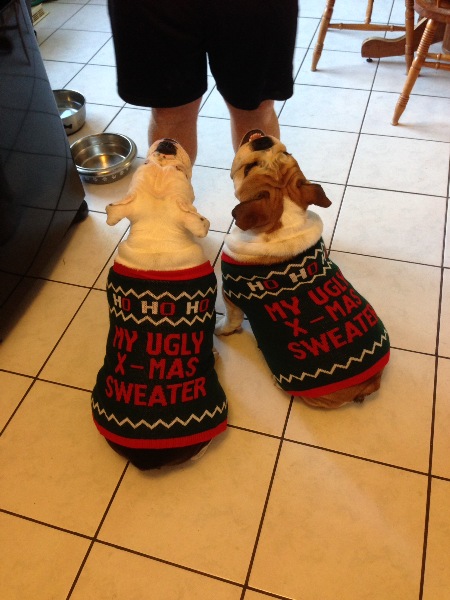 Hi Vik, just wanted to send along some updated pictures of Marshmellow. She is very lazy girl, she loves the fireplace and sleeping on top of anyone's bed that she can get up on. Typically she puts her front feet up and barks until someone comes to give her a bum boost. She has a lovely personality, still trying to break her shoe habit lol. She just can't help herself. She is a lovely bully and puts a smile on my face every day. Her deafness is probably a blessing as she can sleep in every morning when my children are up at 5:30 AM. She hates the rain and prefers to eat her breakfast before she goes outside. She is not a fan of cold weather either, and does not like walking. She likes to spend most of her time playing in the backyard during the warm weather but this time of year she mainly likes to lay in front of the fireplace. My children all love her so much. Basil and her get along very well, he is eight years old now and it will be awful when he is not with us anymore. I don't know what she will do. I joke with Matt that we will have to drive Marshmellow down to London to pick the new puppy. She would have been a great mother. She is forever cleaning Basil's ears and wrinkles. Funniest thing though, she is afraid of anything on the floor. Anything out of place sends her into a barking fit. She especially does not like balloons. Anyways, just wanted to wish you and your mom a Merry Christmas and a happy holiday season, Rachael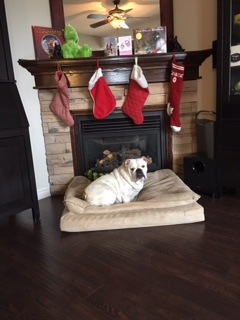 Hello Victoria
I just wanted to give you an update on Ringo (Chunk). He's a very happy and spoiled boy who gets attention everywhere he goes. He's a rock star and unfortunately he knows it lol. He's been great with my nieces and nephews, wherever they are he's right there having the time of his life.
Ringo's picked up quite a few tricks including waving hi, spinning until he's dizzy and rolling over. He's grown to be a very big boy, about 75 lbs, yet he's very active and loves getting the other dogs to chase him at the park (although they catch up pretty quickly lol).
I included a few of my favorite Ringo pics. Hope all is well and best wishes during the holidays.
Scott MacDonald aka Ringo's Dad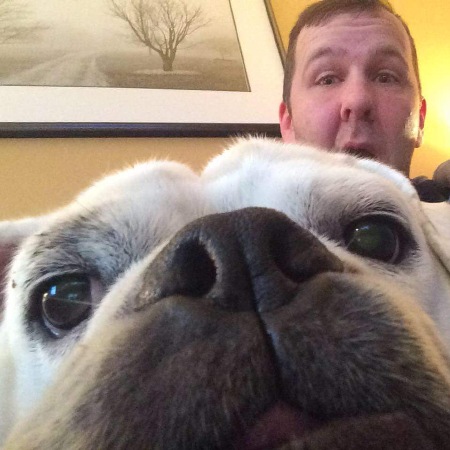 Vikki,

We were wondering if you had any pics if Gus's siblings. We were curious to see how these guys were progressing. Gus is doing well, see a recent picture of Gus taken at the cottage - we woke him up early and he wasn't happy with us.


Grumpy Gus waiting for his morning Coffee.

Cherrs, thanks

Stephane and Stephanie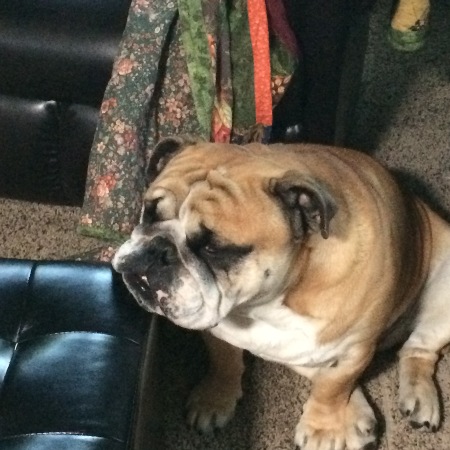 Hoss with his St Catherine's fireman dad Chris. Truly a mans best friend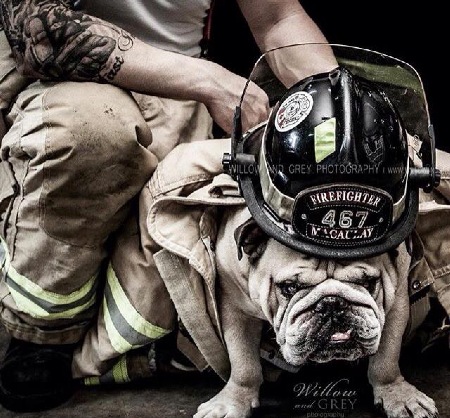 Chester oved by the Maclsaac family in St Johns Newfoundland