Hello Ladies,

It has been a couple of days so I thought I would send you a little note to let you know how the beautiful Charlie is doing. He seems to be settling in very well with us. His sweet nature is certainly showing through all the time and the girls are in love with him. His new big sister is not completely won over yet but I think his charm and perseverance will rub off eventually. The picture of him in his crate was taken on Tuesday night when he decided he was tired and went in it to sleep all on his own. He fussed a little last night when he went in for the night but then settled in and slept for the night with no messes. He is very smart and the training is going very well. He is certainly the typical stubborn bulldog when he doesn't want to walk somewhere but he likes to follow his sister so he is learning quickly. I will continue to send some photos as he progresses I just wanted to let you know how well he has adjusted and how much we are all totally in love with him already.

Thanks again for everything

Kristen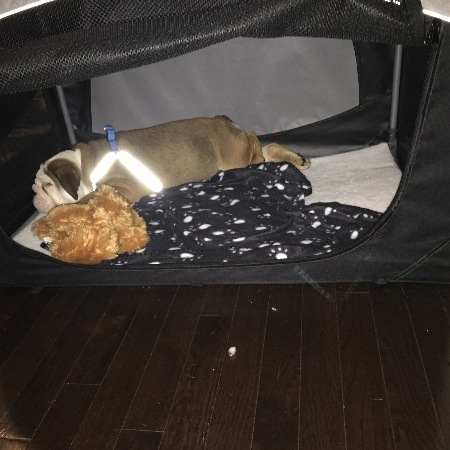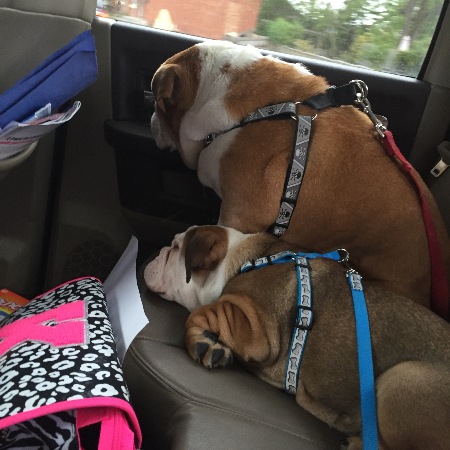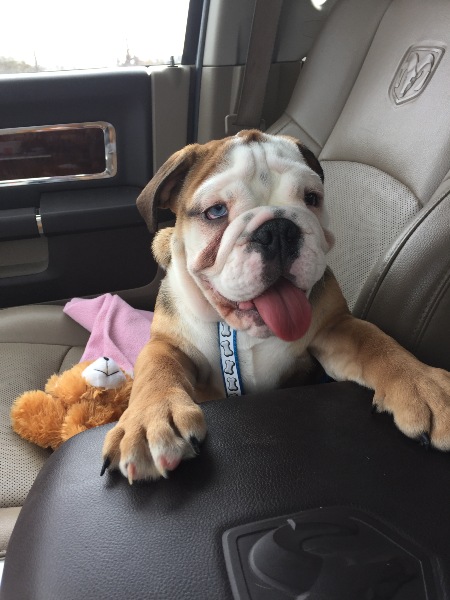 Olivia now known as Diva loved by Sebastien and his Family in Quebec.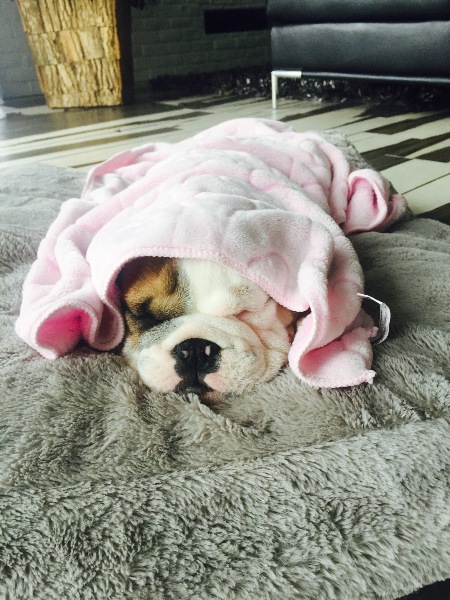 Coco and Reba now known as Julie and Talulah are now 6.5 Months old and growing into phenomenal young ladies. They are loved by Marnies and her two little Girls along with thier Brother Kevin another Victory French Bulldog.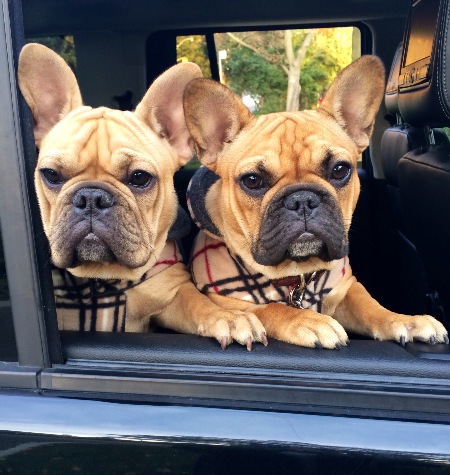 Coco, Reba and Rosie at 12 weeks before going to their new homes

Lewis and Harvey are Brothers and Both Loved by Dr Gupta and Elvira and their families. These two brothers live close to one another in the Toronto area and go on playdates.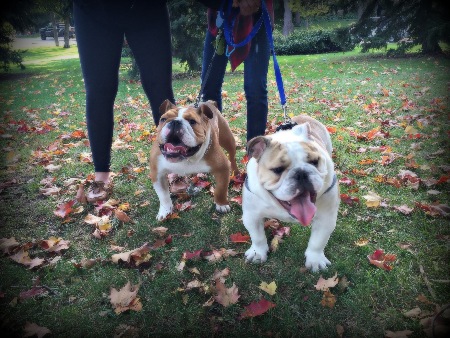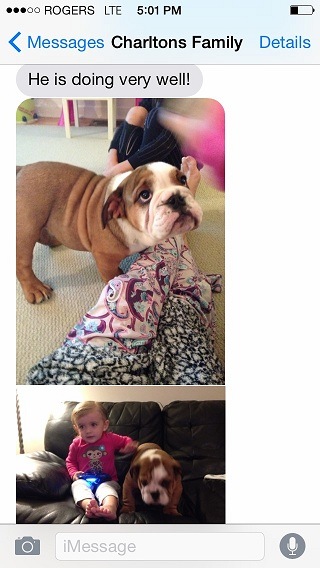 Charlton now known as Boczek (Bacon in Polish) He is Enjoying life with his new Family in Windsor~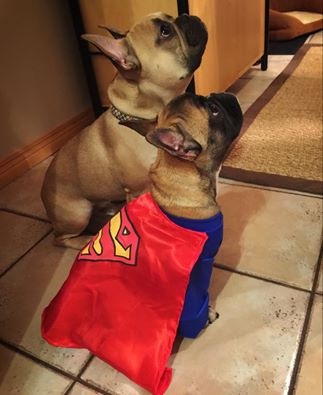 Smudge and Bugatti Oct 2015!

Hi Victory
Just wanted to let you know that Nova (Rosie) is fabulous. She is so peppy and sweet. Loves all my boys just want to kiss their face all day. She is getting along great with the other dogs. Thank you so much for such another great puppy.

Here are some photos

Maxine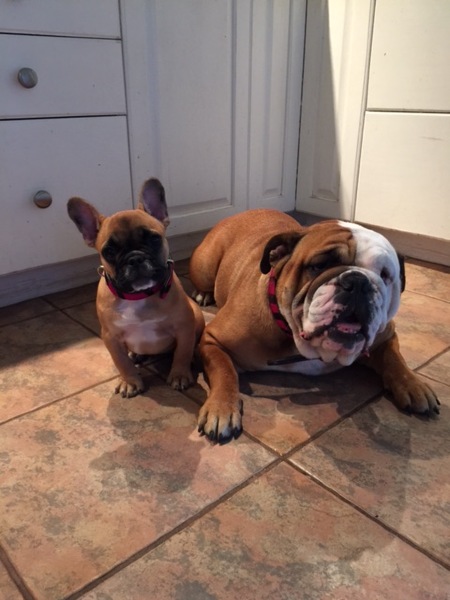 Hello! I see it's been years since I contacted you. Hopefully, you still remember "Hannah"?! Well, in the meantime, we've had a baby girl, who's now 19 months old, Lucille. For the baby, it was love at first site when she met Hannah. For Hannah, the real love began when Lucille began eating, and dropping, solid foods :)

She is the best dog a little kid could ask for. When Lucille could only just walk, she insisted on holding Hannah's leash and she'd wait through all of the baby's stumbles and falls. They are truly besties. It's adorable. This November, we will be celebrating Hannah's 10th bday! Last year, she had a large tumor removed from her chest and has been right as rain ever since. A true perfect bully :)

I have attached a few pics taken over the past 19 months. Please let me know if you've received these.

Take care,
Julia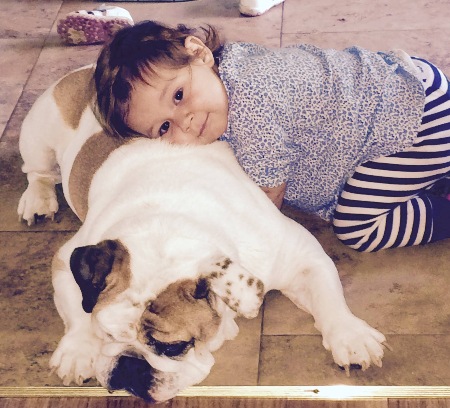 Hi Vikki, Here's handsome Molson relaxing on the couch after his walk this morning, such a loving, sweet boy.
Have a great day!!!

Nancy, Tim and Molson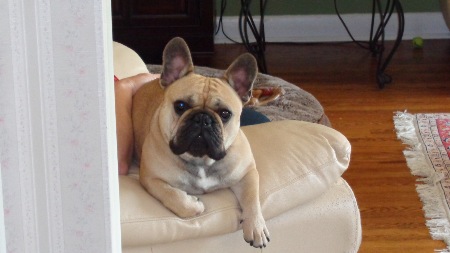 Rocky Lives in Grandbend with Zoltan, He takes walks on the beach everyday, here is a little Video his new dad made https://www.youtube.com/watch?v=vc12p09an1U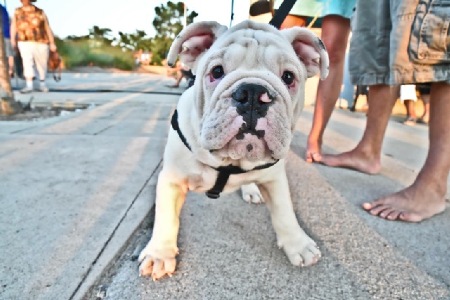 Jennifer, Chris and their children Gage and Alyssa Love two beautiful French Babies of ours in Calgary Alberta, Bugatti and Smudge.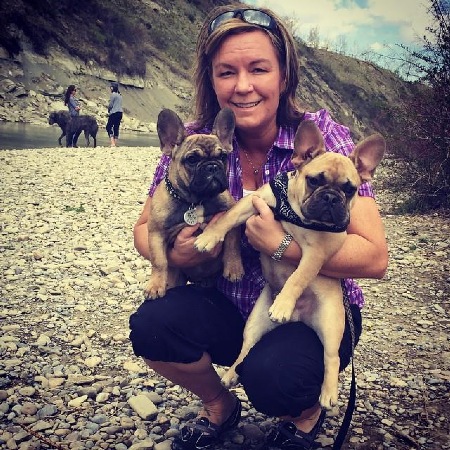 Newlyweds Bryce and Emily are loved by Remy and Kahlua Their parents also own two Victory English Bulldogs Tony and Kate.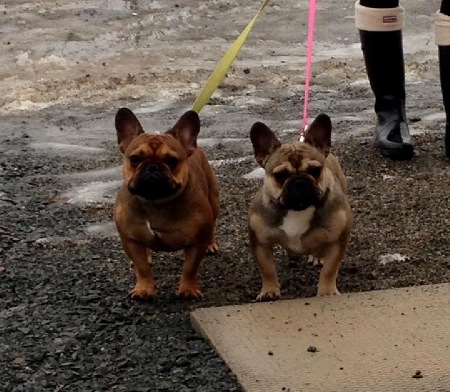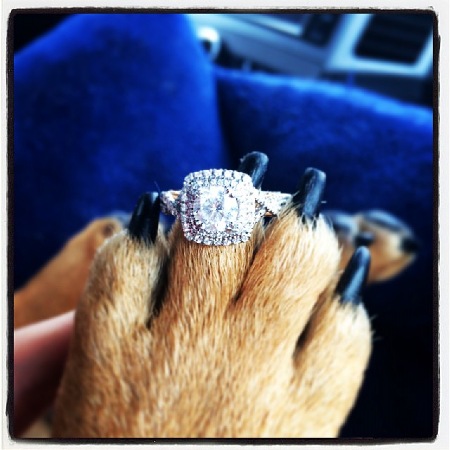 Good Morning Ladies
Here is a little pic of Titus my nephew took. Titus is a happy energetic confident puppy. He is 95% house trained He loves to play and cuddle. I could not of chosen a better companion..He has me wrapped around his little paw lol
Beryl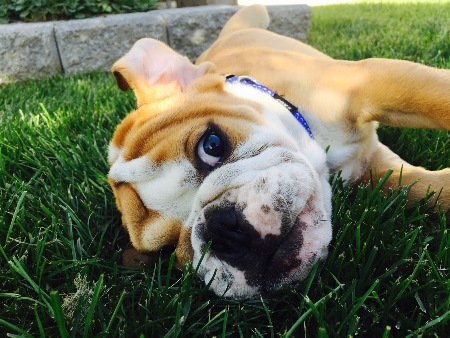 Hi Victoria. Heres the baby Cyril and his mom and dad are beautiful! Our Vet said he is one of the best bred Bulldogs he has ever seen. Thank You so much for our baby.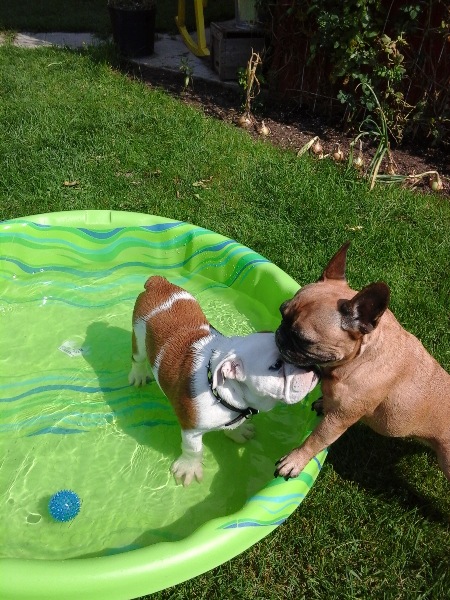 Victoria, My apologies about the email so late, I thought I had sent an email earlier shortly after we had picked him up. That's so weird. Anyway, he is beautiful and we are spoiling him already. We has had lots of water and has had a cup of food. He is doing really well. Thank you thank you thank you. Amazing Puppy we could not be happier, cant wait for our second pup this October/November.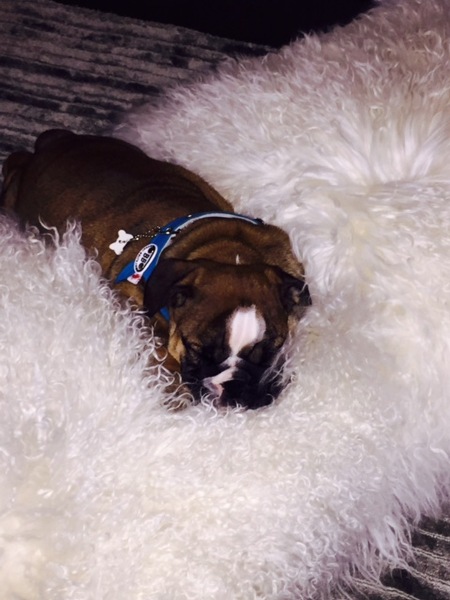 Rook and Cricket Loved By the Schultz family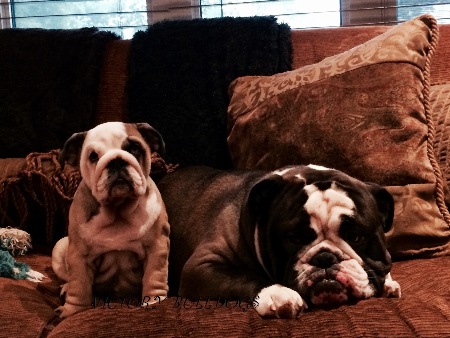 H Victoria,

I purchased Agnes from you about 3 years ago (you had named her Poppy).

We are so madly in love with her – she is seriously the best dog on earth. Everyone who visits us tells us that. Our family from Scotland came to visit and fell in love with her (especially their little girl you see in the photo with Agnes).

They really like the disposition of Agnes and would prefer to get her from the same breeder.

(also – Agnes was on TV recently! It was an episode of Breakfast Television on National Dog Day on Aug 26…Agnes stole the show)



Erin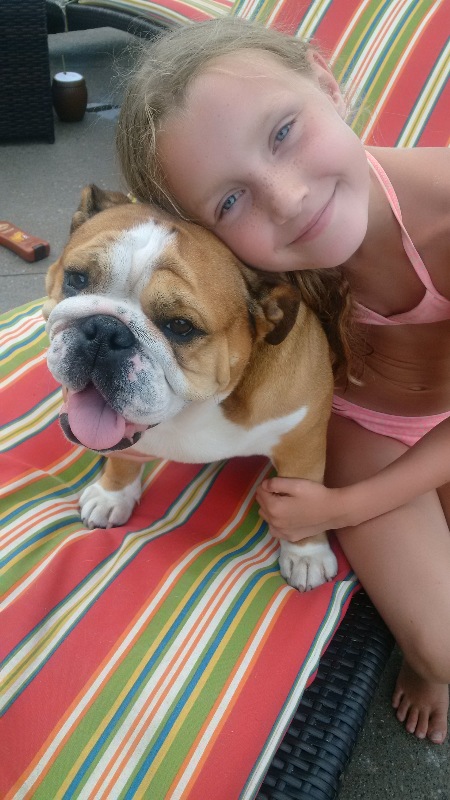 Hello,
Hope you are all well... we've been following your Facebook and Instagram page, all the puppies are just adorable!!
We've had our Ralphie neutered today. Wondering what the next steps are in getting his papers from you. Let me know when you get a chance.
I've attached a couple of pictures for you guys :)
Thanks,Shannon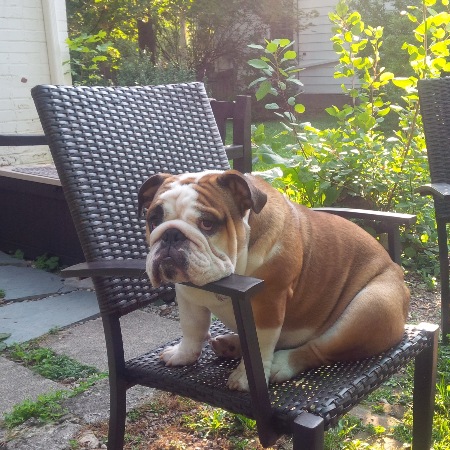 ACE Loved and Owned by Anaheim Ducks NHL Corry Perry and Blakeny Perry. Living the good life in California.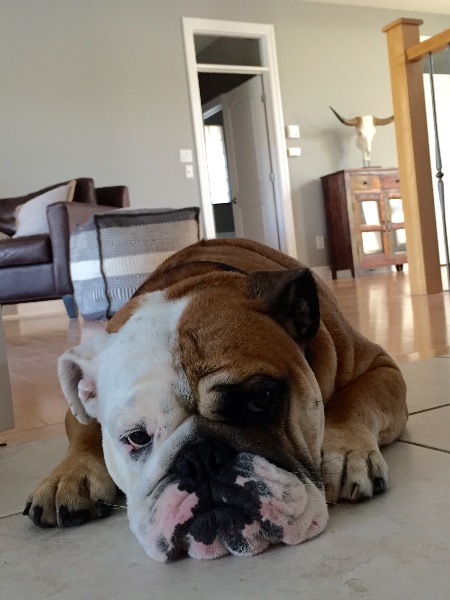 Vikki,

I have a health question for you. Gus is going to the vet for his yearly check up and shots. They will ask me if we want to have him neutered. We are fully committed to having this procedure done, but wanted to wait to ensure he was fully grown and ready for the surgery. He will be 17 months in October. Is this a good time or should we wait a little longer? He isn't a bother, no marking in the house or aggressiveness towards anyone or other dogs. The only problem is the occasional humping, which he does with select people, really don't understand that either. He definitely won't try humping me or my daughter, but my wife and son are targets - not constantly, only once in a while.

I hope you enjoy the photo, he loves watching TV. I don't know if he sees anything or if it's the sounds he likes, but he can sit and stare at it for a good 5 minutes at a time - we think it's cute. Our other bulldog doesn't even pay attention to the TV. We keep it on during the day for him. They have the TV room to themselves when we are out of the house..

One more thing, Gus has a constant snore - comes from the back of his throat - more of a rumble breathing. The last time we went to the vet they said we may have to get something removed from the back of his throat, cut to make way for him to breath. When he is home, we don't notice him being out of breath or low energy, when he sleeps, he snores, but no more than Nellie, our other bulldog. Just thought I would ask if you ever heard of this procedure and if it was common in bulldogs. I really don't want to have any procedures done that aren't necessary - vets tend to pile it on thick and then you get the bill

Thanks and I look forward to hearing from you.

Stephane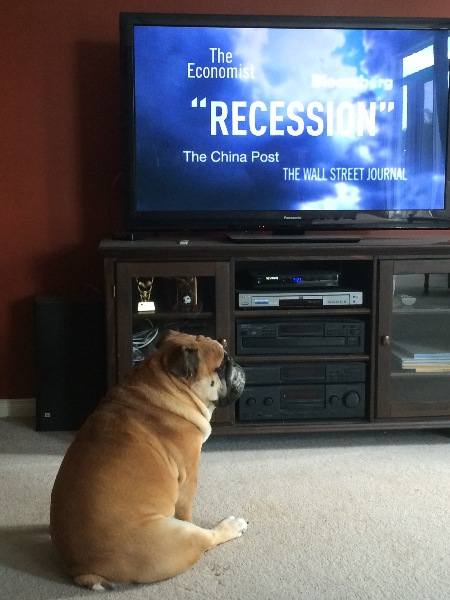 Hi Victoria. Our Precious Annie, She is 6 years old and loved by so many. Our Vet always compliments us on how well bred she is, we have never had any health problems with her. Thank You Again for such a wonderful part of our life, it would not be the same without her. We are thinking about a new addition in the next couple of months so will be in touch. Thanks again, you're truly wonderful caring breeders,

Erin and Ron.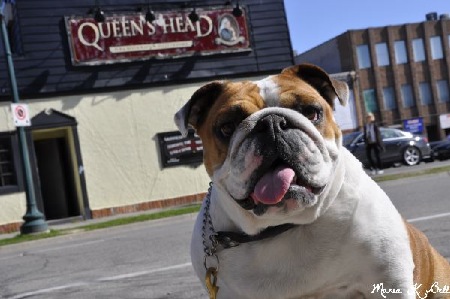 Jelli & Bella loved by Kim in Nova Scotia, These are their First Birthday Photo Shoot Pics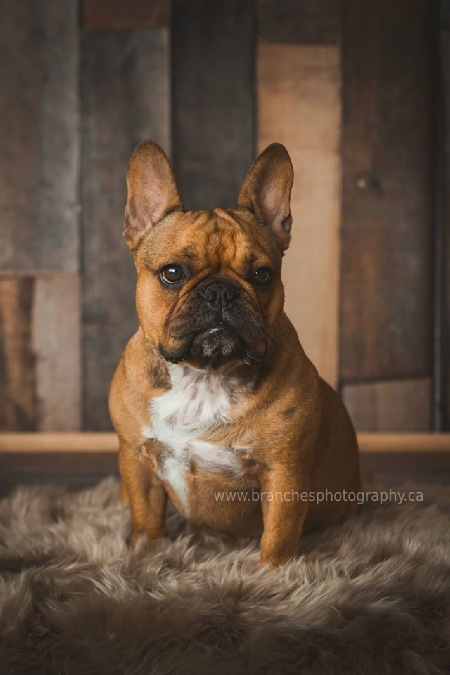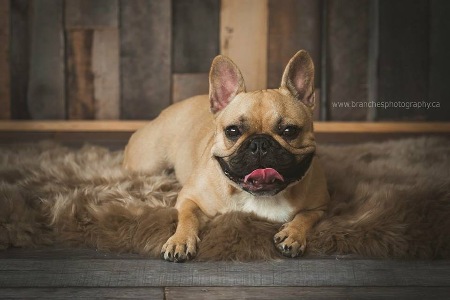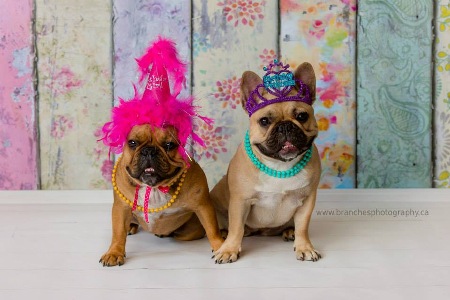 JAXX 1 Year Old Sep 12th/15 Lives with Shayne in B.C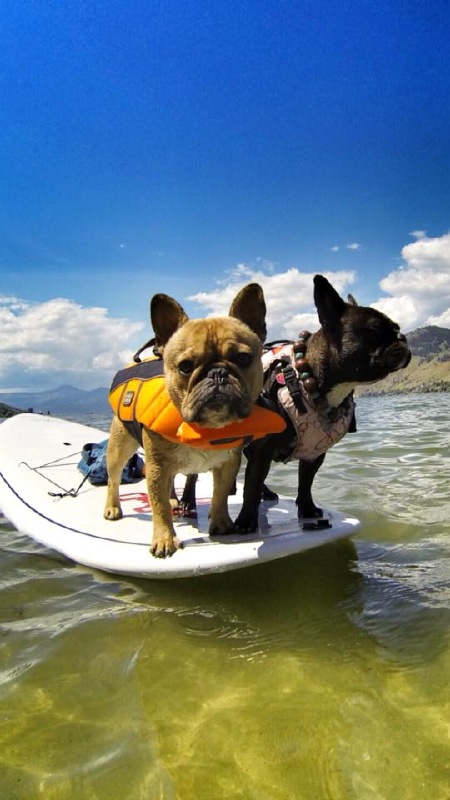 Feb 2015.. AXLE AKA Harley, 6 years old. Updated picture owned and Loved by Harley Davidson Dealership, Nova Scotia.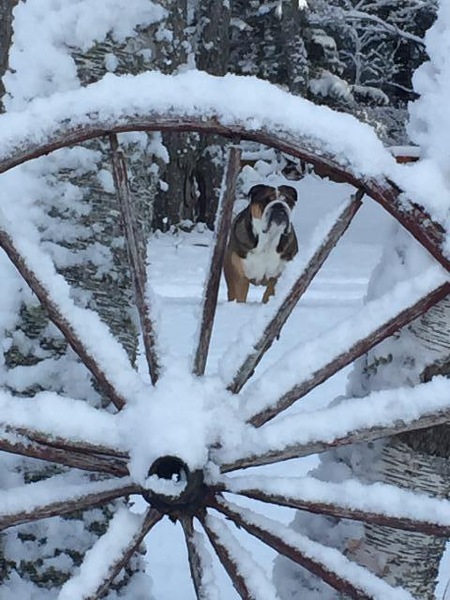 Hi Vicky...
Just a little follow up on Wilbert(aka Kevin). He is now 6.5 months and doing great. Growing and fitting in well with our other 2 dogs. Loves to chew everything and is very vocal and social:)
We absolutely love him. We will update again...
Thanks Clayton & Rochelle.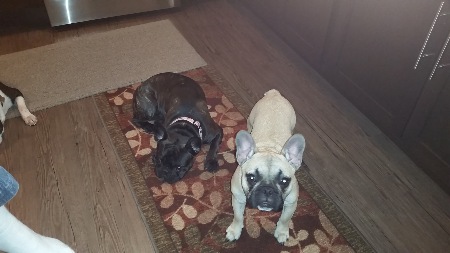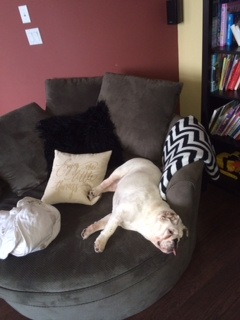 March 2015

Hi Vikki, just wanted to let you know that I switched the food and now her skin is so much better! I actually took her off of the Royal Cannin and now I give her the sweet potato one (natural balance) and she loves it!
They got these beautiful dog beds in at Costco last week. They are memory foam with a pillow top so I think she is enjoying it! Amazon started carrying the tuffy dog toys. I picked her and Basil up a couple for Christmas. Don't know if you've bought those for your bully's before but they are awesome! Pretty indestructible. Anyways, just a few pictures. We weighed Marshmellow the other day, she is almost 7 months old and about 42 pounds now. She is turning into such a big girl! We don't have to baby gate her anymore, she sleeps in front of the fireplace all night and is doing very well. I just love her! She also likes my nest chair for her afternoon nap. LOL.
Anyways, hope you are well and staying warm in this cold weather,
Rachael
Ps TheCush puppies are adorable! I love the black and white ones. Matt won't let me get any more Bulldogs at the moment LOL!

March 2015/ Some updated pictures of Miss Myla May. She is 4 years old now. :).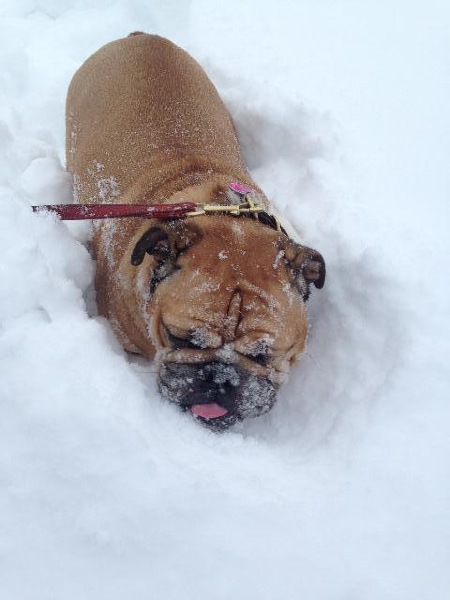 Hello Maggie and Victoria (April 2015)


Just a quick note to let you know Bob went to the Northland Animal Hospital this afternoon. Felt it would make me feel better to know he was ok. As you thought it is stress related and nothing to worry about. He is very healthy and was the star of the show today. Everyone just made such a fuss over how beautiful he was! Bob just sat there and soaked it all up. Such a love bug!

The Vet did say Bob would grow into a very huge boy. I promise you he will be taken very good care of and loved way beyond words!

Thank you for restoring my faith and trust. You truly are loving, kind and sincere women!

Will keep you posted.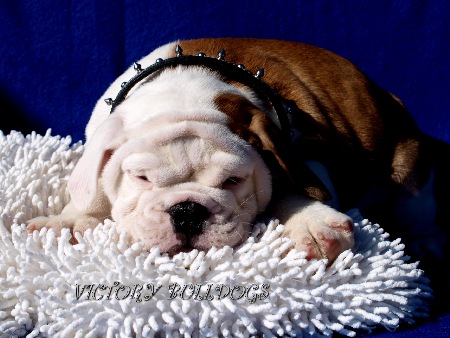 Hi Victoria,
I wanted to send you a quick email to give you an update on Winnie's acl after we spoke just over a month ago.
We took your advice and did not go ahead with the surgery. We have restricted her activity and am happy, very happy to say she is doing very well.
She is using her leg and very seldom even limps at all. Most times her limp is after lying for a period of time or first thing in the morning.
I cannot tell you how happy I am we spoke and want to thank you for the advice.
Both her and Emmit are now on glucosamine supplements and as a further note, Emmit is also doing very good.
No tremors (small helping of ice cream nightly) seems to have solved that issue, and I weened him off of meticam and he hasn't had a sore neck or problems since.
Thank you for always being available to give advice. These beautiful bull babies are so special and it is a learning curve as they are not your ordinary dog. Couldn't live without them though!
Thanks again.....
Sharon and Theron
Emmit and Winnie

Archie one of our past Frenchie babies has his own Facebook Page if anyone wants to see all his adventures with his wonderful family. Archie lives right here in London Ont https://www.facebook.com/ArchieBrindleton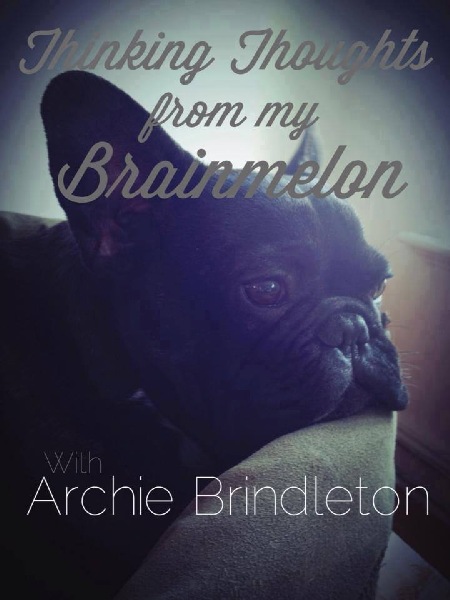 Murphy now known as Remy loved by the Hartmann family in North Bay. Here he is meeting his siblings Layla and Tony two other Victory Bulldogs. They all are getting along so great and the two English Bullies are so gentle with little Remy.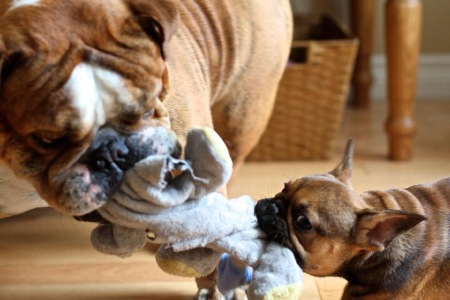 Handsome Boy Cooper a Past Rodney Puppy not even a year old and looking amazing. He is now known as Popeye and loved by Nicole in Calgary.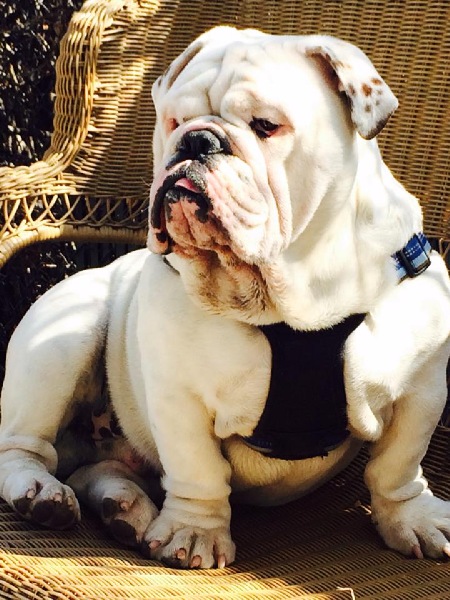 Louis owned and Loved by Jane. Looking so Handsome being a Model for Rocky and Julio Pet Products.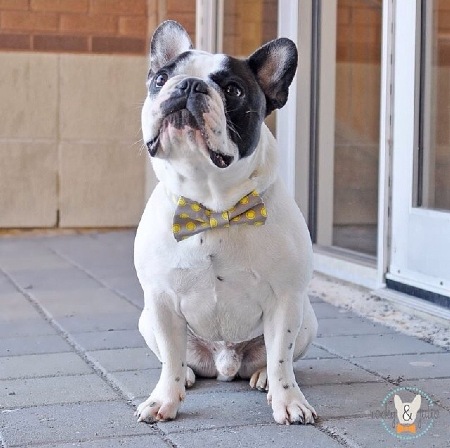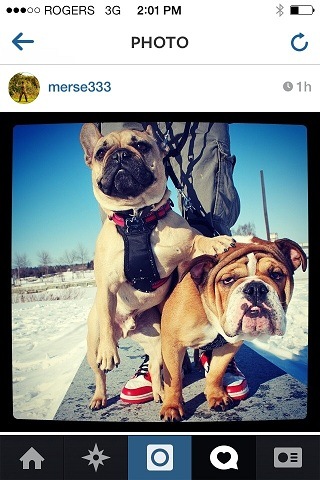 BEST Buddies Bert and Reynolds Loved by Nathan in Thunder Bay!




AMAZING Chocolate Frenchie Boy BACI Chokita X Bubika Son April 2014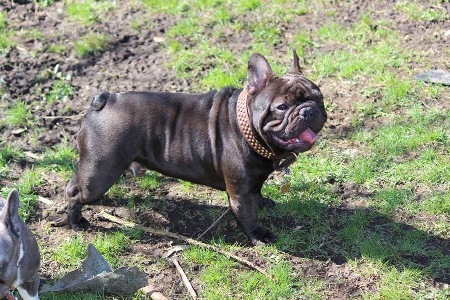 Molson update in his new home March 30/14

Hi Maggie and Victoria, Nancy and I are so happy to have Molson as another addition to our family, he is so playful and is cute as a button. I have attached two photos of Molson in his new home and we are very pleased that our Cat (Max) seems to be accepting Molson as a new family member. We are keeping a close eye on both pets to make sure they integrate well together and play nice so to speak. We really appreciated the time, effort and information you provided both of us on Frenchies during our visit to your lovely home. Thank you also for the care package for Molson, he really likes the toys. We found the pet store you mentioned and purchased a leash, body harness, the food you mentioned along with several other items to make him more comfortable as he transitions into his new home with us. I hope in the near future that we can send another photo with Molson and his new brother (Max) playing together, that would make us very happy........... Thank you for picking us to be Molson's parents, Tim & Nancy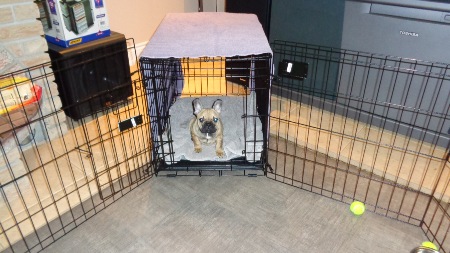 Happy 3rd Birthday Eddie or as mummy calls you her Bubba :), We hope your cake was as good as it looked.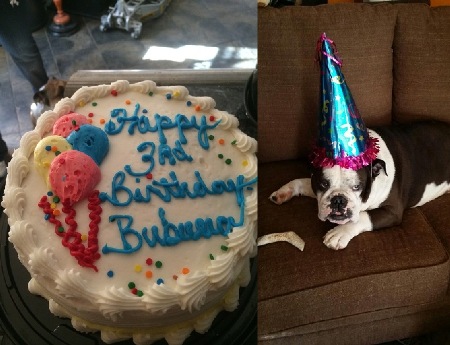 DOMINO ONE! Growing into a gorgeous lad, owned by Aras in Toronto





Good morning,

Attached is a copy of Pebbles' (formerly Brookie) spay certificate. Sorry for taking so long to send it off. I've also attached a few photos of she and Boogey. They are great pals :)

Thanks and enjoy the rest of the weekend.

The Boogaard family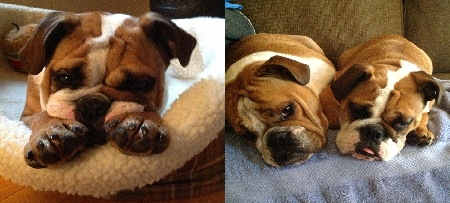 Hi Vik!
Brenda and I (and Dex & Adele) are visiting London this Wed March 26 just for a check up with your Dr Staples at 1130 am.
Adele (65 lbs) continues to be completely illness free (no cherry eyes, skin or even toes issues either) while Dexter (77lbs) continues to be healthy and svelte from his hyperactive exercise activities.o)

Would you and / or your Mum be interested in joining us for lunch that day while we're in the neighborhood?

Pls let me know,
David, Brenda, Dexter & Adele (aka Panda Bear) Thomas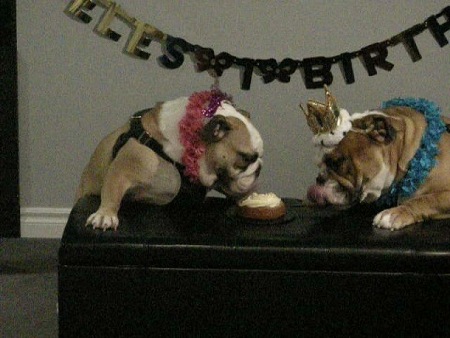 Happy 16th Birthday Chase! We hope Nash was the best birthday surprise ever! We tried very hard to keep him a secret :) We hope Nash is everything and more you could have asked for and we are sure he and Dove will become best of friends. Chase is keeping Nash's name and he will join his other Victory Bulldog Dove! What wonderful parents you have to give you not one but two amazing Bulldren babies of ours X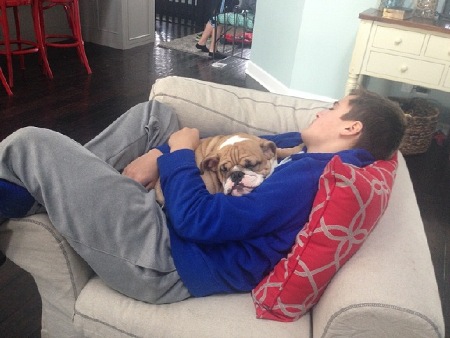 This is Hank watching Team Canada win the Gold, he sure looks into the game ;). He is loved by Brent who has always kept in regular contact with us over the years with his awesome boy! Here is a Great link to a bunch of Videos Brent posted on YouTube of his Victory Bulldog Boy Hank from the day he picked him up from the Airport 3 yrs ago until now! http://http://www.youtube.com/watch?v=AVACl03IiNo&list=UUT1y94NY08H-jiqudGb9v1g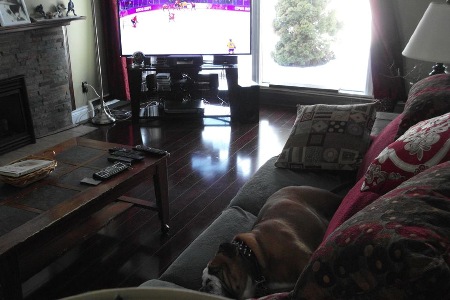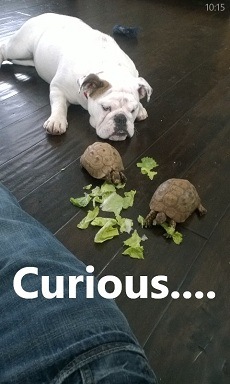 Dove with her Turtle Friends! She is loved by Chase in Chicago and is now Big sister to their Newest Victory Bulldog addition Nash! We are sure Dove and Nash are going to be best of friends growing up together. Bulldogs do so great in pairs and often become inseparable, we almost always have families coming back for second bullbaby and sibling for their first :)

Hi Victoria! Alvin (pepe) is doing Great! He gets an hr a day at the off leash dog park and absolutely loves going. He's getting along great with my friends mastiff who comes to visit all the time! Here's a shot I took of him resting his head on my friends dog. As of last Saturday he is now 56lbs.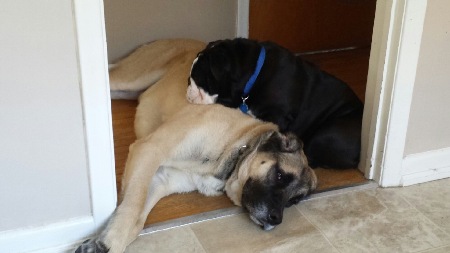 The Beuguard couple had engagement pics with their little girl Pheobe.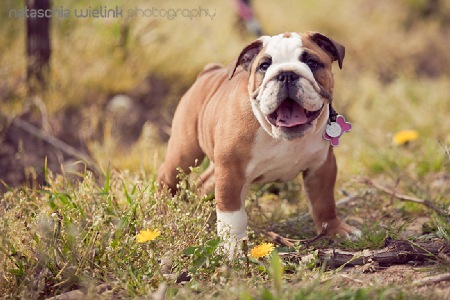 VERY Spoiled boy Mystro got his own house his daddy made for him!


Hi Victory Bulldogs. Just thought I'd let you know Bosley has settled in his new home nicely and is such a good boy. Here is a picture of Diesel and Bosely.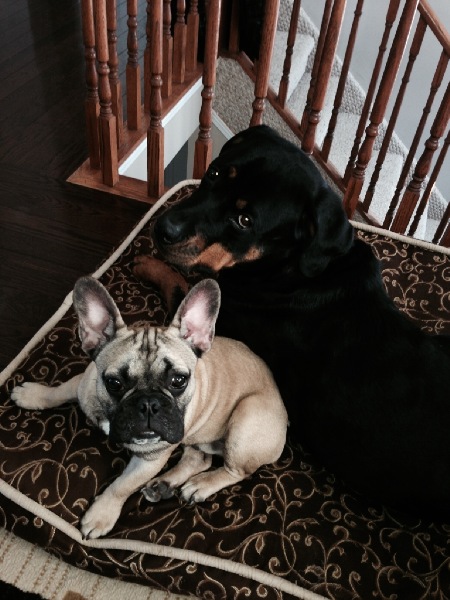 Oscar with the Robinson family on Superbowl Sunday!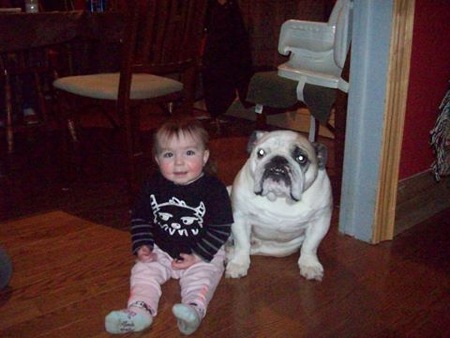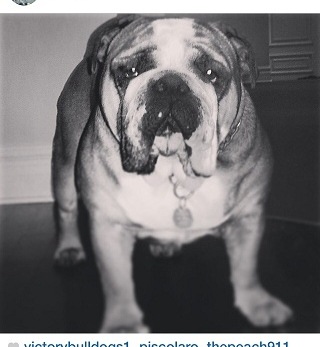 Alex updated pic via instagram from his family.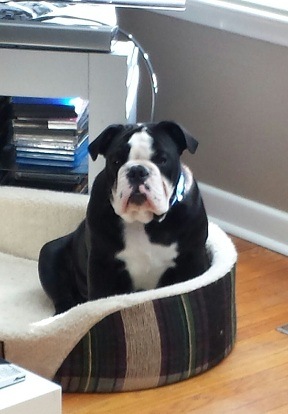 Pepe in his new home with Adam in Toronto.

Hi,

I purchased a Frenchie from you in May 2011 (You called her Suri, we call her Kirby). First of all, I want to tell just how much we love her. She has been the best dog. Everyone who meets her falls in love with her. We are planning to get her a sibling, and we were wondering what you had available, and what future puppy litters you have planned.

I have attached a couple recent photos of her in case you want to see what she looks like now.

Thanks again!
Sheila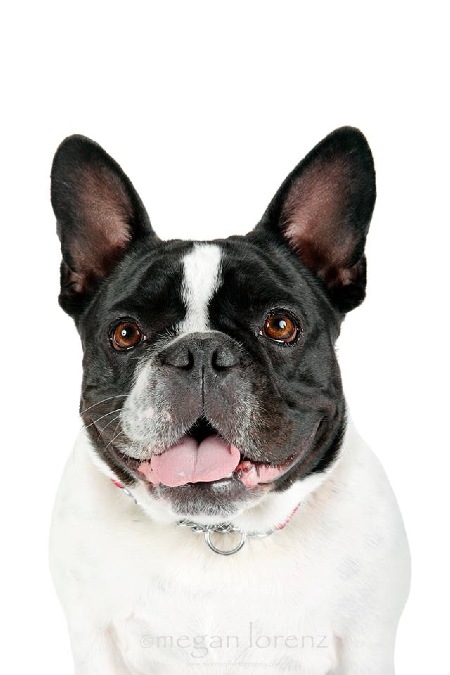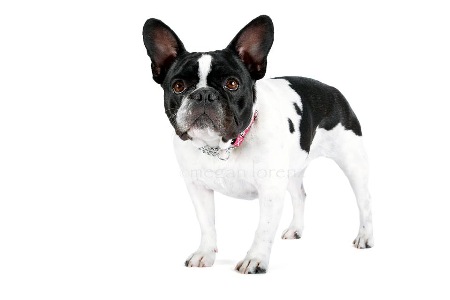 VICTORY'S PANDA BEAR AT ALMOST 6 YEARS OLD! Living in British Columbia!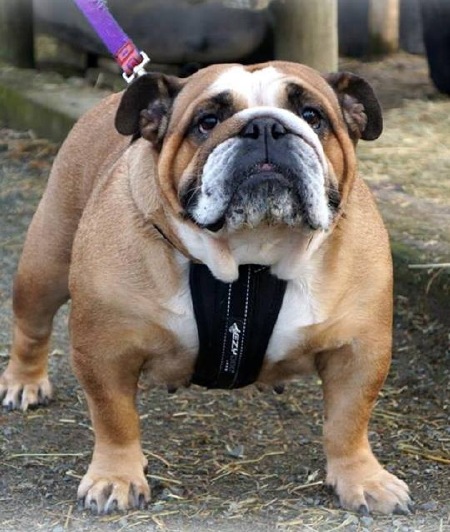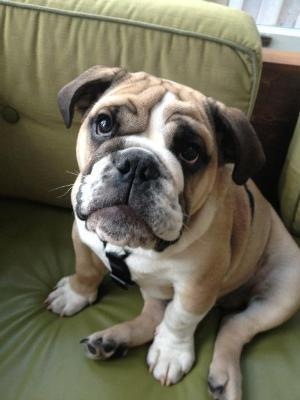 SPUD Living with Toronto Criminal Prosecutor Kim Schofield

Just saying hello. Spud aka Monkey Man is doing fine. He's trying to keep up with the big dogs!

Cuter than ever. Thanks for adding to our family. He is sweet and full of mischief. All the best in 2014!!

Kim, Jonah and Spud(aka Monkey Man)

Update Jan/14 Dove a Vito Past baby living in Boston with the Sullivan's

Hello Victoria! Thought I would shoot you a couple pics of Dove. She is doing well and she is loved.Thank You!Rhonda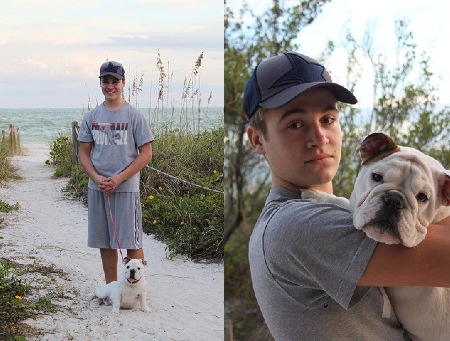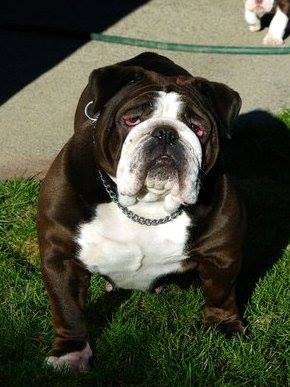 NOEL "Rodney Daughter" 3 yrs old loved by Fay in B.C




Zorra "Vito" Female now named "Bubbles" Loved by Paige in Michigan. Her Auntie Gina has our Frenchie girl Chokita pictured below! Both these gorgeous girls are so loved and spoiled..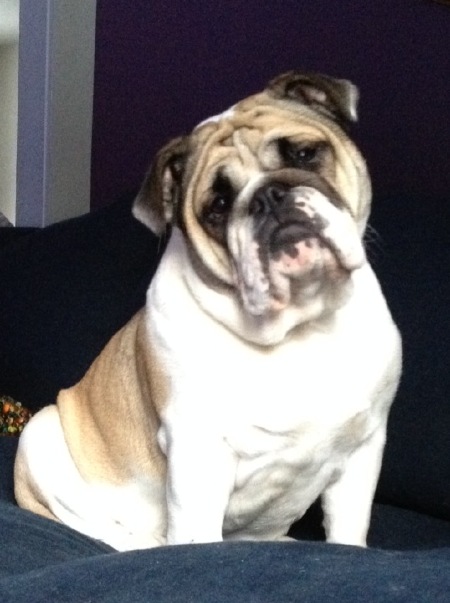 Chokita... Loved By Gina in Michigan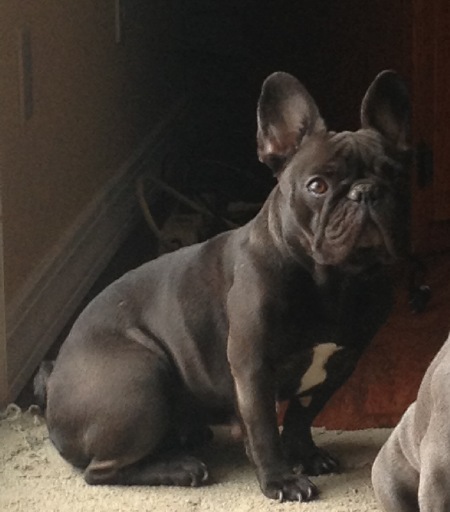 Hi Victoria

Tata whom we named Buddha is doing fine. We really
love him. Thank you so much for the support.

Johnny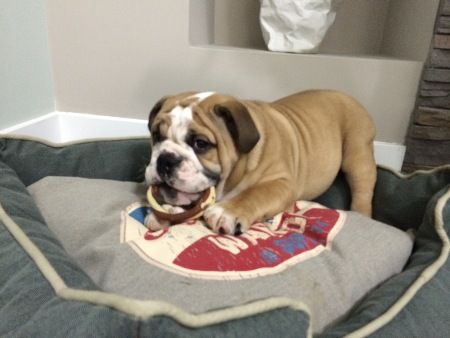 Hi Victoria. When will your next 2 litters will be born .... We bought buddy from you back in august and are looking to give him a brother or sister :) Buddy has become such a huge part or our family and is def another one of my children ( just as spoiled too :) .... Stubborn as heck but he's such a great boy :) ...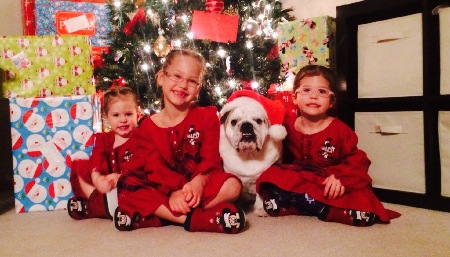 THOR, Living in Denmark with the Kastrup Family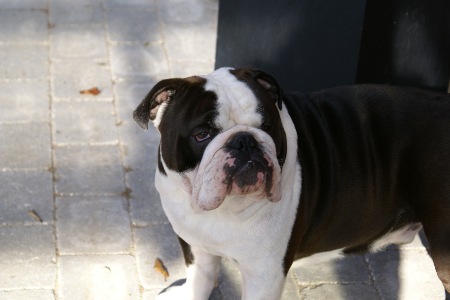 Hello Victoria,
I took this picture of my handsome boy and thought I would share it with you, he looks so much like his daddy the King!
Carla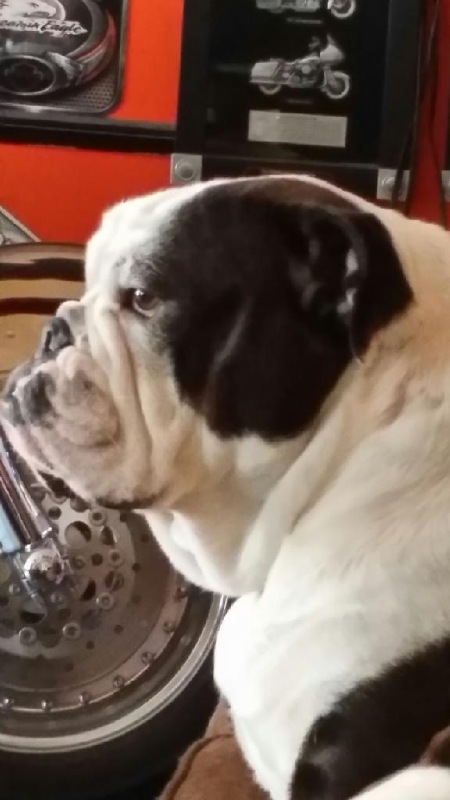 DOZER Loved by Anthony Owner of NHL FUTURE STARS ARENA.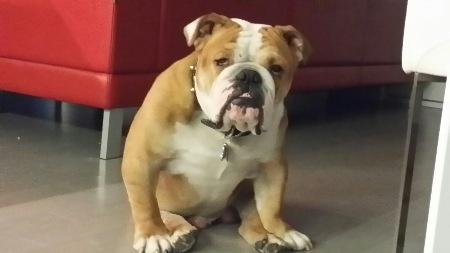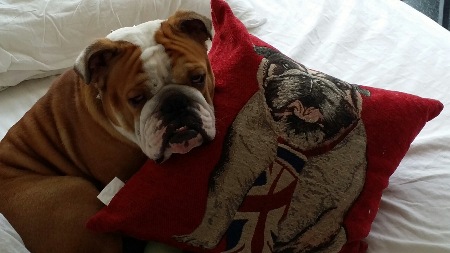 Hi Victory Bulldogs

Brian and,I would like to send this picture of Oscar to you he is doing great and is our baby. We do not have the pictures from Christmas on the computer yet when we do I will send you a picture of him then. This picture is taken at our cottage last summer he loves it there. We will get another bulldog from you one day we both love them. Oscar is love so much I can't picture our house with out him.


Brian Sherry Roberson and Oscar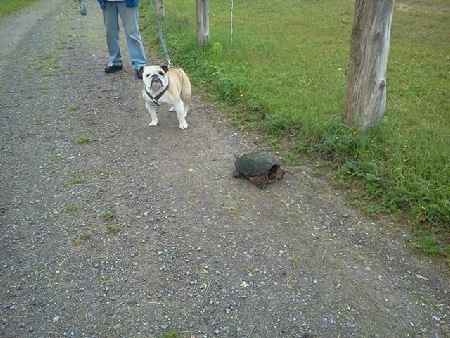 MYSTRO January 2014 loved by Lisa in Kingston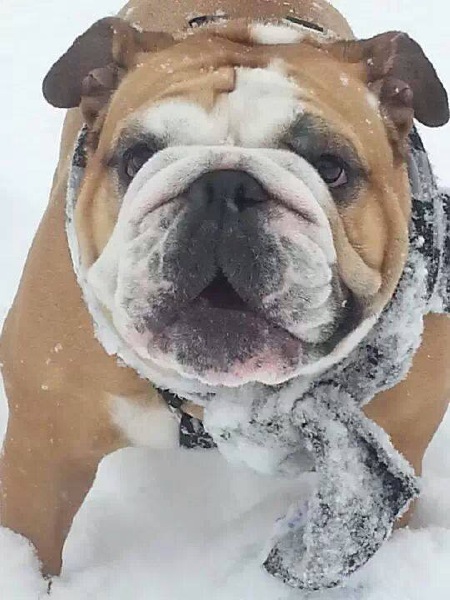 VINNIE AND HIS BUDDY SIMON LIVES WITH ANOTHER VICTORY BULLDOG ENZO IN NEWFOUNDLAND!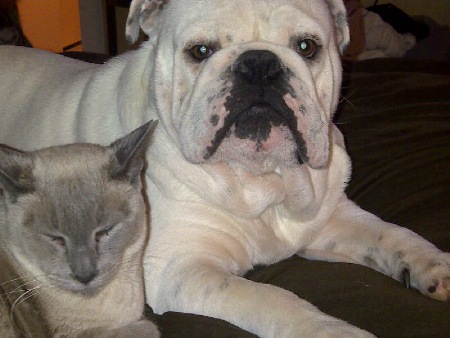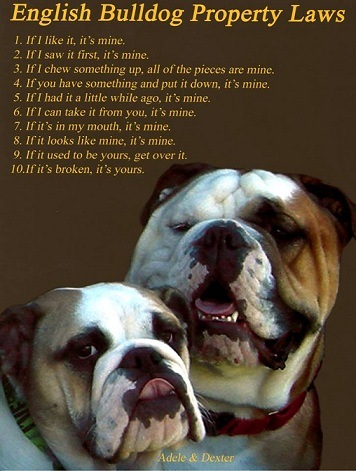 Dexter and Adele! Loved to bits by the Thomas Opp Detectives.




Hi Victoria
Popeye ( formerly Cooper) is doing great. He is so affectionate and has a great personality. He is a great addition to our family. We made a great choice in Victory bulldogs.
Nicole