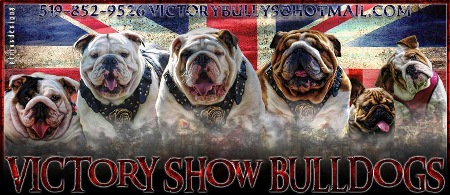 Welcome to our home on the net! We are located in Ontario Canada but we are proud to be from good Ol' England, Portsmouth Hampshire. Victory Bulldogs is now established in Canada and we are happy to be able to bring the European Quality overseas into North America. Our love and passion for the bulldog started in the 1970's in Europe our family CzinCzin produced the first Champion of Poland in 1989 Mary Lou and it has continued from there. We contuinue to breed and show in Canada and Poland where we have a close relationship with our family in europe and strive for the best quality healthy bulldogs which we are very reputable for.

We are dedicated to showing and breeding healthy,quality Bulldogs. Thousands of dollars go into our love for our breed. Our Bulldogs are raised in loving homes where they are pets first and they each receive lots of love and attention. I welcome anyone to come to our homes anytime and meet our family of bulldogs, you will see how truly loved and spoiled they are. We do not keep our bulldogs in cages or runs they live in our homes with us, they come on vacation with us and they love to go on car rides as well as snuggle on the sofa for a good movie. Our Bulldogs are all shared between our families and all live in different homes making sure each one gets the much needed attention they so much deserve. Our Bulldog puppies are all raised around Children making them well socialized and ready for the world when they leave our care. Bullies are a joy for us to have apart of our family and we feel very fortunate to have them in our lives. Our family only has the best intentions in mind for the bulldog breed, we believe in quality not quantity. When we breed we only breed the healthiest bulldogs with the best Champion pedigree's too produce outstanding puppies for quality pet owners as well as show prospects for ourselves and other breeders who are as committed to the breed as we are.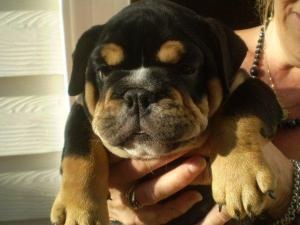 REGISTRATIONS

Because of all the internet scams online with bulldogs these days Bulldog Breeders in Europe have been getting a bad rap, and I am sure for some there is good reason. However the bulldogs we have imported were all selected from highly reputable breeders if not from our family in Europe and they are all in good standing with the FCI and their governments. We personally like the FCI www.fci.be because of the strict standards they place on breeders. To be able to breed your English Bulldog and have the litter properly registered, it would of had to either place high marks or be a champion within the show circuit. The United States and Canadian registries have left it up to the individual owners to maintain the standard. There are plenty of wonderful and dedicated breeders in this country who are honest and sincere about the betterment of the breed, and there are others who could care less. There are certain other registries that will register just about anything that looks like the English bulldog as long as you have the money. All of our bulldogs are recognized registration in Canada with the Canadian Kennel Club.

All our puppies come Canadian Kennel Club (CKC) registered if they are born in our home in Canada if we have a litter born in our family kennel Czin Czin in Europe they are FCI registered the largest registry for purebred dogs in the world and they come with 5 generation pedigree which is (CKC transferable) and fully recognized via both parties http://http://www.fci.be/uploaded_files/CKC-FCI.pdf the FCI also recognizes AKC and KC (United Kingdon Kennel Club) http://http://www.fci.be/uploaded_files/Letter%20of%20understanding%20FCI_AKC_16072008.pdf.

All puppies born at our family's home in Europe come Fully CFIA health inspected and microchipped/Tattooed by a top vet in canada who we are happy to provide his name for as a reference, they are also health certified by our own trusted vet before being placed into new homes. We also have a license with the government of Canada and Canada Customs that inspects our homes and kennel in Europe and in Canada to allow us to bring our puppies to and from our homes we are more than happy to provide all documentation saying we PASSED these inspections. We DO NOT have more than a few dogs in each of our families homes and we DO NOT cage our dogs. We SHOW everyone of our standard color bulldogs with Pride we do not just breed our bulldogs and do not sell them for soul income this is not our livelyhood we have 3 other successful family businesses. Bulldogs are a hobby and passion for us and we are also very active in the show world and frequently attend conformation classes with many of our Bulldogs on a weekly basis. Our puppies born from our co-owned bulldogs are nothing short of TOP quality all CHAMPION and INTER-CHAMPION parents and pedigree documentation for proof as well as references from our past puppy owners (also check our testimonial pages). We take GREAT pride in our bulldogs and have great relashionships with the families that own a Victory Bulldog and have nothing but positive comments to say about us. We have an extremely reputable name and we are proud to be producing some of the best bulldogs Canada has to offer! We also offer 24/7 hour assistance for anyone who has one of our bulldogs and needs advice no matter how simple or urgent the matter we want to hear from you and will always be around for the life of your pet.

VICTORY BULLDOGS is committed to protecting the breed and being a advocate for all animals. Victory Bulldogs is based on honesty,integrity and excellence. The best advice we can give to all new adoptive parents looking for a puppy is if you do not feel comfortable with the breeder you are buying a puppy from "Walk Away".