We often get calls and email's asking us how come our bulldogs have such a lovely shine to their coats and are so beefy looking and it's simply their diets. We feed our males, females and of course our puppies according to their individual needs. It can be difficult as everyone has differant feeding times and diets but the end result is what you see our bulldogs are healthy, happy and have beautiful coats.

Spending more money on a High Quality dog food for your Bulldog will not only increase his/her longevity but also fewer vet visits for skin and internal problems.

COST OF FEEDING A HEALTHY BULLDOG

A 28 lb bag of Acana/Orijen will last the average Bulldog 4 weeks and costs approx $78-82.00 plus taxes a bag.

Royal Canine Puppy 32 will cost $69.00 a 30lb bag. Natural Balance will cost $78.00-$82.00 for a 28 lb bag.

February 7th 2017 Update.

We know may of our past puppy families visit our website often and if you do have a one of our French or English Bulldog Puppies are are still feeding Natural Balance we highly recommend transitioning to Acana Puppy or Orijen Adult depending on the age of your Bully! For more info on why we are recommending the switch and portion size to feed etc please contact us.


ACANA Puppy Junior

We have recently made a switch from Natural Balance and are now Feeding all our Puppies Acana Puppy once they have been weaned from the Royal Canin. Mostly All our puppies will now be on this High Quality Grain Free Diet when leaving to there new families and a bag of Acana will be provided with each puppy.

Acana is made by the #1 selling Dog food Company Orijen and Orijen is what we currently feed all our Adult English and French Bulldogs. With Acana Grain Free Diet You will Feed Less and Have less Stools.

HOW MUCH MEAT? Entirely free of plant protein concentrates, ACANA Puppy & Junior is loaded with 70% meat — up to twice as much as most pet specialty dog foods

HOW MUCH FRESH MEAT? 1/3 of the meat in ACANA is FRESH, supplying essential nutrients in their most nourishing form, and 2/3 are dried to provide a strong and natural source of protein.

HOW MANY MEATS? ACANA Heritage foods feature three fresh meats in WholePre ratios that include meat, organs and cartilage to supply nutrients naturally and completely. Free-run chicken – meat, liver, heart, kidney and cartilage, fresh from local farms.Nest-laid eggs – whole and fresh from local prairie farms.Wild flounder – whole and fresh from North Vancouver Island. In nature there are no synthetic supplements, and dogs and wolves derive their nutritional needs by consuming prey animals; muscle meat provides protein; liver, kidney and tripe supply vitamins and minerals; bones and cartilage deliver calcium and phosphorus.

ZINC THE ONLY SUPPLEMENT IN ACANA mirrors the natural diet, incorporating meat, organs and cartilage in ratios that deliver nutrients in the most natural way possible, providing a concentrated and natural source of virtually every nutrient your dog needs to thrive. That's why virtually all of the nutrients in ACANA are naturally present and are not synthetic.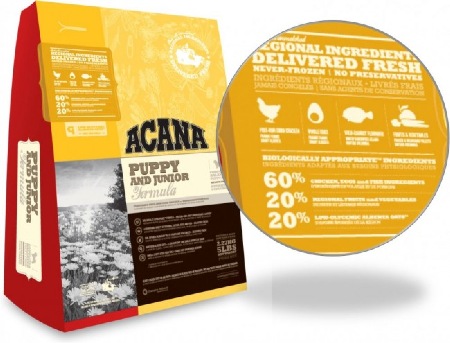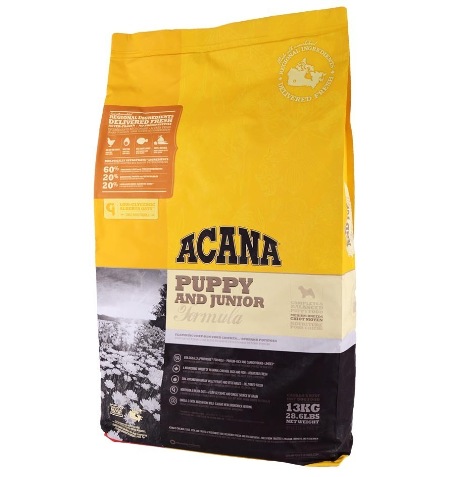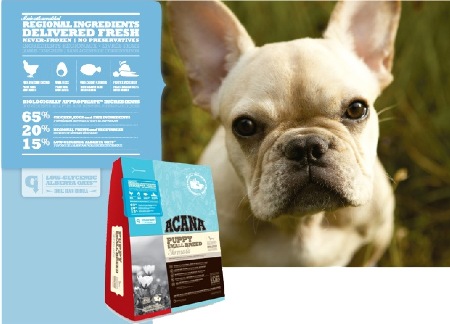 OUR ADULTS DIET

Most all of our Adult French and English Bulldogs are on Orijen Grain-Free Adult. Please do not feed your Bulldog This high protein diet until at least Minimum 1 year of age.

Orijen has been our #1 Choice of dog food for the last 10 years for our Adult Bulldogs. Orijen (Canada) is a grain-free meat-based dry dog food using an abundance of named meats and organs as its main sources of animal protein.

This Brand of food is not cheap infact one of the most expensive dry dog foods on the market however we beleive Orijen is the very best dry dog food you can buy for your Bulldog!. It's grain-free and made from fresh Canadian meats, eggs, produce and wild-caught fish.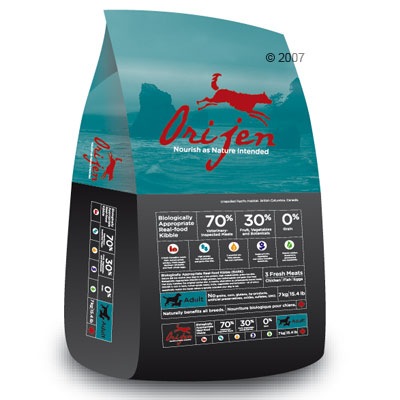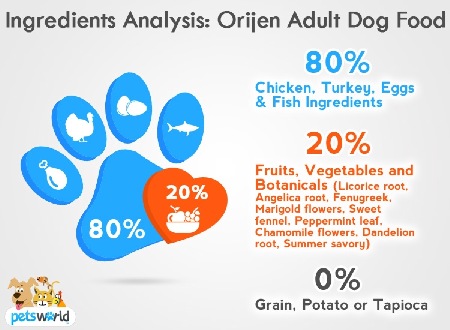 WE ARE NO LONGER FEED OUR BULLDOGS THIS NATURAL BALANCE DIET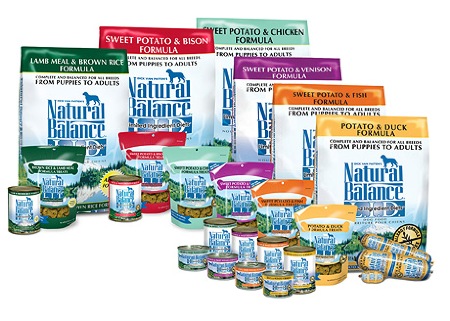 NATURAL BALANCE SYNERGY

We decided to try Natural Balance's "Synergy" food for our Bulldogs this food was released in Jan/14. We wanted to give it a good crack on our Bulldogs first before letting our Bulldren families know about it.. We are happy to report several of our Bulldogs absolutely love it and prefer this over the Chicken and Sweet Potato usual one we feed. The Synergy has a higher protein content of 31% which contributes to the Salmon meal which is great for coats and is a low enough amount it will not be a cause skin complaints to fish allergies and because of the higher protein content you do feed less than the other brands they offer. One thing you must be aware of is Brewers Yeast content the great thing about it is it does repel fleas and supports the immune system however yeast ingredients can be linked to allergies but only if your bulldog is allergic to the yeast itself.

Conclusion- Overall this is a really good high quality food and we do highly recommend it and will continue to feed this to the majority of our Bulldogs and Puppies.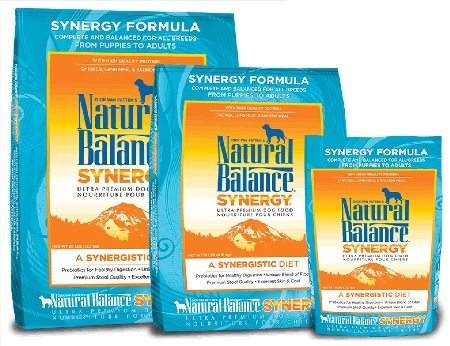 Our boys are also supplemented daily with 2 salmon and fish oil pills as well as 2 Vitamin Es and a crushed egg mixed with their Orijen 2X a week. We also like to give our boys one serving of brown rice every week with a raw egg and cheese slice with cup of goats milk and honey

.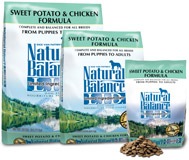 We feed our ladies and puppies after 12 weeks Natural Balance..

Natural Balance is very high protin food, we only wean our Bulldog puppies on the Royal Canine because it is not recommend to wean newborns and young Bulldogs onto a High Protin food such as New Balance. However it is essential to switch over to New Balance between 3-4 months as Royal Canine contains 4 corn ingredients that are huge Allergan concerns which affects Bulldogs Coat,bladder and the fillers will also contribute to your Bully becoming obese which will affect their heart.


INGREDIENTS IN NATURAL BALANCE SWEET POTATO AND CHICKEN

Natural Balance® L.I.D. Limited Ingredient Diets® Sweet Potato & Chicken Formula is a Grain-Free Formula for dogs with sensitivities based on our unique protein and carbohydrate blend. Some dogs may be highly sensitive to commonly used proteins, carbohydrates and food additives in their diet. Sensitivity reactions can lead to irritable bowel, upset stomach, and a number of skin problems. Natural Balance® has created Sweet Potato and Chicken formula for dogs with these food sensitivities. Our Sweet Potato and Chicken formula combines fresh chicken and sweet potatoes, along with effective natural ingredients to help rebuild the dog's immune system.

Sweet Potatoes, Chicken Meal, Chicken Fat (preserved with mixed tocopherols), Chicken, Dicalcium Phosphate, Potato Fiber, Natural Flavor, Flaxseed, Sodium Chloride, Salmon Oil (a source of DHA), Taurine, Choline Chloride, Natural Mixed Tocopherols, Vitamin E Supplement, Iron Proteinate, Zinc Proteinate, Copper Proteinate, Ferrous Sulfate, Zinc Sulfate, Copper Sulfate, Potassium Iodide, Thiamine Mononitrate (Vitamin B-1), Manganese Proteinate, Manganous Oxide, Ascorbic Acid, Vitamin A Supplement, Biotin, Niacin, Calcium Pantothenate, Manganese Sulfate, Sodium Selenite, Pyridoxine Hydrochloride (Vitamin B-6), Vitamin B-12 Supplement, Riboflavin (Vitamin B-2), Vitamin D-3 Supplement, Folic Acid.


we supplimet our females with Cranberry, Folic Acid and Fish oils daily. We also feed cheese and marrow bones daily with each meal. Raw eggs, brown rice, veggies and garlic pills are added once a week to our girls diets. Goats milk and honey 2-3 times a week is also given to our ladies and expecting mothers.

NATURAL BALANCE DOG FOOD ROLLS

We absolutely love these Dog Food Rolls and used them often with our Adult Bullies grated and mixed in with their food once a day. It is also great for those Picky eaters..

Natural Balance Dog Food Rolls are both nutrient and energy dense. Our Dog Food Rolls contain a superior mixture of animal and grain products as well as our special vitamin and mineral mixture. You can feed Natural Balance® Dog Food Rolls as a full feed, an excellent addition to Natural Balance® Dry food, or as a delicious healthy treat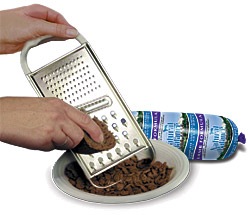 Perfect grated in with your Bulldogs dry formula.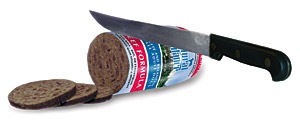 Or sliced as a delicious healthy treat or training tool..

WHAT WE FEED OUR PUPPIES AT (6-12 WEEKS ONLY)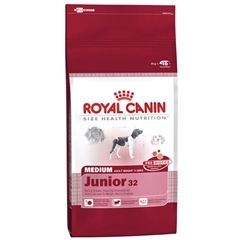 Our puppies diet is extremely important to us and the development of our bulldog puppies. Puppies that are being weaned are weaned at 6 weeks on Royal Canin 32 then are weaned onto Natural Balance Sweet Potato and Chicken at 10-12 weeks...Our puppies are fed 1-2 cups 3 X a day also supplemented 1X day with Brown rice and 1 large scrambled egg yolk with each meal (please note that young puppies cannot digest egg whites).

Please note we only Recommend Royal Canin for up to 3 months MAX. After 3 months it is best in your Bulldogs interest to switch to either Orijin, Wellness or Natural Balance (which is our choice for our adults) This is for the long levity in your Bulldog and you will have less problems. This is also due to the high volume of Corn which is a well known cause for allergens later on in life.

HOW TO PUT WEIGHT ON YOUR BULLDOG

Is your bully looking a little thin? Want to pack some weight on him safely then this is the recipes we use to put weight on our dogs. When our boys are being stud it is normal for them to lose some weight; Bulldogs will also drop weight if the are stressed . Here are a couple of helpful FAT BALL recipes that will put some weight back onto your bully quick.

FAT BALLS
.... for weight gain ....

10 lb (4.53kg) Hamburger
10 oz (.28kg) Oats
6 Egg Yolks
10 oz (.28kg) Wheat Germ
10 oz (.28kg) Molasses

Put in a big bowl and mix.
Roll into one inch balls and freeze. This is a quick easy recipe and you can feed on it's own or with your Bullys dry food.

BULLDOG FAT LOAF

.... for weight gain ....


4.53kg or 10 lbs Hamburger Meat
567grams Wheat Germ
1 large box of Oatmeal [uncooked]
340 grams of Sanitarium Weetbix [small box]
1¼ cups Vegetable Oil
10 eggs [boiled in shell for 30 seconds]
10 envelopes of unflavored Gelatin
1¼ cups unflavored Molasses [also known as Treacle]
2 teaspoons Kelp
1 cup of ground Flax Seed
A pinch of salt
Garlic to taste

Mix all ingredients together well, much like a meat-loaf, then put into separate freezer bags and freeze, thawing out as needed. It puts weight on in a very short time, not to mention the gloss in their coat. You can use it every day when they have a show to do and it does not produce diarrhea. It can be fed alone or with dry food.

This Bulldog Fat Loaf is a total canine diet. They can be feed by themself, or as a supplement.

FAST CURE FOR DIARRHEA

All Puppies and Adult dogs will sometime in their life get Diarrhea, there are a number of factors that may cause this from stress maybe switching over foods to quickly or even eating something they should not have. Below is the ingredients we use that works wonders of clearing up Diarrhea fast.

2 lbs Boiled Ground Beef (boil in water and strain) Or you can use Chicken Breast

4 cups of brown or white rice

Mix together and feed seperatly for 2-3 days then slowly add their dry food until the diarrhea is all cleared up. It takes usually 24 hours to clear.

When your Bulldog is experiencing severe Diarrhea is is very important to keep them well hydrated. You can give unflavored Pedialyte to help replace lost electrolytes or mix Gatorade 50/50 with his water. See your Vets medical advice for any severe diarrhea.

TREATS WE GIVE OUR BULLDOGS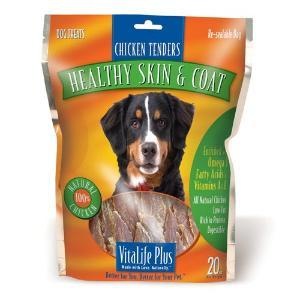 Chicken Tenders by Vitalite Plus 100% dried chicken. These are one of our bullies and pups all time favorite treats. Healthy and natural safe for puppies we highly recommend these for your bulldog. They can be found at any local Petsmart store.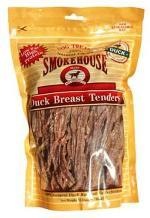 We also recommend Duck Tenders 100% natural dried duck treats. YOur bully will go crazy for these and best of all they are safe if digested whole.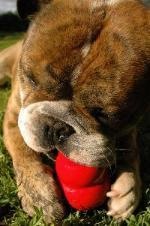 KONGS are one of our favorite toys to give our bullies. They are safe come in many differant styles such as Wubbas, tennis toys, stuff and treats,plush toys and zinger's. These will keep your bulldog entertained for hours and you wont have to worry about squeekers and stuffing coming out while you are not there to supervise.

UNSAFE TREATS FOR YOUR BULLDOG

There are some treats Bulldogs can choke on and if you are not watching it can e fatal to your precious pet. Here is a list of treats we do not recommend you feed your bulldog. A dog has a reflex at the back of the stomach that causes them to throw up
things that cannot be digested, but it does not always ensure your dogs
won't be harmed by indigesting the wrong thing.

1. RAWHIDES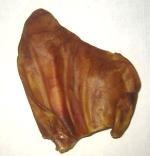 including pig ears and small stick rawhides. Bulldogs love them because they taste good but it's not worth the risk. Even if you are watching they can swallow it whole. The problem is bulldogs tend to inhale and not chew and they can get lodged in the throat or worse in the stomach or intestines. Rawhide expands in the stomach and can kill a bulldog who swallows chunks of it.

2. GREENIES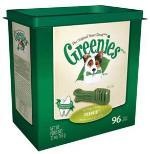 As for greenies, they don't dissolve when swallowed whole and can get stuck in a bulldog's intestines. I've heard of a case where a Greenie had to be surgically removed from a bulldog puppy's stomach (at a cost of $3000).


3. ROPE TOYS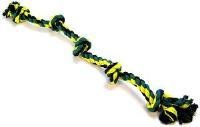 These can easily be shredded and you can have the same stomach problems. While most rope toys will be fine with your bulldog you have to watch them when playing and throw away any shredded ropes.