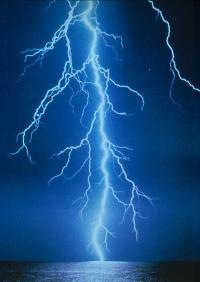 We want to Thank All our Amazing Families who continue to send us updated pictures and emails on how their Victory Bulldog Bully is doing. We have so many wonderful Testimonials we had to add yet another page.. Please keep sending in your pictures and wonderful letters.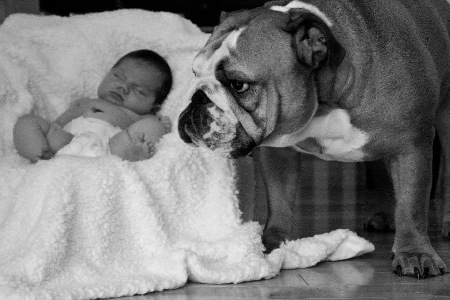 Tank Loving Summer owned and Loved by Damien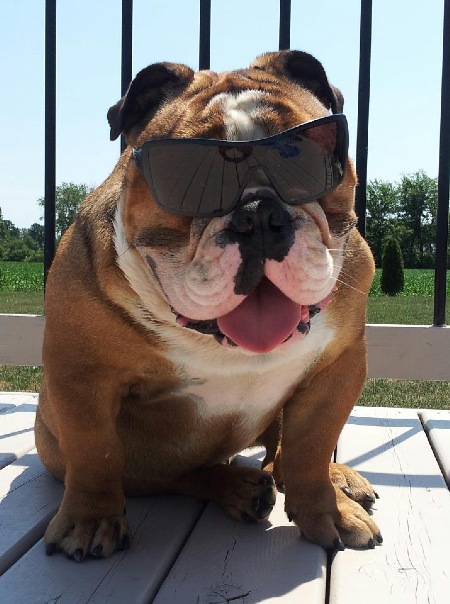 Two Past Puppies living will Gillian & Chris at www.streetdreamzboardshop.com/ in B.C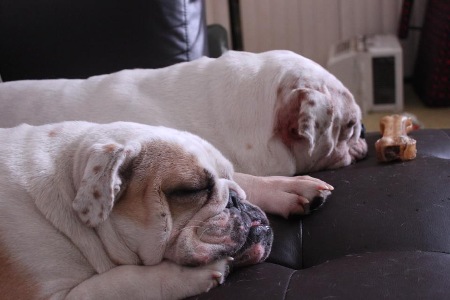 Diesel, Getting a big Handsome boy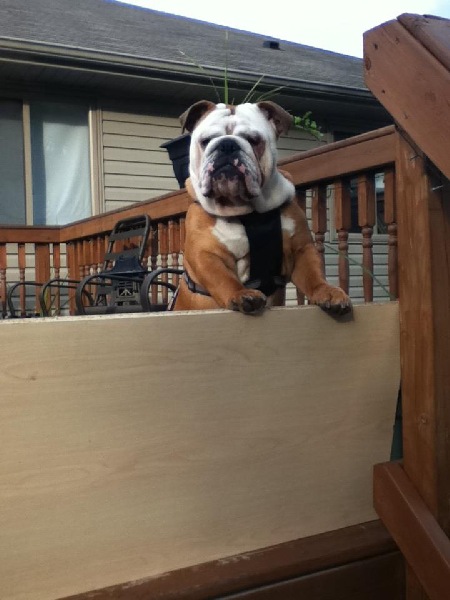 Hi Victory Bulldogs..I hadn't checked your web site for a few years and I thought you might be interested to know that jojo (new name Myrtle) is doing great. She has been the perfect pet. I am retired and we spend just about all of our time together. She even spent most of last summer at the cottage. She almost learned to swim! her health has been great, no issues at all. Thanks again for such a great dog. Barry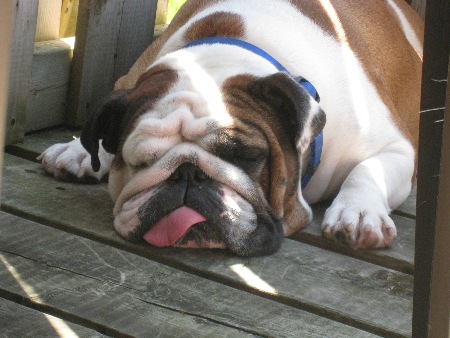 PHEOBE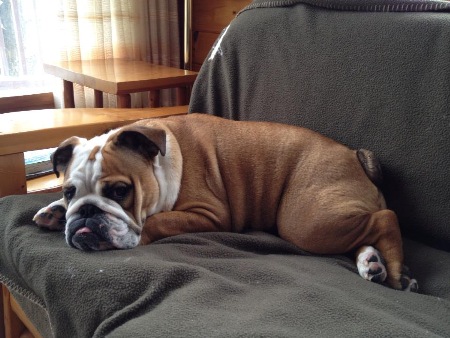 Dozer had his second set of shots yesterday. He weighs 19.6lbs! Our vet is thrilled with him. She said that it is so nice to see such a well bred bully.I am attaching some photos.We spend a few weekends each year at an island cottage in Muskoka. Having been bully owners before we are always very cautious about the water. The first three pics are from Dozer's first trip there. He LOVED swimming with me and then being wrapped up in a towel and having a nap in my lap after : ) The other two are in our yard with Dozer's big brother MacGregor. Mac loves his new baby brother and is very protective of him.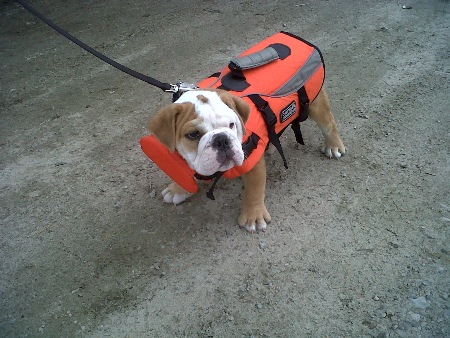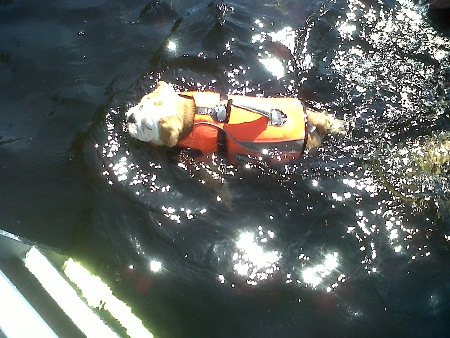 Hi Victoria

Just wanted to let you and your mom know that Dozer is doing well - he's settled in very nicely and is getting bigger by the day! He's taking puppy classes and has his appointment with a vet next week as planned.

Thanks for everything :)

Letitia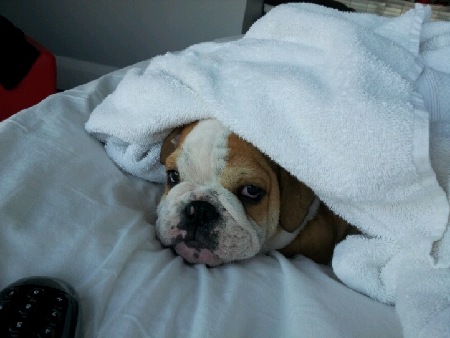 Hi VictoriaWe had Bowser (Noka) neutered back in May (sorry for the delay in getting this to you). See attached for the certificate.He's a big boy, about 70lbs. He's very happy and loves to play with his Kong.I've also attached a couple of photos of him for you to see!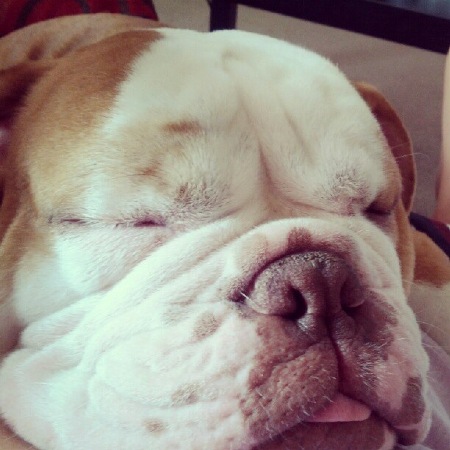 Hi Victoria,How are things at Victory Bulldogs? Franklin is doing great. I've attached some photos, he has a flair for finding sticks that are way to big for him... You'll also notice how much he looks like his dad, Bubika. He has his the stripe from his mum's face though (skinnier, but definitely hers!). He weighs about 22 lbs now, and our vet doesn't expect him to get much bigger than that.I'm emailing because we're thinking about adding another Frenchie to our family. I know you have a few litters planned for this summer, and am wondering if anyone is confirmed pregnant yet. We would be looking for another male, and we're not really picky about colour, just as long as he has a sweet personality (like Franklin!).I look forward to hearing from you.Margaret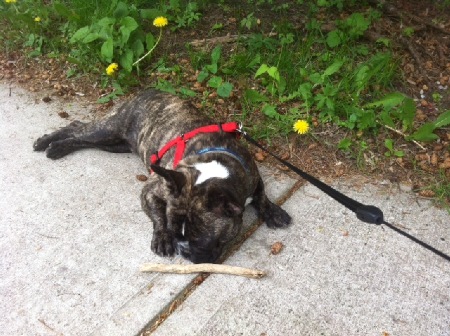 Winnie and Emmmit! 2 Victory Bulldogs loving life in B.C with shanon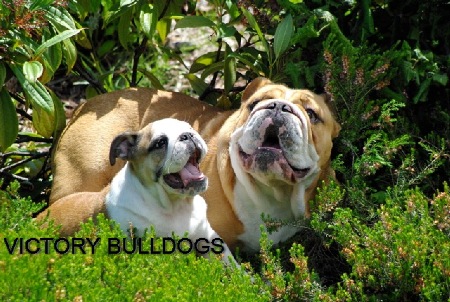 Hi Victoria .

Hope you are doing well!

Thought you might enjoy these pics we took yesterday morning of Daisy and Decker – they are pals!

Best regards

Gary and Lisa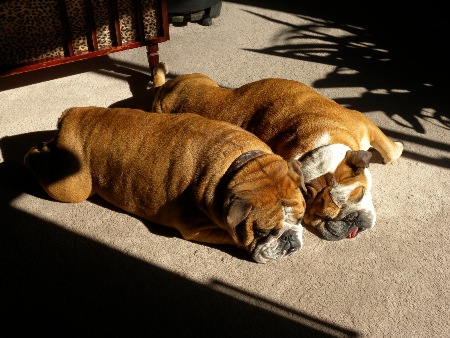 Hi Victoria,Sorry for my delay - I'd love to send some pictures of the little one: here she is today, and a few from back in March (my recent stash is on another computer). What a treasure she is!Heather, Jon, & Petunia Olive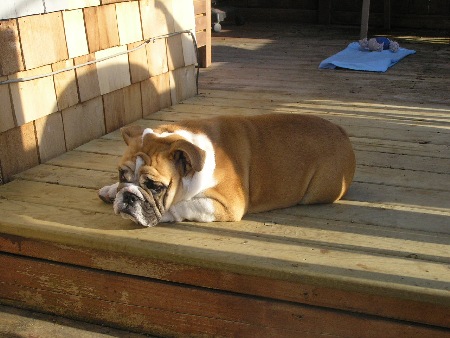 Hi Victory!
Long time no talk. Gus is just over a year now and is still doing great! He's a great dog and is loving life!

Can you let me know when to switch from Orijin Puppy to adult food? I noticed you are endorsing Natural Balance now. Is that what I should switch him too?

I have attached a resent picture of Gus for you. He's 61lbs now, can I expect him to put on more weight or do you think he is done? We have kept him to a strict dog food only diet since day one, I'm not overly concerned about his size because he is a super active and healthy boy, but I was just wondering?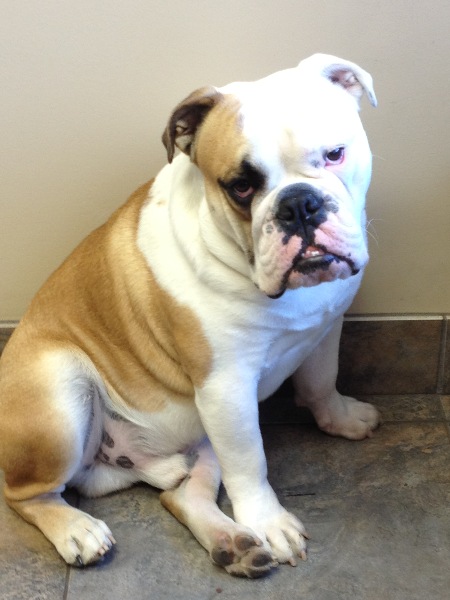 Buster's Birthday today Vik! ! Thanks so much for him-changed my life forever and made me a bulldog addict :) There's no greater love than the love of a bully ♥ Aveo's 2nd Birthday is the day after tomorrow-only 2 days apart-my little angels were meant to be ;) We're off to Petsmart tonight to let Buster pick out his Birthday pressie :)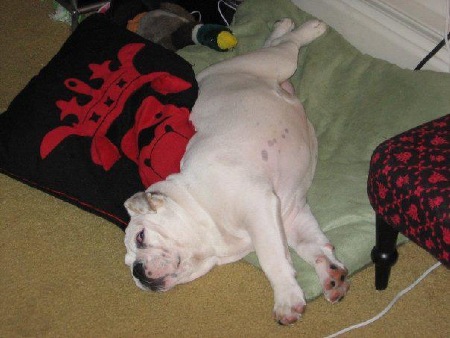 HAPPY BIRTHDAY TO MY LITTLE GIRL AVEO!! 2 YEARS OLD TODAY ♥ Love you my little peanut! XOXOX You are definately momma's little angel ♥ xoxoxo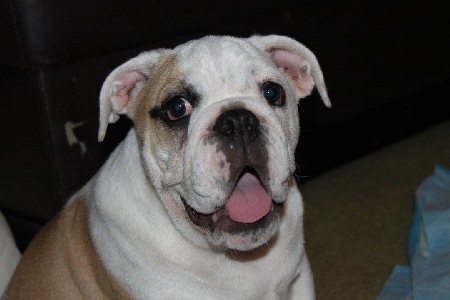 Hi Victoria,It has been awhile since I have emailed you and sent you a picture of our beautiful baby boy Emmit. It is hard to believe he is going to be a year old in a week. He is such a delight! Growing up to be a gentle, loving, active, and extremely social young man. He comes to work with me a couple a days a week and loves sitting behind the desk at the gym waiting for the oodles of attention he receives. It is truly sad to leave him home some days and practically every 2nd person into the club is asking me where he is. He loves to go for walks in the woods and up to recently the weather has been cool enough for him to enjoy long times out. Still sleeps on the bed wrapped around me in the pillows. I think he gets most of the bed but I'm not complaining.Always looking at your website and will probably want to get another bully from you sometime next year. I am so I love with the breed and you are breeding beautiful healthy dogs. Emmit will be celebrating his birthday a week late with a few close friends and I will send you some of his birthday photos later on. Just wanted to send you a more recent pic so you could see how he is growing up. Thank you again for him!! Life wouldn't be complete without him by my side 24/7 now.Have a great weekend.Cheers,
Sharon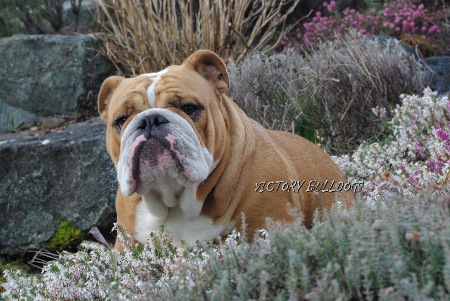 MYSTRO 2 Years Old Owned By Lisa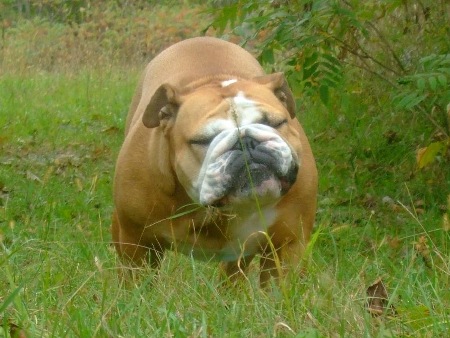 Hi Maggie, Just wanted to pass on an update that Agnes is doing great! Our kids love her and she has settled in quite well in our home. We bought her a bed and she sleeps on it regularly. She has had a couple of accidents, but that is to be expected. She is nervous going up and down the stairs, but is already navigating them better. We had a big Easter dinner with family and they all adored her and she was so well behaved. She likes outside with the boys – but gets pooped afterwards as she falls fast asleep as soon as she comes in. We live in the country and last night the coyotes were near the property – she was inside the house with us – but she heard them and got a bit scared and walked over to be beside me – but calmed down when I pet her (we would never let her out alone at night…don't worry!) She has already become a very affectionate member of our family – we simply love and look forward to many years with her. Thank you so much again for your advice and candour with her. How do I put an official testimonial on your website?

Gorgeous HANK Owned By Brent in Kingston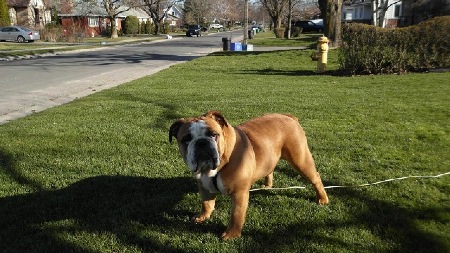 Hi Victoria,
Rover is doing great, we decided to name him Walt! I pulled off the surprise for Easter and everyone loved him. He is quite the character, full of life. Thanks so much.

Scott & Stacey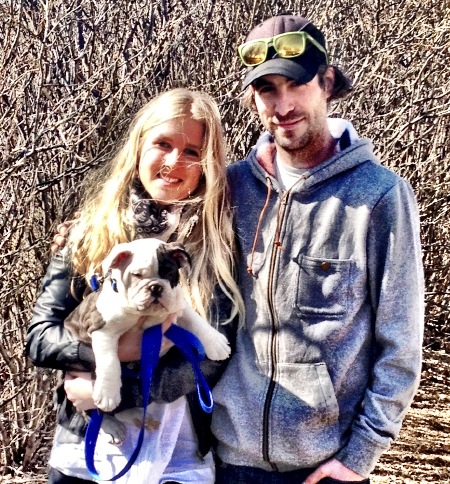 Hello Victoria,Here are updates of Charlie, please be sure to send to your mom!Leslie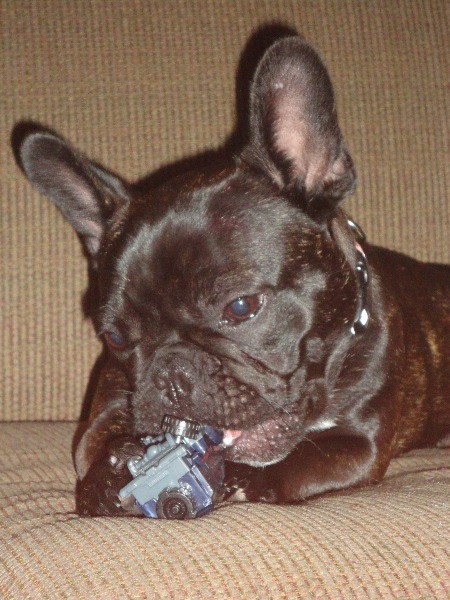 Stunning and Gorgeous Diesel Owned by Jeff and Melana!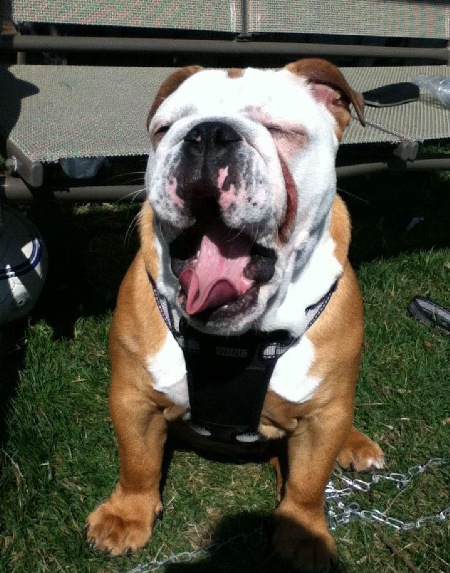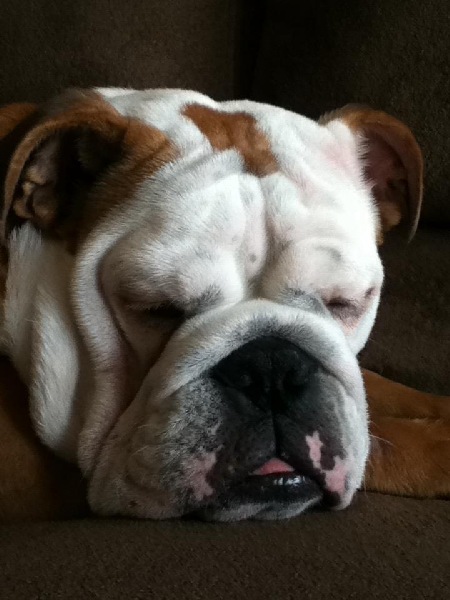 Hi,
We just wanted to let you know that we switched the food and Morpheus has lost 8 lbs, which is so incredible. He has a ton of energy and if possible, has become even cuter.

Thank you for your help,

Sue & Sean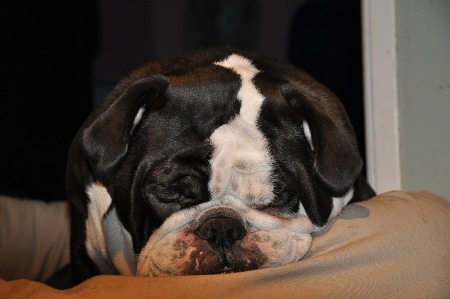 PHEOBE 1 year old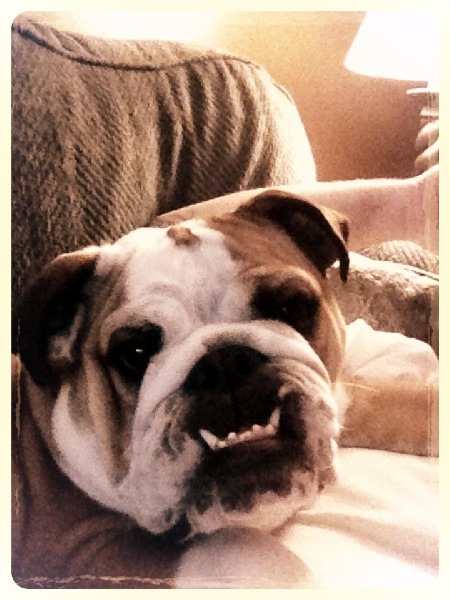 Hey Vikki how you been?? Jeff and I just wanted to say Hello and Thank you again for the most beautiful Bull dog ever Diesel!! We take him for a walk everyday and our stopped sooo many times by people who are complimenting on what a beautiful bull dog we have...not one time have we walk we have not been stopped less than 10 times by people!! So we just wanted to let u know how proud we are to have bought our Diesel from you!!we always tell them the name of where we bought him too!!
Thank you again and hope all is well!!
Jeff and Melana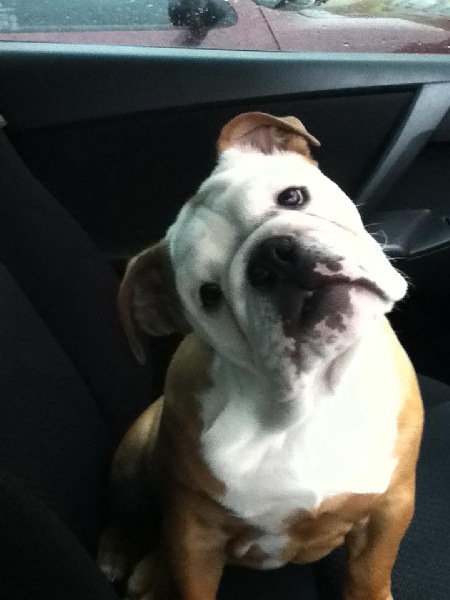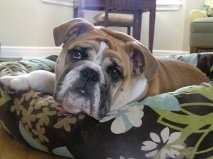 Hi Victoria, A quick Hello! to give you an update on the 5 mo old Petunia Olive - she's thriving and a complete sweetheart. We love her to bits, and she's a very precious member of the family. She's met most of her human aunts, uncles, grandparents, and cousins, and she is much loved by all. In fact, she's made such a stir in the neighborhood, she's now got her photo in the local coffeeshop, dog cafe, and people stop their cars to get out and pat her. She wriggles with excitement at all the attention and loves the pats. She's become a bit of a local celebrity, much to our humor - we're quite amazed by it all, but it would seem that everyone loves a Bully! She's up to 30 lbs now and we're happily settled with a vet (Katharine Jones) who is giving her wonderful care. She's had all her puppy shots now and is healthy little girl. We will probably spay her before her first heat in the summer. We are taking her to puppy classes, where she is showing she's a wonderful 'heeler', and 'sitter'. She's quite submissive and wants to please, so we're finding that in new situations, she goes carefully, but launches into new things with energy and curiosity. She interacts really well with other dogs and is a gentle and friendly soul. We couldn't have found a more loving puppy, and we're just so delighted to have her in our lives. Thank you for sharing her with us. Petunia O. sends licks and sniffs to her puppy family back in London, Heather, Jon, and of course, Petunia.

Wedding Bliss with Victory Bulldogs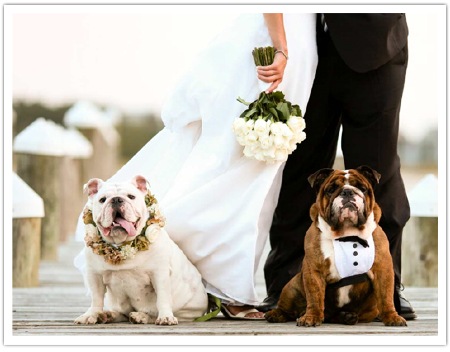 Gorgeous Baci (Baby Bubika at 6 months)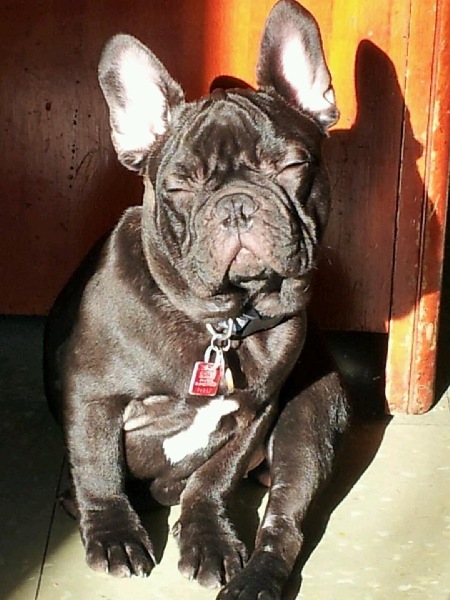 Hi there,

Just wanted to send you an update on our Lily Pie. She turned two on February 16th and is doing wonderfully – we just love her to pieces. She is an amazing animal with the most incredible personality. She definitely rules the roost, even though we have 7 and 5 year old labs at home too! She certainly keeps them on their toes. We are expecting in July, so can't wait to see how she reacts to having to share the attention with another "baby" in the house. We have a running joke that we hope that our baby looks just like her!

Take care,

Aimee and Rob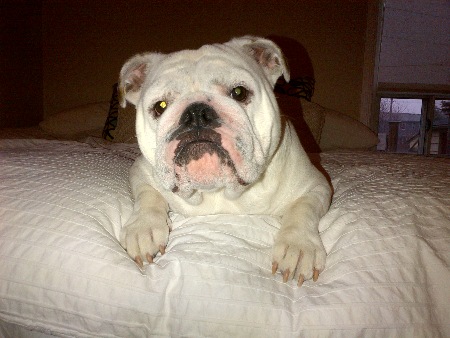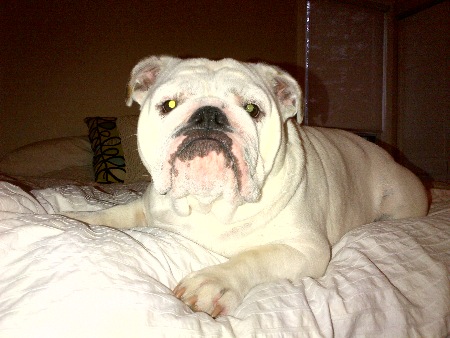 Good Morning, Thought I send you a picture of the puppy. We named him Cedric. He has just come in from out in the snow this morning and raced for the pillow. He is quite a character and we love him. Our Shepherd loves him as well they play together all the time. They are very attached to each other now. Everything is going well. Cedric goes to puppy class 2 days a week at our veterinarians and just loves it. He learns things and gets to socialize with dogs his own age. It is something to see all the puppies. That is something, he gets to go to school. He is exhausted when he comes home just like a kid. He is doing great.

Thanks,
Gina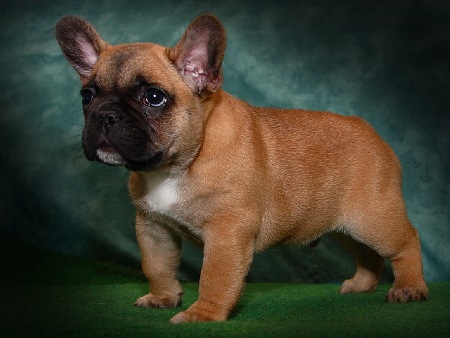 Hank in his Local Vet's Newspaper.. Hanks Dad Brent is so Proud of his little man! Thanks for sharing Brent.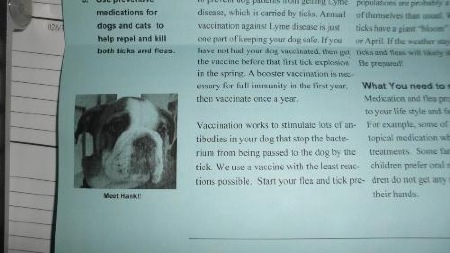 Hello Victoria

Here is a awesome picture I took of Eddy and Lily, It's almost as if they posed for it.

Enjoy,

Carla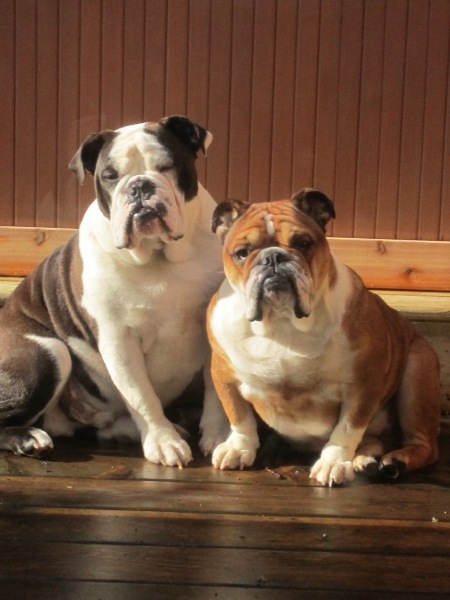 Beatrice "B" with her Daddy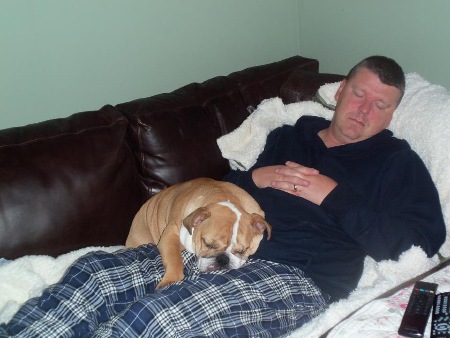 BACI and his Friends living in B.C with Gord and Anndrea!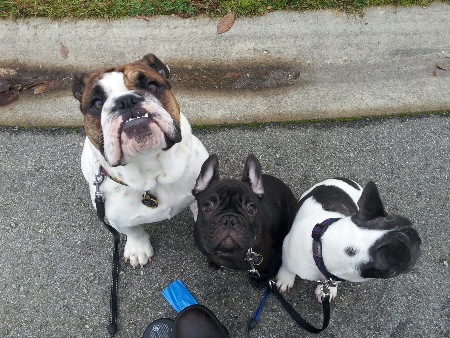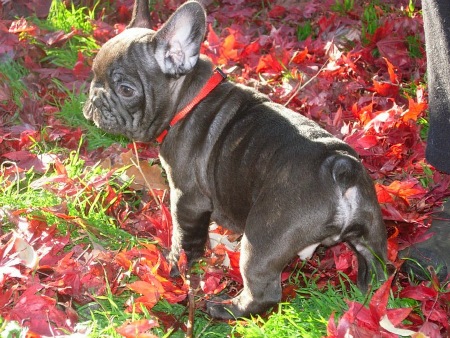 MR President AKA Gus Living with Sean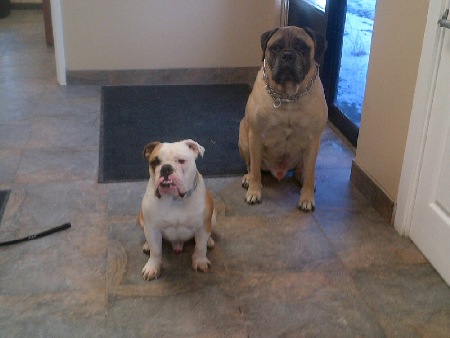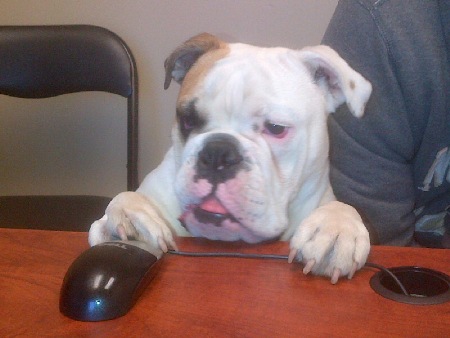 Hello Dear Friends! A quick update from Ottawa to say everyone is well on Edison Ave. Petunia has settled in nicely, and this week, spread her wings a little. She has discovered she is an able stair climber, and likes to provide help in the kitchen to Jon, especially by confirming for him that the fridge door is open and that there are contents inside! She has overcome her respiratory infection, and is back in good health, to the relief of her humans! Her big successes this week were all her big walks, making it around the block on her own steam, and trotting along making new friends and enjoying some pats from the neighbors. Jon and Petunia are working hard on 'sit', and she is doing great! She has adopted her new bed with gusto, giving it a number of good test-run naps. Seems to be a comfy refuge by the fire. She, and we, thank everyone for your lovely notes, visits, and good wishes. We are excited to have you meet her, and Petunia loves a good pat by the fire. She is a sweetheart! Bye for now, Heather, Jon, & Miss P. xox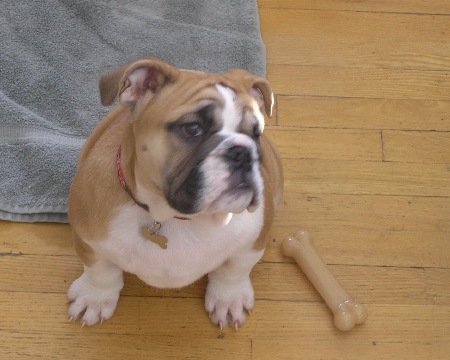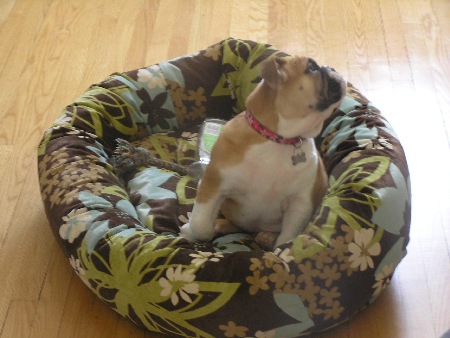 Hi Victoria

I recently (Oct) adopted Rock from you and just wanted to give you a quick update on how he's doing and have a couple of questions for you if you're not too busy.

He's been a great addition to the family, he loves everyone and wants to play all the time!

I had him at the vet today and he weighed in at 50 pounds. The vet said he is a little overweight for his age (6 1/2 months) and I just wanted to get your opinion. Also, he appears to have an allergy to something in his diet. I think it was the Milk Bones I have been giving him. Other than that he is a perfectly healthy puppy!

I wanted to ask you at what age would you recommend having him neutered? Also, he seems to have developed some tear stains. I read your webpage and picked up some Sudocrem. Just wondering how often I should apply it.

Thanks again and I hope to hear from you soon!

I also attached a picture of him from earlier today!

Jeff Gollop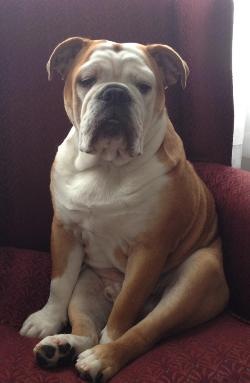 Hello this is Ashley N-

We purchased Mack (Boyce) from you last year. We have totally fallen in
love with him. He has become part of our family. He adjusted well to our
home and has become inseparable with our Boxer, Apollo.
We took your advice and waited for him to reach a year before having him
neutered and he has become a beautiful big bully with a matching
personality.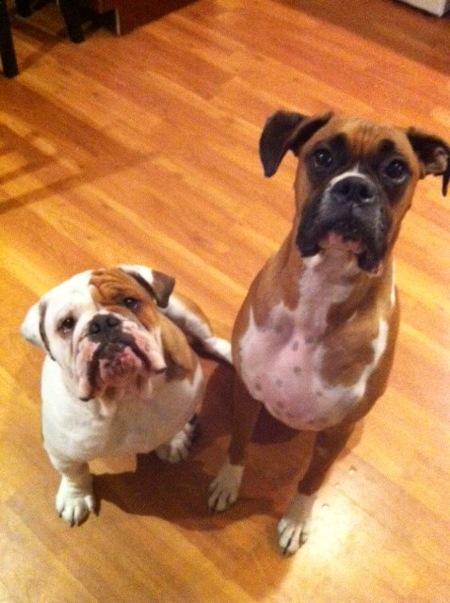 Lex loving life in his new home with his new Buddy!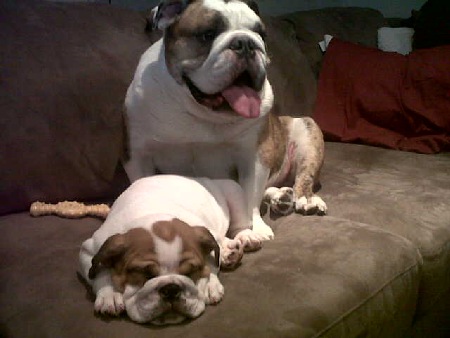 Hi Victoria.. I am sending a picture of Aggie !!
She has been such a joy for us. I got Aggie off you 2 years ago and she has never given us any problems. She is the best. Thanks for giving us a good quality Bully!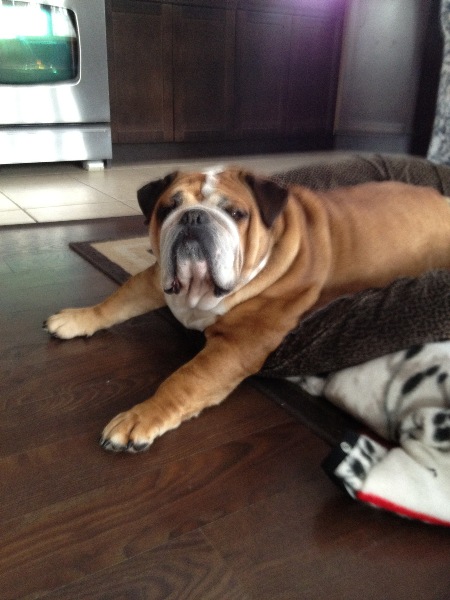 Hi, It's Damian again. Just wanted to send you some updated pictures of "Tank" there are about at month old. He is 14 months old and loving life.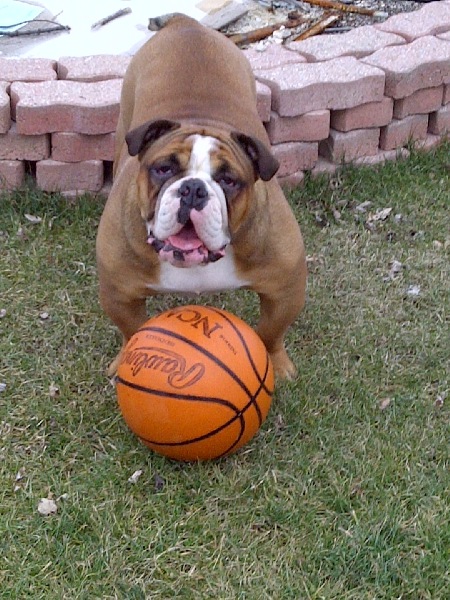 Danielle, Lucky and Ferdinad by the FirePlace.. New picture from Actor Greg Bryks Family..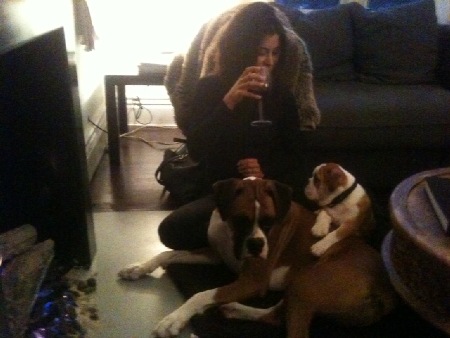 Hi victoria

Hope things are well with you and your families. Quick update on Petunia Olive after week #1. We're having a lovely time with her, and learning lots about her as we go. She has a sweet and inquisitive personality and she loves people, praise, pats, play, and chewing! We've also found she's very head strong, and if she's into something she's interested in, she resists leaving it alone! We are also finding she loves to nip and bite - especially hands and cuffs, so we wondered if you have some advice for us?? Sometimes it's a bit exasperating when "NO" doesn't work, and the nylabones we give her at these moments do not interest her.... She is nothing if not persistent! Is she in the terrible twos, and does this phase pass if we're consistent?? :) This week, we met with Dr. Katherine Jones (cc'ed) who gave Petunia an overall health evaluation. She got a very clean bill of health and lots of praise! Dr. Jones prescribed Clavamox antibiotic to combat a cold (accompanied by phlegm, coughing, and a runny nose) in its early stages. We are noticing improvement already. Dr. Jones encouraged you to connect with her by email if you had any questions. Dr. Jones treats other bulldogs in her practice and we appreciated her care and gentleness with Petunia. All the best. We look forward to hearing from you, With our thanks, Heather, Jon, & Petunia O.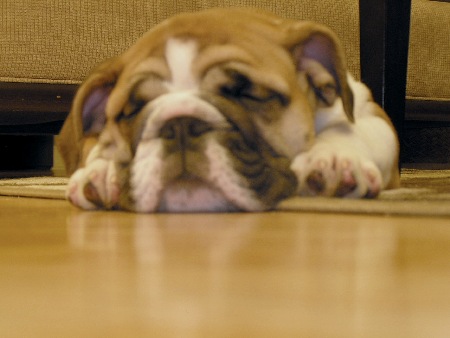 5 month old HUGO 36.5 lbs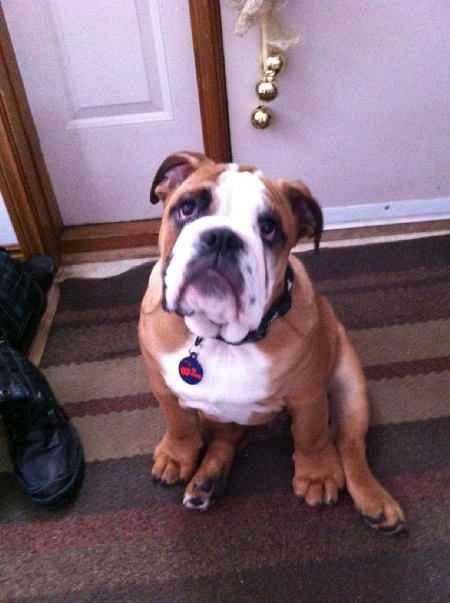 Hi Maggie and Victoria, We all made it home safe and sound and we're happily having a little explore in the new digs. Petunia Olive had a good sleep on the way home, and we had lots of good snuggles together in the back seat. Haha, she wasn't too keen on the snow, preferring to pee in her crate! :) We've washed it out, along with all her toys, and she's having a good play now with Jon (who is lying on his back with Olive on his stompach - pretty cute!!). She ate a good dinner so we hope she's feeling as relaxed as she can right now and having fun in her new home. She was having a good romp in the living room earlier! She even did her chores on the puppy pads in her pen, so she got lots of praise! We are absolutely in love with her! She is such a sweet and gentle personality, and we're so excited to have her home!! Thank you for giving us the chance to meet you today, and we'll keep sending lots of pics of the little one. We were so glad to get all your advice, and I'm sure we'll keep asking for it!! :) With our thanks!! Heather & Jon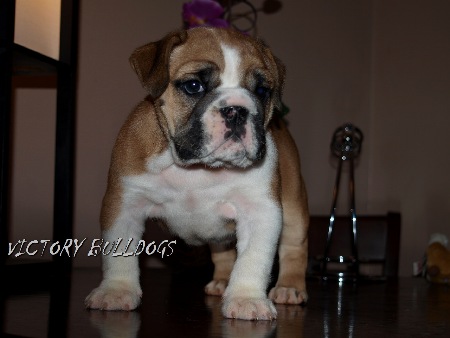 Hi there,Just wanted to send you a couple of photos of our dear boy Emmit. He is growing up so quickly and is just an absolutely beautiful, charming, funny, loving little boy. Thank you again for him! I trust you had a great Christmas and I wish you all the best in the new year. Emmit had a fabulous Christmas and was as expected spoiled.If you get a chance I had asked a few months ago for a couple pictures of him mom and dad. You were able to send pics of Leo but were going to send me a few of his mom Anna when you got a chance. If you are able i would still like to have a couple for his baby book.Emmit was born last year on April 30 if you need a reminder.I will also send you another pic of him on one of his walks in a nearby field.P.S. he loved Santa!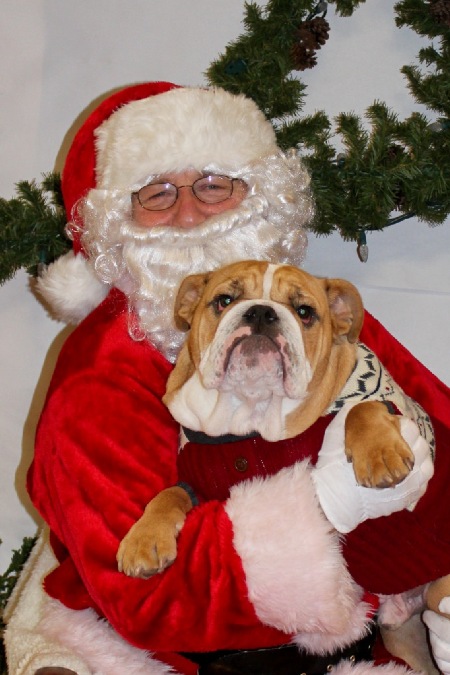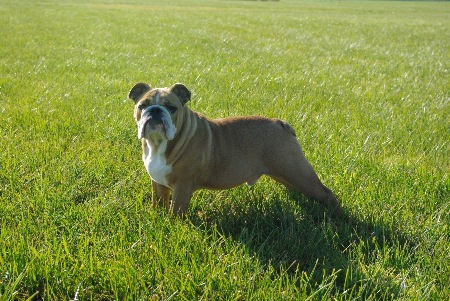 MERRY CHIRISTMAS FROM GUS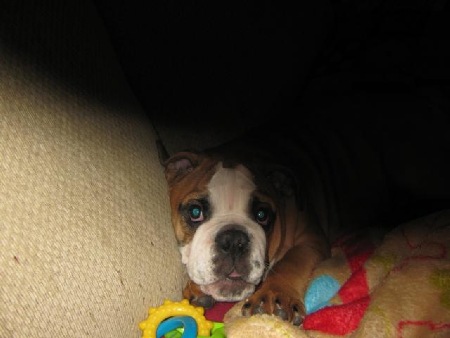 Layla A female from a Rodney Litter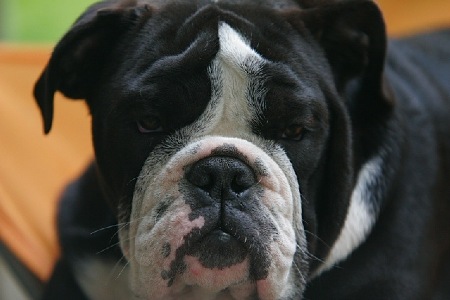 Diesel the Frog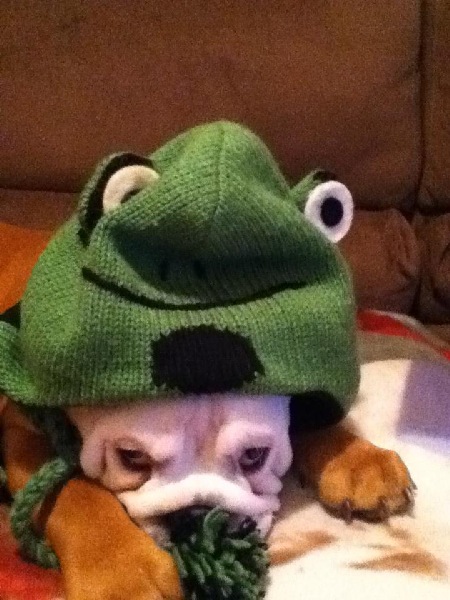 Our much Loved Buster and Vao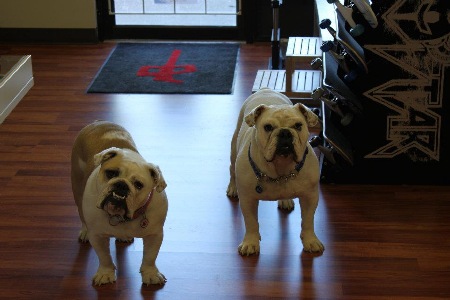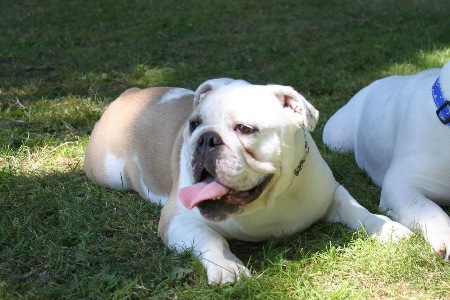 Kola and his Girlfriend Halloween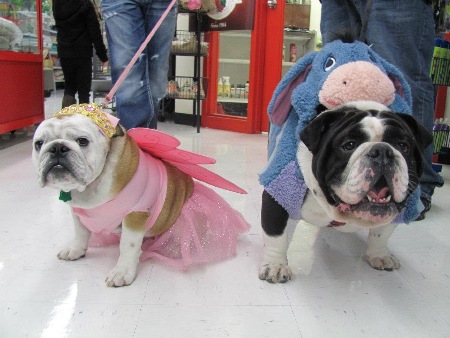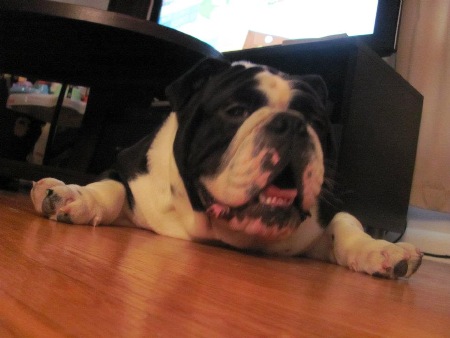 Sidney,Kiara,Kovu and Skye All living at Shamrock Bulldogs in B.C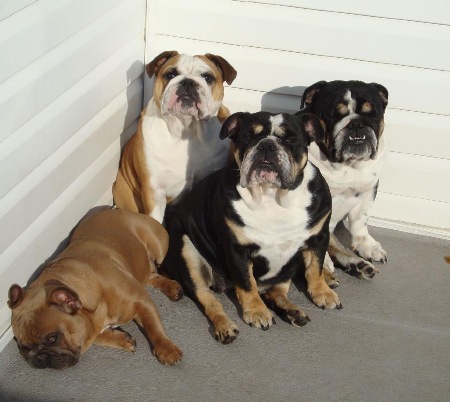 Baci (Chocolate Frenchie) with his Buddies, living in B.C with Gord and Anndrea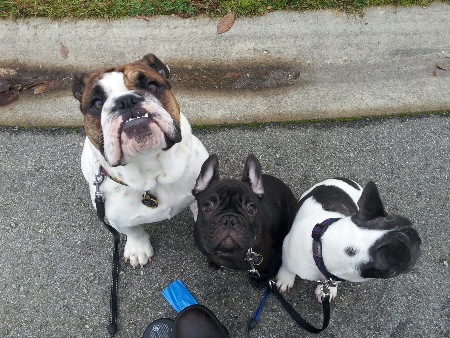 Thanks again & please add us to any email blast outs you may come across in relation to Bull dog events in Ontario.
We also welcome any future sage advice that may develop for Bulldog raising as we are indeed rookies with this breed of canine.
Dexter now plays an integral role in our current and future lifestyle. :o)

Yours aye,

David, Brenda & Deputy Dog Dexter